Celebration for Ordination to the Diaconate
Catholic Communications, Sydney Archdiocese,
27 Mar 2015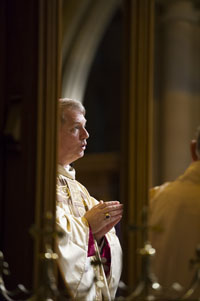 The bells of St Mary's Cathedral were pealing on Thursday evening, signifying the joyous occasion of the Ordination of six new deacons for the Archdiocese of Sydney.
Over 1000 people attended the Mass during which Archbishop Anthony Fisher OP ordained the six men. The Mass was concelebrated by priests from the Archdiocese of Sydney and beyond, including Father Danny Meagher, Rector of the Seminary of the Good Shepherd, Father Eric Skruzny, Rector of the Redemptoris Mater Seminary, and Father Thomas Carroll, Director of Formation for Permanent Deacons.
Also assisting at the Mass were seminarians from each of Sydney's two seminaries, and permanent and transitional deacons from Sydney and Wollongong.
The six new deacons are a true reflection of the universality of the Church, and a testimony to the fruits of ecclesial communities and the Permanent Diaconate program.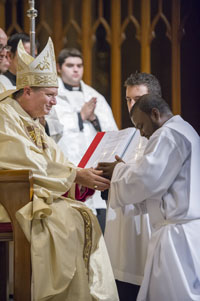 Deacon Joshua Gerardus Miechels is from Sydney and has been studying at the Seminary of the Good Shepherd. He is part of the Emmanuel Community, which he joined after spending a year at the Emmanuel School of Mission in Rome.
Deacon Angel Gustavo Criollo Farfan, Deacon Daney Suresh Irudayadoss and Deacon Mate Litric are all members of the Neocatechumenal Way, and each of them studied at the Redemptoris Mater Seminary. Deacon Angel Gustavo was originally from Ecuador, Deacon Daney Suresh from India and Deacon Mate from Croatia.
All of these men are transitional deacons, and will spend some time serving in Sydney parishes before being ordained to the priesthood.
In addition to those who will continue towards the priesthood, two permanent deacons were also ordained.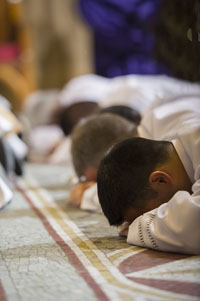 Deacon Mervyn Anthony Francis (originally from Pakistan) and Deacon Mata'afa Aisavali Lemisio Salu (originally from Samoa) are the first two men to be ordained as permanent deacons for the Archdiocese of Sydney in 15 years, and the first to have completed the Permanent Diaconate program since it was re-established in 2010.
Both Deacon Mervyn and Deacon Mata'afa Aisavali are married, and their wives and children were amongst those present at the Ordination yesterday evening.
In his welcoming remarks, Archbishop Anthony Fisher greeted representatives from the various ecclesial communities, and the family and friends of those to be ordained. He noted that it was a rare and joyful occasion to be ordaining six men in the one ceremony.
In his homily, Archbishop Fisher spoke of the example of St Ephrem, a deacon who ministered in Syria during the 4th century during another era of Christian persecution in that region. He also reminded the ordinands that the root meaning of the word "deacon" is "service", and exhorted them to be men of service.
Following the Mass, priests of the Archdiocese of Sydney formed a guard of honour at the exit to the Cathedral, welcoming the new deacons into their fraternity.