Pope Francis Inspires Sydney's Youthful Pilgrims in Lead up to Krakow 2016
Catholic Communications, Sydney Archdiocese,
26 Mar 2015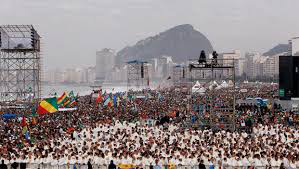 Youthful pilgrims worldwide will celebrate Palm Sunday as well as World Youth Day this weekend, and will also mark the 29th anniversary of the first international gathering of young people of faith in Rome in 1986.
To celebrate this important date on the Church's liturgical calendar, the Catholic social media site Xt3.com will live-stream the Palm Sunday Mass at St Peter's Basilica and Pope Francis' homily which is expected to include the Holy Father's WYD 2015 message to the world's young people of faith.
This weekend will also see the "soft launch" of Australia's official World Youth Day website for Krakow in 2016. Billed as the online "World Youth Day Hub for the Australian Catholic Church in Australia," the site offers details on travel, fellow pilgrims and WYD groups across the country.
The site has been established by the Australian Catholic Bishops Conference's Office for Youth and from now until July 2016, will be updated daily with the latest information, prayers, links and news about WYD16 as well as Poland, the city of Krakow and suggested itineraries.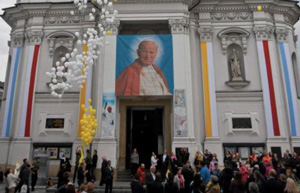 In addition the latest information on WYD16, the website includes Pope Francis' invitation to the world's youth to join WYD16 in Krakow and "walk in the footsteps of St John Paul II in the place he called home."
While it is a little over three weeks before the Archdiocese of Sydney's official launch for WYD16 by Archbishop Anthony Fisher OP, many of the Archdiocese's 39 secondary schools will mark the upcoming Palm Sunday weekend with a series of promotions for their own individual programs to heighten awareness among students about World Youth Day and in particular, next year's WYD in Poland.
"On Tuesday next week, we will hold a special celebration of Palm Sunday and WYD, where students who attended World Youth Day in Rio will talk about the experience and how their lives were changed," says Maree Piljik, Youth Ministry Co-ordinator at Trinity Catholic College, Auburn.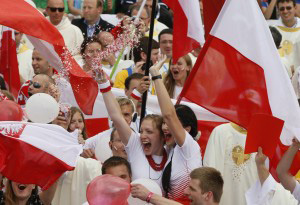 In testimonials of their time in Rio to the College's Years 9 and 10 students, all of whom will be in Year 10 and 11 next year and eligible to attend WYD in Poland, the young pilgrims describe Pope Francis' outdoor Mass and the opportunity to help build a staircase on the hillside favelas of Peru as inspirational and unforgettable.
"The mission experience in Peru in the days leading up to WYD in Rio was an absolute highlight for students. They had never seen anything like the poverty they experienced in the favelas, and were struck by how little the people had but how generous they were and grateful they were for even the smallest little thing," Maree says. She also remembers how on the student pilgrims' return they continued to speak about their gratitude for their own lives, and urged their classmates to remember the poor and people they encountered in the favelas in Peru in their prayers.
"Pope Francis also made a definite connection with the young pilgrims. At the time he had only been Pope for just over five months, but he made a lasting impression on all those who attended WYD in Rio," she says.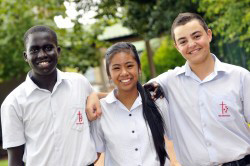 Since then, Pope Francis has continued to inspire young people worldwide.
"With his personable nature, his ability to speak directly to teenagers and young adults and his involvement with social media by having his own Twitter Account, Pope Francis has given young people a definite sense of connection to the Pontiff," Maree says adding that the connectedness young people feel towards Pope Francis as a result of social media was not available to previous leaders of the Church.
"Technological advances have meant Pope Francis can reach out to young people and speak to them in a way they understand," she says.
Project Manager Gabrielle Sinclair of the ACBC's National Office for Youth agrees and believes the fact Pope Francis will be at WYD in Krakow will play a large role in Australian young people's desire to be in Poland for the event.
"Although tour packages and travel arrangements have yet to be finalised and details won't be released for several weeks yet, we have already received a great deal of interest in WYD16. As many as 38 pilgrim groups ranging in size from 25 to 500 have been in touch and we expect this to increase considerably by July," she says.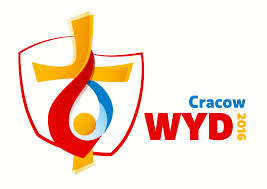 Interest in WYD16 is incredibly high and there is no doubt Pope Francis is one of the drawcards, says Mark Smith, Youth Ministry Coordinator for the Archdiocese of Sydney's Catholic Education Office (CEO) and believes student pilgrims that will travel to Poland as part of the CEO contingent will be in excess of 500 and will top the large contingent from Sydney schools that attended WYD11 in Madrid.
He also believes that while Pope Francis is "a definite drawcard," that it will be the Father of WYD, St John Paul II who will play a major role in formation of pilgrims in the lead up to next year's WYD.
"His story will be very big and play a key role in the formation for Sydney's student pilgrims over the 12 months leading up to WYD in Krakow," he says.
Formation for Catholic high school students planning to attend WYD in Poland will begin at the end of July and continue for the following 12 months until the start of WYD in Krakow on 26 July 2016.
"Many of our students remember the canonisation of St John Paul II by Pope Francis in Rome in April last year, but most of them are too young to remember him as an active and much loved Pontiff," he believes.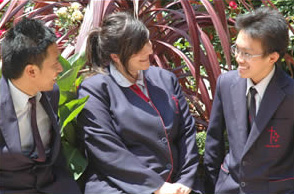 Like Pope Francis, St John Paul II had a close connection with young people throughout his Papacy and established World Youth Day in 1986 to encourage young people to celebrate their faith as well as their importance to the future of the Church. In his final years St John Paul II suffered from crippling Parkinson's disease and after a courageous battle, died in 2005. But aged just seven or eight most of today's student pilgrims were too young to understand the remarkable achievements of St John Paul II and how he helped to change the world.
"During formation this will change and I know pilgrims will be greatly inspired by the story of St John Paul II's life, his faith and teachings," says Mark.
Apart from the school students many young people are now planning their pilgrimage to Poland ensuring Archbishop Anthony Fisher OP will be leading a large group from the Archdiocese of Sydney.
"Poland is a deeply cultural and spiritual land, rich in history. The places we visit will invite us into the theme of mercy, expressing God's love for humanity," he said.
"I'm looking forward to leading school students and young adults from our Archdiocese on their journey of faith."

The social media site xt3.com will also be a major resource hub for WYD Krakow and will launch its own special WYD16 section on the site next week.
Xt3.com will also webcast live the Palm Sunday Mass from St Peter's Basilica at the Vatican with Pope Francis including his message to youth on Sunday evening (March 29th) from 6.30pm Sydney or AEST time. For more information go to www.Xt3.com/live
For the new ACBC National Office for Youth Website go to http://www.wyd.org.au/