Archbishop Introduces Angelus to Schools
Catholic Communications, Sydney Archdiocese,
25 Mar 2015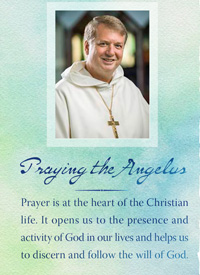 Today, on the Feast of the Annunciation, praying the Angelus at noon each day will become part of every day school life for students and staff.
More than 100,000 students will pause during their classes or activities to recite the Angelus.
In some schools the time will be heralded by a bell, as has been the tradition over the centuries, or via the PA system.
"The Angelus is an ancient prayer recalling the events of the Annunciation, when the angel Gabriel announced to Mary that she would conceive by the Holy Spirit and become the mother of God," Archbishop Anthony Fisher said.
"The prayer honours Mary's great 'yes' to God; offered humbly, faithfully and obediently.
"Through this prayer we reflect upon and celebrate the great mystery of God sharing in our humanity, becoming one of us in the presence of Jesus."
Pausing briefly in the middle of the day to come together to pray the Angelus will be a wonderful act of solidarity and communion, the Archbishop said.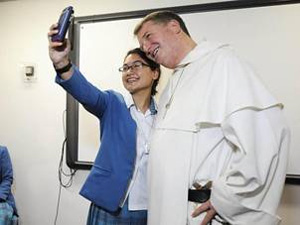 The director of religious education for the Catholic Education Office in Sydney, Anthony Cleary said the introduction to schools each day of the Angelus will connect students and staff to God and to a great tradition of the Catholic Church.
"We don't consider it an 'add-on' to the school day," he said. "It will be a clear and central focus of the regular school day.
"Pausing in a very busy world and a very busy school day is really showing where we believe our priorities are - and I believe what we are doing has had a very positive reaction," Anthony Cleary said.
Each student in the CEO schools will receive a small prayer card with the Angelus with a message from the Archbishop and a painting of the Annunciation by the Dominican painter, and patron saint of artists, Fra Angelico.
There is also another artwork by former St Brendan's, Annandale student Jett Eckford. Called Purity and Grace it also depicts the angel's annunciation to Mary.
Archbishop Anthony spoke of the introduction of the Angelus to Catholic schools in the Archdiocese when he addressed priests and school principals this week. For his full address click here.
The launch of the Angelus and the cards across schools in the Archdiocese was very successful. Students and staff at Our Lady of the Annunciation Catholic Primary School, Pagewood, were among those who joined others to pray the Angelus as midday. For more news from Pagewood and how the young students celebrated the event go to
http://www.ceosyd.catholic.edu.au/Parents/Religion/Pages/Our%20Lady%20of%20The%20Annunciation,%20Pagewood.aspx