Artists Interpret Stations of the Cross for ACU's Innovative Easter Exhibition
Catholic Communications, Sydney Archdiocese,
24 Mar 2015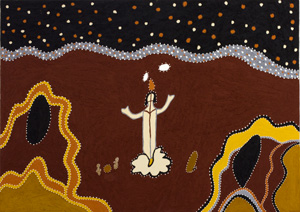 Warmun artist, Shirley Purdie's interpretation of the 16th Station of the Cross is one of the highlights and outstanding works featured in the Australian Catholic University's unique Easter Art Exhibition at ACU's McGlade Gallery.
"Shirley is one of Australia's greatest living painters. Indigenous or otherwise, she is at the forefront so when she told us she wanted to paint a 16th Station where Christ comes to Warmun, we weren't about to argue," says Lachlan Warner, McGlade Gallery Director and co-curator with the Rev Dr Doug Purcell OAM of the upcoming Stations of the Cross Exhibition.
He points out that although the original premise of the exhibition was to follow the Franciscans' well-known 15 Stations, Shirley's wonderful creation could be an interpretation of Christ's appearance after the Resurrection on the Road to Emmaus.
Eighteen months in the making, the Exhibition is the culmination of more than a year's involvement by the two curators and some of Australia's leading artists.
"Doug had the idea of mounting an Exhibition like this for about six years and in late 2013 made a list of significant artists whom we would like to be involved, and approached them to see if they were interested," Lachlan says.
Almost all of them gave an instant and resounding yes.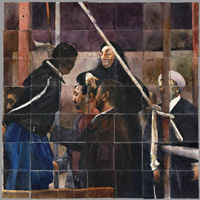 "A number of them told us openly they were not religious and thought this might mean we didn't want to include them. But I told them this was not an issue. What we wanted was for them to deal with the ideas presented by each Station and interpret these visually through their art," he says.
Religious or not each of the artists was given a particular Station to interpret.
"We chose the artist to paint each Station by drawing the names out of a hat. That way seemed the fairest way to go about it. Except of course for Shirley who had already decided on creating a 16th Station for the Exhibition," Lachlan says.
To help each of the artists with their interpretations they were given Scriptures relating to the Station assigned them, along with pastoral input from Dr Purcell.
The artists involved included such well-loved painters as Reg Mombassa of Mambo fame, New Zealand-born Sydney-based Euan McLeod whose dense textural and sculptural expressionist work has won him wide acclaim, emerging young artist Danica Knezevic whose video works have won awards and strong reviews, and multi-award winner Maryanne Coutts whose innovative narrative works have been widely exhibited in Victoria, Sydney, Perth and Hobart as well as overseas.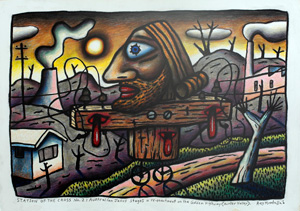 Maryanne Coutts' interpretation of Station Four where Jesus meets his mother was inspired by a piece in a British newspaper where an Iranian mother grieves for her 17 year old son who was murdered in the street, but who two days before her son's killer was due to be excecuted had a dream which transformed her, filled her with love and gave her the strength and power to forgive.
"Maryanne has created a wonderful work of small pieces of paper exquisitely painted in water colour and gridded together to make a painting," Curator Lachlan Warner explains.
Reg Mombassa was given Station Two where Jesus is forced to carry the Cross. In his inimical exuberant style Mombassa gives Station Two an Australian edge, sub-titling his work: "Australian Jesus stages a re-enactment on the Golden Highway (Hunter Valley).
For Station Five where Christ struggles under the weight of the Cross, Danica Knevevic uses video performance art to create a contemporary metaphor of His struggle featuring a man battling to hold up his head under the weight and pressure of an upturned table laden with rocks, massive stones and heavy objects.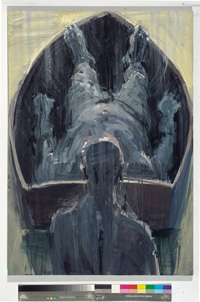 "There are two video works in the Exhibition and together with paintings using diverse media and techniques we also have several outstanding sculptures," says Lachlan.
Currently he and Dr Purcell are unpacking the works as they arrive at the Gallery from artists dotted across the country, including some as far afield as Perth.
"Shirley Purdie's was the first painting to arrive. It is always a treat to see a new work and this was a completely new work no-one had seen before. Carefully unpacking her painting it felt like Christmas and unwrapping a very precious gift," Lachlan says.
For Lachlan as more paintings continue to arrive, it is non stop Christmas and without doubt one of the most exciting exhibitions he has ever curated or with which he's been involved.
"It is also the most interesting as we started from a completely unknown position and the works evolved slowly from there and involved lots of to and fro dialogue with the artists, discussing their preliminary sketches and their thinking and what had drawn them to a particular response," he says.
Lachlan and Dr Purcell are also delighted that as an added plus for ACU's Stations of the Cross Exhibition ACU Vice Chancellor Professor Greg Craven and the University's Professor of Theology, Professor Neil Ormerod have written personal reflections on the Stations which add a further important dimension to the works displayed. Other theologians have also contributed reflections.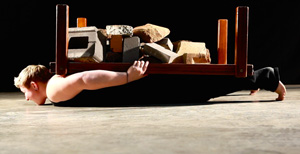 The official opening of the Exhibition by author, academic, philanthropist and art lover, Professor Ross Steele will take place at 3 pm on Sunday, 29 March.
The Stations of the Cross Exhibition which ACU hopes to make an annual event will be on display from 29 March to 18 April at the McGlade Gallery, 25A Barker Rd., Strathfield between 11am and 4 pm Monday through Saturday.