Catholic Primary Schools Celebrate Diverse Faiths & Cultures
Catholic Communications, Sydney Archdiocese,
23 Mar 2015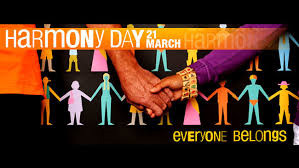 Valerie Bryant, Coordinator of the Archdiocese of Sydney's Aboriginal Catholic Ministry took part in a series of workshops, question and answer sessions and interfaith Ddalogue as part of Harmony Day celebrations at St Francis Xavier Catholic Primary School, Lurnea this morning.
In addition to students from St Francis Xavier's, youngsters in Years 3 to 6 from seven other Catholic primary schools in the Archdiocese of Sydney's Southern Region also participated.
The brainchild of Nikki Beech, Family Educator at Lurnea's St Francis Xavier's Catholic Primary, the unique initiative was open not only to students but also to parents who were issued an open invitation to celebrate the diversity of faiths as well as cultures across the Archdiocese and in the Liverpool and Sutherland shire region in particular.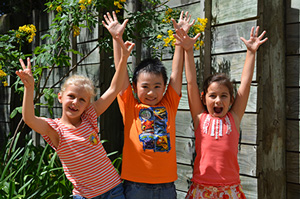 Representing the Aboriginal Catholic Ministry, Valerie spoke about Aboriginal Spirituality, her own strong Catholic faith and the Church of Reconciliation at La Perouse. She also explained to students when Christianity was first introduced to Australia's first peoples they had difficulty understanding many of the European phrases such as "the lamb of God." The donkey as a beast of burden was also alien to them. Back in eighteenth century Australia, Indigenous people had never seen a sheep let alone a lamb or a donkey.
Representatives of Buddhism, Protestantism, Islam and Judaism also spoke to the youngsters and parents gathered at St Francis Xavier Primary this morning about their beliefs, and took part in the series of workshops as well as a Q and A session in the school's main hall.
"Due to a lack of capacity we could only accommodate two students from each of the seven other Catholic primary schools in our area," Nikki says. "We left the choice of which students should be chosen from each school but put a limit on children in classes below Year 3, deciding that those in kindergarten or Years 1 and 2 were a bit too young to take in all that was going on," Nikki says.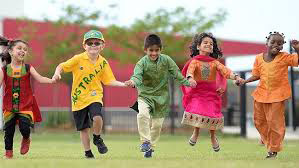 What she hopes is that the two youngsters from each of the other schools will take what they learned today about some of the world's major faiths, especially the different faiths practised by Sydney's vibrant multicultural communities, will be shared with their classmates as well as their school in general to promote better understanding of the city's diverse religions, ethnicities and races.
The schools taking part in Harmony Day by sending a member of staff as well as two students to participate included St Francis Xavier's celebrations for Harmony Day were Bass Hill's Christ the King Catholic Primary; Bossley Park's Mary the Immaculate Catholic Primary; Good Shepherd Catholic Primary, Liverpool; Panania's St Christopher's Catholic Primary; St Luke's Catholic Primary Revesby and Sadlier-Miller's St Therese Catholic Primary.
In the past St Francis Xavier has marked Harmony Day with special take-home activities or a multicultural afternoon with children wearing their national dress.
"But today's undertaking is the biggest event we've tackled and we are very much looking forward to hearing the questions the children ask during the Q and A as well as later feedback not only form students but from their parents as well," Nikki says.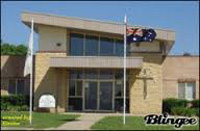 After the series of workshops, Q and A and addresses by leaders of the different faiths, staff, students, parents and all participants in the St Francis Xavier's Harmony Day joined together for an informal tomato and basil pasta lunch.
Harmony Day is celebrated by schools and communities on 21 March each year. But with the date falling on a Saturday this year, some schools elected to mark the day on Friday, 20 March while some others such as St Finbar's Primary, San Souci held their Harmony Day event on the actual day with a multicultural fair and fundraiser.
While others such as St Francis Xavier's Primary waited until this morning to celebrate National Harmony Day.