Caritas on the Ground in Vanuatu Helping the Thousands Devastated by Cyclone Pam
Catholic Communications, Sydney Archdiocese,
20 Mar 2015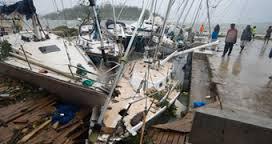 Caritas Australia is on the ground in Vanuatu and working closely with the Bishop of Port-Vila as part of a united response by the Catholic Church to the devastation wreaked by Cyclone Pam.
The category five cyclone swept across the island nation early on Saturday, 14 March battering all in its path.
Five young Australian volunteers reported missing have been found alive and well and flown to Port Vila.
The unconfirmed death toll stands at 24 although the government is confirming only 11 deaths at this stage although many peole on outlying islands have not yet been located. It is known however whole villages have been destroyed but all communication links are still down.
Australia's HMAS Tobruk with 355 personnel is now on its way to assist with emergency aid and emergency rebuilding. There are also around 50 Australians and Canadians unaccounted for on the outer islands.
Vanuatu's Prime Minister, Joe Natuman said he was hopeful the death toll will not rise significantly when emergency services and aid eventually reach many of the small islands.
"The important thing is that people survived. If the people survived we can rebuild," he said.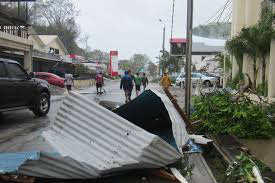 But rebuilding will be a mammoth task.
Cycle Pam, believed to be the strongest tropical cyclone ever recorded to make landfall in the South Pacific has resulted in widespread destruction or damage across Vanuatu. Almost nothing has been left standing in some areas.
Tens of thousands of homes have been damaged with thousands now homeless.
Thee are also severe shortages of clean drinking water and food with concern now about the risk of disease.
The scale of the destruction to housing, infrastructure, roads, airports, bridges and even the main hospital in Port Vila which suffered damage and lost half its roof, is hard to imagine, says Stephanie Lalor, Caritas Australia's Pacific Island Programs Manager. Stephanie arrived on the ground in Vanuatu from Sydney two days ago to help coordinate humanitarian relief efforts with Mark Mitchell from Caritas Aotearoa New Zealand and Port-Vila's Bishop Jean (John) Bosco Bareme.
"Shelter is a major priority," she says and reports that a number of churches are being used as evacuation centres for many of those who lost their homes during Tropical Cyclone Pam's rampage which had winds gusting up to 350kph.
As well as shelter food and fresh water urgently needed so too are medicines and hygiene kits. But the logistics of getting emergency supplies to the hard hit outer islands is proving difficult with many of the air fields closed, the runways blocked by downed trees, flooding and collapsed infrastructure.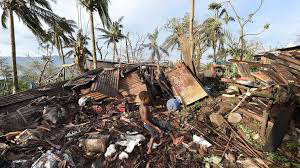 Sea going vessels have also been severely damaged.
There are also increasing concerns about health not only from exposure but from contamination of water as well as the food.
Crops were flattened in the storm and with aid yet to reach some island villages families and children have nothing to eat but unripened pawpaws brought down in the midst of the cyclone.
For the next several days Caritas Australia and its partner Caritas agencies from across the Pacific will assess damage to ensure there is a coordinated response to the emergency and to also plan for the months and years ahead that residents of Vanuatu will need to recover and rebuild their lives, businesses, schools and homes.
"Arriving in Port Vila gave me an eerie feeling. There were almost no lights but even in the darkness you could see destruction everywhere," Stephanie says.
The following morning when she woke the full extent of the damage was devastatingly clear.
"I am sharing a room with someone from the Diocese of Port Vila who have been partners with Caritas Australia over many years. She is from an area of the city that was severely impacted, and was personally affected with half the roof blown off her house making it uninhabitable," she says.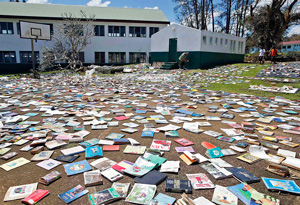 Although the cyclone occurred less than a week ago, with typical generosity Australians have responded to the Caritas Australia's Pacific Emergency appeal.
"We are immensely grateful for the generosity of parishes, schools and everyday Australians and for the way they immediately stepped in to help and show solidarity for our Pacific neighbour," Paul O'Callaghan, CEO of Caritas Australia says.
Donations to Caritas Australia's Pacific Emergency Appeal will be used for the immediate needs of the people of Vanuatu and for the difficult months and years ahead.
"This is why we are encouraging our supporters to raise funds for our current Project Compassion Lenten Appeal as these donations will be used to give ongoing assistance to many of the world's vulnerable communities including Vanuatu, and help them rebuild stronger and well prepared for any future extreme weather events and natural disasters," Paul O'Callaghan says.
http://www.caritas.org.au/learn/emergency-response/pacific-emergency-appeal