State Election Voting Guide for Christian Values
Catholic Communications, Sydney Archdiocese,
20 Mar 2015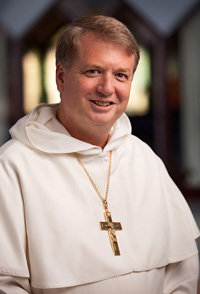 An election guide for the upcoming State election which outlines where the key parties stand on life issues, marriage, religious freedom and education will be available throughout Sydney parishes this weekend.
Prepared by the Life, Marriage, Family Centre of the Archdiocese of Sydney the guide is also available online (www.lifemarriagefamily.org.au).
In an introduction to the guide Archbishop Anthony Fisher OP has written; " This is an important opportunity for us all to cast our vote in accordance with our conscience and with the profound truths of the dignity of the human person, their right to religious freedom, the preciousness of life, marriage and the family, and the right of parents to educate their children in a way which respects their religious and moral beliefs.
" Clearly, this is not an exhaustive list of considerations. But I believe they are of special gravity because they shape the very foundations of our free and democratic society and affirm that the dignity of the person is a good for which Church and state must both work and often together. "
The Life, Marriage, Family Centre (LMF)has produced previous election guides, the 2007 and 2010 Federal Election, but this is the first time they have produced one for a NSW State Election.
"While it is not the role of the Church to tell people who to vote for, the Church can encourage us to inform ourselves and judge the candidates according to Christian principles," the Project Officer for LFM, Mary Joseph said.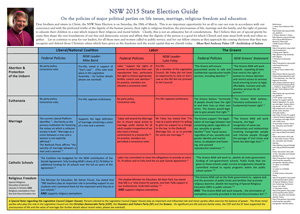 "It is often very difficult to find out where parties and individual Members of Parliament stand on issues concerning life, marriage, family, Catholic education and religious freedom. These issues are rarely publicised by the parties or talked about during election campaigns, including how Members have voted when these issues have come up for a vote (generally, sensitive conscience votes take place early or in the middle of a parliamentary term).
"People may also not always be aware of certain complexities and subtleties in the makeup of Parliament, e.g. there are good Members of Parliament who are strongly pro-life and always vote to protect life, even though for some, their party platform may support abortion. "
While voting can be challenging for everyone, finding a candidate whose party platform and personal positions are perfectly aligned with Catholic principles can be extremely rare.
"The Church offers us guidance as to how to weigh the gravity and importance of various issues.," Mary said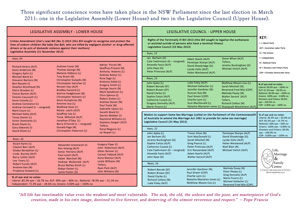 " First and foremost, the Church teaches that we have a duty to avoid, as far as possible, voting for a person who supports an intrinsic evil, i.e. something that is always and absolutely wrong. Abortion and euthanasia are examples of intrinsic evils, because they involve the killing of an innocent human being. Life issues are particularly grave because if our parliamentarians cannot recognise the dignity and preciousness of the human person and defend him or her from being unjustly killed, then they have failed in their first duty as lawmakers. "
Feedback from parishioners so far has been very positive. Due to family and work commitments many find it difficult to devote extra time and research to gathering all the information they need and want from the major parties.
"Let us continue to pray for our leaders, for all those men and women called to public service, and for our fellow citizens as they approach the coming elections that they may recognise and defend those Christian values which have given us the freedoms and the social capital that we cherish today," Archbishop Fisher said