Adelaide Archbishop Philip Wilson Denies Charge of Concealing Child Sexual Abuse
Catholic Communications, Sydney Archdiocese,
18 Mar 2015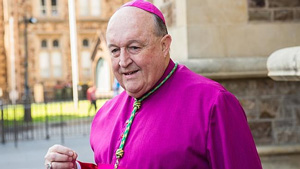 Archbishop Phil Wilson of Adelaide has said he will vigorously defend his innocence and vowed to clear his name after being charged by NSW police with concealing a serious offence regarding clerical child sexual abuse in the Hunter region nearly 30 years ago.
Archbishop Wilson said in a written statement; "I am disappointed to have been notified by the NSW Police that it has decided to file a charge in respect of this matter.
"The suggestion appears to be that I failed to bring to the attention of police a conversation I am alleged to have had in 1976, when i was a junior priest, that a now deceased priest had abused a child.
"From the time this was first brought to my attention last year, I have completely denied the allegation. I intend to vigorously defend my innocence through the judicial system."
The charge relates to James Patrick Fletcher, a priest who was convicted of molesting an altar boy in the early 1990s but died in prison in 2006. However more recent police investigations found Fletcher's offending dated back to the 1970s in the Maitland-Newcastle diocese.
Archbishop Wilson was charged by Strike Force Lantle of the NSW police force with one count of concealing a child sex allegation against another priest.
Prior to his appointment as Archbishop of Adelaide Philip Wilson was the Bishop of Wollongong from 1996 to 200 and before that the Vicar General of the Diocese of Maitland-Newcastle.
When he was Bishop of Wollongong he was known as the "healing bishop" for his handling of child-abuse scandals.
In his statement Archbishop Wilson said; "I am unable to make any further comment at this stage, but I would like to take this opportunity to reaffirm my commitment to dealing proactively with the issue of child sexual abuse and the implementation of best-practice child protection measures which I have pioneered since becoming a bishop.
"My efforts in this regard have been widely acknowledged, including as a result of evidence I gave to hearings of the Royal Commission into Institutional Responses to Child Sexual Abuse in NSW and SA.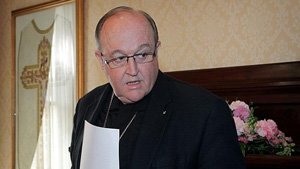 'I would again like to express my deep sorrow for the devastating impact of clerical sex abuse on victims and their families, and I give an assurance that despite this charge, I will continue to do what I can to protect the children in our care in the Archdiocese of Adelaide.
'I intend to take some leave to consult with a wide range of people in response to the information I have received today."
The President of the Australian Catholic Bishops Conference and Archbishop of Melbourne, Archbishop Denis Hart DD said in a statement; " The presumption of innocence applies to Archbishop Wilson as it does to all citizens subject to criminal charges before the court.
"I urge people not to make any judgement until the charge against Archbishop Wilson has been dealt with by the court.
"I hope this matter will be resolved without undue delay."
Archbishop Wilson,64, is due to appear in the Newcastle Local Court on 30 April.