Superb Concert of Lenten Organ & Choral Music at St Mary's Cathedral
Catholic Communications, Sydney Archdiocese,
18 Mar 2015
A special program of organ and choral music for Lent and Holy Week has been selected by St Mary's Cathedral's Director of Music, Thomas Wilson and will be performed on Friday, 27 March as part of the Cathedral's 2015 acclaimed concert series.
The program will feature Thomas, a world-renowned organist, playing movements from French composer's Marcel Dupre's great work: "Le Chemin de la Croix," or as it is known in English, "Stations of the Cross."
The Scholars of St Mary's Cathedral will also perform and will sing Gregorian chant and polyphony by Victoria and Tallis complementing the organ music by Dupre, Johannes Sebastian Bach and other much loved composers from the 18th, 19th and 20th Centuries.
St Mary's Cathedral Scholars are an elite small group of St Mary's Cathedral College students who joined the Cathedral Choir and College in Year 5 as trebles and whose voices are now changing or have changed.
"Each of the boys has had considerable experience from their time in the Cathedral Choir as well as excellent musical training. We are very proud of them and the concert next Friday of organ and choral music for Lent and Holy Week will give people in Sydney an opportunity to hear and see the Scholars in action," says Oliver Brett, Assistant Director of Music at St Mary's Cathedral.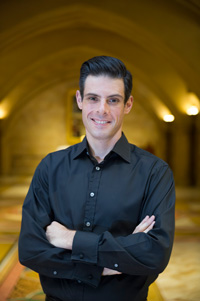 Introduced last year, the Cathedral concert series is free and has quickly become one of the most popular and sought-after events on Sydney's musical calendar.
The first concert for 2015 took place at St Mary's Cathedral last month when outstanding organist, Andrew Lumsden, Director at Britain's historic Winchester Cathedral performed Widor's Symphony No 5.
For the music lovers it was an unforgettable experience to hear the Widor's Toccata, one of the movements in the Symphony played by a master on the Cathedral's Le Tourneau-built 3600-pipe organ in the magnificent setting of St Mary's with its soaring vaulted ceiling and superb acoustics.
The Lenten and Holy Week concert to be held on 27 March at 7 pm promises to be equally remarkable and a night that those who love music will remember for many years to come.
In addition to next week's recital of organ and choral music, the Cathedral's series includes concerts by highly-regarded musician, Colin Andrews, American-based organist and Adjunct Professor of Music (organ) at Indiana University's Jacobs School of Music on 29 May followed by England's prolific composer, improviser and organist, David Briggs on 18 July. The fifth concert in the series for 2015 will take place at the Cathedral on 31 July when Ben Sheen of St Thomas Church on New York's Fifth Avenue will give a recital.
The final concert in St Mary's Cathedral's Grand Organ Evening Recitals for 2015 will be performed by Assistant Musical Director and accomplished organist Oliver Brett who will play selections from Louis Vierne, Cesar Franck and Olivier Messiaen.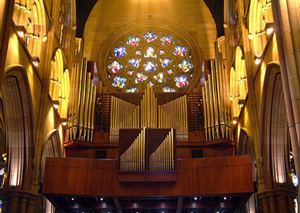 As well as the evening recitals, the Cathedral also offers a series of free concerts on Sunday afternoon each month featuring well known organists and the Cathedral Choir. These concerts begin at 4 pm and are held mid month with the next one which will feature young up and coming organists scheduled for 19 April.
To find out more about St Mary's Cathedral free concert series and the Lenten organ and choral recital by acclaimed organist, Thomas Wilson and St Mary's Scholars on Friday, 27 March at 7 pm log on to http://stmaryscathedral.org.au/pdf/Grand-Organ-Recitals-2015.pdf
A performance by the St Mary's Cathedral Scholars is available on YouTube at https://www.youtube.com/watch?v=_fqV303y8eo