A Passionate Promoter of Interfaith & Intercultural Understanding
Catholic Communications, Sydney Archdiocese,
17 Mar 2015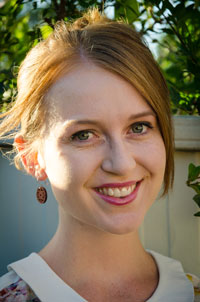 Raised on the Central Coast of NSW, Ashleigh Green says that growing up she had few opportunities to meet people from other cultures or different faiths. All this changed when on a visit to Sydney at 17 she took part in an open day at a Mosque in Auburn.
"Until then I had never met anyone other than Christians. But that day I met Muslim women and had long conversations and I discovered how similar we were with the same dreams and ambitions and love of family. I also realised that the perceptions of Muslims created by what we see and read in the media are simply not true," she says.
Today at 23, Ashleigh is not only a passionate promoter of intercultural and interfaith understanding and friendship, but is one of just four finalists in this year's National Youth Culture and Diversity Award.
Being judged a finalist in one of the key categories of the National Youth Awards, which will be announced at a gala Presentation Dinner in Brisbane on 16 April, recognises Ashleigh's commitment, dedication and skill at fostering understanding and friendships between young people of different cultures, religions and backgrounds.
Although she admits she is thrilled to be named one of the finalists in the 2015 National Youth Awards, Ashleigh says that she is also "totally surprised" and had no idea the Columban Mission Institute had recommended her for the award.
With a degree in Media and Anthropology from the University of Sydney, and currently studying for a Masters in Social Work at the Australian Catholic University, for the past two years Ashleigh has been an integral part of the Columban Mission Institute's Centre for Christian-Muslim Relations.
Shortly after joining the Institute she participated in a four day interfaith trek through the Tasmanian wilderness where all 12 participants were under 25 with each representing one of six different religions. The trek led to close friendships being formed as well as an increased depth of understanding and respect for each other's beliefs, culture and religion.
A few months later in August 2013 when Ashleigh arrived at the Multicultural Eid Festival and Fair (MEFF) at Fairfield with three generations of her family, she ran into fellow Tasmanian trekker Mohamed Taha who was there with his father, grandmother and two brothers.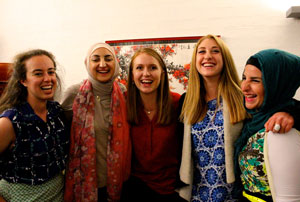 The two families immediately began chatting with Mohamed's father talking with Ashleigh's parents about an upcoming trip to the Central Coast with the entire group forming strong bonds.
"A year before if someone had asked me what is intereligious dialogue, I'd have immediately thought of a panel of high profile religious representatives answering questions in an auditorium. But watching our two families that day, I realised this is what interreligious dialogue is all about," she says.
Although originally set on a career in the media, by the time she completed her degree, Ashleigh says she realised that what she really wanted to do was to become a social worker and work with Sydney's vibrant and culturally diverse communities.
The seeds of the change in direction of her future career were planted the day she visited the mosque at Auburn, and became further entrenched when, as an undergraduate at Sydney uni, she joined the Broken Bay Diocesan Commission for Interfaith Relations.
At just over 20 years old, she was one of 10 members of the Broken Bay Commission which was established to educate and form Catholics in the Church's teachings on relations with people of other faiths, deepen faith and understanding of the spiritual journey by sharing Catholic spiritual traditions with others, to initiate, encourage and develop practical ways of building bridges of understanding between religious communities, and to support and encourage interfaith advocacy and collaboration of issues of mutual concern.
For Ashleigh working alongside different communities and cultures was both enriching and rewarding and she when she heard the Columban Mission Institute was looking for a young woman to work with young people of different religions and come up with initiatives to bring them together to promote better understanding in harmony and friendship, she immediately applied.
"In the last five months I've been introduced to Western Sydney's greatest Lebanese restaurants, became immersed in the Islamic arts through films about Islamic calligraphy and monthly poetry nights in Bankstown, hosted a dinner party for Muslims, Jews, Christians and Buddhists and learnt where to buy some of the best Halal and Kosher foods in Sydney," she wrote to friends shortly after she began her new role with the Institute.
Two years on her passion to learn and understand more about other cultures and religions is unabated.
"I love what my job at the Institute," she says and talks excitedly about the Youth Parliament of the World's Religions she is currently organising, which will take place in September this year and involve Christians, Muslims, Jews, Hindis, Buddhists, Sikhs and members of the Baha'i faith.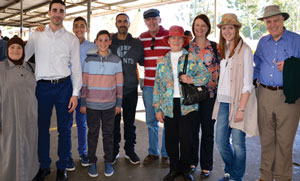 "There'll be discussion between all the religions with each talking about how they were shaped by religion and by their culture," she says and predicts the event will not only be a wonderful learning experience, but that those who attend will come away with the realisation that no matter what their faith or background, as young Australians they have far more similarities than differences.
Last year, Ashleigh organised a multi-faith dinner as part of her role at the Institute, giving it a new twist by insisting that before attending the dinner, the 20-plus young people from different faiths who had been invited, read 2013's book: "For God's Sake," a polemic by a Christian, a Jew, an Atheist and a Muslim.
"Talking over a meal is a great way for people to relate to one another. A meal is not so formal or structured as a panel or forum. Food also relaxes people, and from the start they all have at least one thing in common - the enjoyment of food!" she says.
As Ashleigh hoped, the book which had been read by everyone present, set the stage for lively discussions on a wide range of issues. These ranged from the oppression of women, why bad things happen to good people and what it takes to be a good wife to more esoteric and philosophical arguments such as the nature of the universe, conscience, the challenge of science, religion and conflict, and hope for the future.
"We learned so much about each other," she says adding that the more exposed we all are to different communities, faiths and cultures the more we are enriched.