Appeal Launched as Death Toll and Devastation Rise in Vanuatu
Catholic Communications, Sydney Archdiocese,
17 Mar 2015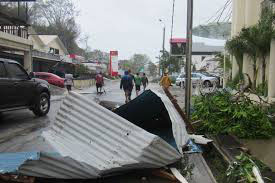 With every passing hour the damage Tropical Cyclone Pam wreaked on the usually idyllic tropical island chain of Vanuatu becomes horrifying clear.
Two dozen bodies have been identified, thousands of homes destroyed, roads, buildings and power lines torn apart. However rescue teams are still struggling to contact or reach many of the islands that make up this popular tourist destination.
Some foreign rescue mission flying over the outlying islands have reported them flattened.
Those living in the capital, Port-Vila are only now emerging to see the devastation.
Port-Vila's Cathedral du Sacre-Coeur provided shelter for many of the city's men, women and children as Tropical Cyclone Pam unleashed her fury on Vanuatu early Saturday morning causing widespread destruction.
In some islands, other solidly-built Churches also gave shelter from terrifying winds gusting to 350kph and lashing rain as the strongest Category Five Tropical Cyclone ever recorded in the South Pacific region cut a swathe across Australia's island neighbour.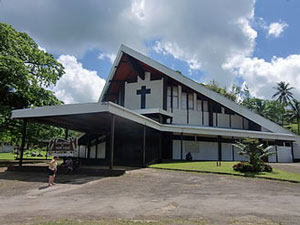 The death toll four days after the cyclone hit stands at 24 but many of the 80-plus outlying islands can still not be reached. When communication is restored and emergency workers reach these islands the toll could very quickly rise. An estimated 40,000 to 50,000 houses have been damaged with at least 15,000 uninhabitable and more than 3,000 still in evacuation shelters. However tens of thousands could be homeless on other islands when relief and aid eventually reaches them.
In Vanuatu many local people, particularly those outside of the main cities of Port-Vila construct their own houses themselves using whatever materials are at hand. Typically, these houses have coral or earth floors, palm, bamboo or cane walls and roofing.
With foundations and the flimsiest of walls, traditional Melanesian houses like these would have offered little no protection against the wrath of Tropical Cyclone Pam.
"This is why many people particularly in outlying areas sought shelter in the Cathedral or in churches. These are solidly built with concrete foundations and sturdy walls and roofing and so far there have been no reports of damage to either the Cathedral or to Catholic Churches," says Stephanie Lalor, Caritas Australia's Pacific Program Manager.
Since the Cyclone made landfall shortly after midnight on Friday, 13 March Stephanie has been working non-stop to try and reach Caritas Australia's partner agencies on the ground in Vanuatu as well as in New Zealand. She was also anxious to get in touch with the Bishop of Port-Vila, the Most Rev Jean (John) Bosco Baremes SM with whom Caritas Australia, the aid and Development arm of the Catholic Church has been working with for the past five years on a series of development projects and emergency response programs.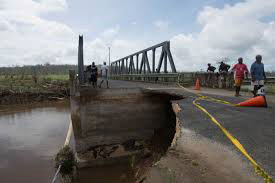 "With communications down across Vanuatu there was a nervous wait to find out how people were faring and what was needed in the immediate aftermath," she says.
Stephanie, who is expected to fly out of Sydney for Port-Vila later tonight says there is no doubt risk reduction programs conducted by Caritas and the Dioceses of Port-Vila would have helped play a role in saving lives. But there is still not way of knowing the extent of the damage Cyclone Pam has left in its trail.
"Unconfirmed reports however suggest that our churches, along with the church's adjacent community halls and school buildings served as a refuge for those living on these outlying islands to the north and south of Port-Vila," she says.
Caritas New Zealand along with Caritas Australia and the broader Caritas confederation are now assessing the situation on the island nation and already looking ahead to the long -term recovery of Vanuatu in the aftermath of Tropical Cyclone Pam.
While the Australian Government has immediately stepped into help, ferrying cargos of emergency kits of food and water along with medicines, blankets and tents to be used for shelter as well as donating $5 million in aid, Caritas and its partner agencies are assessing what will be needed in a month's time, in six months' time and in a year's time.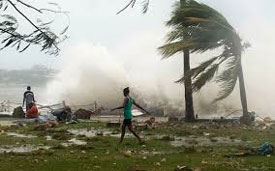 "The recovery will take many years and it will be a long hard road for people to rebuild having lost their homes, their livelihoods and everything they own," Stephanie says.
Vital infrastructure including one Port-Vila hospital, has been severely damaged. The hospital lost a large section of its roof and medicines were smashed or contaminated by the violence of the storm.. Trees cover the roads making them impassable while in other areas the roads have been washed away entirely.
"Thousands of homes will need to be rebuilt, roads cleared and repaired, and we need to get schools up and running once more," Stephanie says. But she warns this will take considerable time. Restoring, mending and patching up schools that have been damaged so they can be reopened will take several months.
Caritas Australia will launch an appeal later today to help those affected in Vanuatu by Tropical Cyclone Pam and the devastation the Category 5 Cyclone has caused across the island nation.
To find out more log on to www.caritas.org.au