Time Running out for Kiribati & Tuvalu
Catholic Communications, Sydney Archdiocese,
16 Mar 2015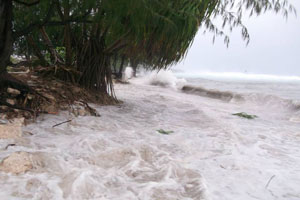 Less than a week after Kiribati's Pelenise Alofa addressed the United Nations in Geneva on rising sea levels and the devastating effect of climate change on the low lying Pacific nations of Kiribati and Tuvalu, both Island Nations have been swamped by massive storm surges triggered by Cyclone Pam.
The Category Five Cyclone which decimated Vanuatu, sweeping away entire villages, leaving more than 10,000 homeless and countless numbers dead or missing, has also wreaked havoc on Kiribati and Tuvalu.
With gale-force winds, massive storm surges and torrential rain battered the low lying nations ahead of Tropical Cyclone Pam making landfall in Vanuatu.
Kiribati, where much of the land across the nation's coral atolls and islands is no more than four to five metres above sea level, is yet again battling severe flooding, erosion, serious damage to infrastructure, salination of the soil and destruction of crops, including a plantation of paw paws that were ready for harvesting.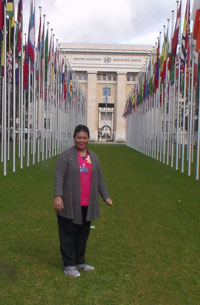 "The paw paws were part of a community garden we established. But now they have been rolled over by the seas and high winds," says Pelenise, climate advocate for Kiribati and coordinator of KiriCAN (Kiribati Climate Action Network) describing the ruined paw paw crop as "heart breaking."
Brought to Sydney last week after her trip to Geneva by the Edmund Rice Centre to raise awareness about the plight of the Pacific's vulnerable island nations which are facing increasing extreme weather events such as Tropical Cyclone Pam, salination of their land as well as severe erosion from the ongoing rise in sea levels, Pelenise insists climate change is a global issue and needs a global response.
"Invest in saving the Pacific, because if you do you are saving yourself and the world," she told the UN Human Rights Council and called on the Council to recognise the adverse effects of climate change as a human rights issue.
"We have a right to survive and to live," she insisted telling the UN that the lack of political power was her nation's biggest challenge.
For the past six years Kiribati's government, led by President Anote Tong, has endeavoured to reach an agreement with the UN's Framework Convention on Climate Change (UNFCCC) but continuing lack of progress in providing assistance to vulnerable Pacific nations affected by rising seas resulted in Kiribati along with Tuvalu and Fiji turning to the UN Human Rights Council for help.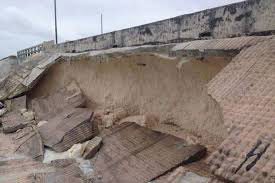 "Kiribati has been affected by climate change for 21 years and I wish instead of going to the UNFCCC we had made an approach to the Human Rights Council much sooner," Pelenise says. "Climate change is a global injustice and one of the greatest human rights challenges of our time. Climate change touches every aspect of our lives," she maintains.
Although it was the first time she had ever addressed the UN in Geneva, Pelenise says there was no time to be nervous.
"I had to throw away fear. What is happening to Kiribati and other Pacific nations and to get this message across was too important to waste time on nerves. I knew I had to go full force and not waste a second of the short time given to me in which to speak," she says.
Pelenise pulled no punches.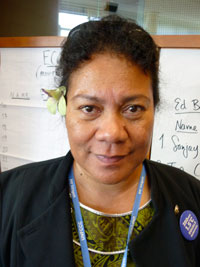 "When our leaders chose to ignore the reality of climate change, I say this is corruption at the highest level - it is criminal," she told those in Geneva.
When it came to vulnerable Pacific Island nations, the Millennium Goals made by UN member countries, including Australia back in 2000 were no longer appropriate, she said, pointing out that food, assistance with sustainability, agriculture, job skills and other goals were of little use in a nation that is losing its lands, homes, culture and lives from the rising seas.
Pelenise was in Australia until last Saturday when she returned to Kiribati only to be confronted by the devastation of Cyclone Pam on its sweep across the Pacific before making landfall in Vanuatu on 14 March.
Much of the newly-constructed causeway linking Betio and Bairiki in Kiribati suffered extreme damage, says Jill Finnane, Eco-Justice Program Co-ordinator for the Edmund Rice Centre and reports that the causeway had to be closed to all traffic including people on foot last week, with much of the road's surface and land on either side swept away by the giant tides.
Wells, where a decade ago the people on Kiribati could rely on clean fresh water filtered through the coral under-base of the islands, have been further polluted by sea water as a result of pounding by four and five metre waves.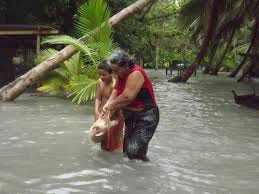 With few domestic rain water tanks on Kiribati, many of the nation's 103,000 inhabitants along with livestock such as chickens and pigs raised for food on the Islands are now in desperate need of clean fresh water, Jill says.
In Tuvalu the situation is equally dire with the land inundated by sea water and wild storms generated by Cyclone Pam destroying much of the nation's infrastructure as well as houses and roads.
Last Friday, 12 hours before Cyclone Pam cut its deadly path across Vanuatu, Tuvalu's Governor General His Excellency Sir Iakoba Taeia Italeli declared a State of Emergency.
"Although no human injuries and casualties have been reported, some island settlements have been totally flooded requiring emergency evacuation and relocation and urgent help for affected residents," Tuvalu Prime Minister, Enele Sopoaga said.
The Edmund Rice Centre's Pacific Calling Partnership works closely with the governments and people of Kiribati, Tuvalu and those on other low lying islands in the Torres Strait and the Pacific to raise awareness about the serious threat they claim climate change poses for them, and the responsibility Australia and that of the world's nations to ensure the long term safety and survival of these communities.