Generous Donor Sees Antique Sanctuary Lamp Blessed and Installed at St Mary's Cathedral
Catholic Communications, Sydney Archdiocese,
16 Mar 2015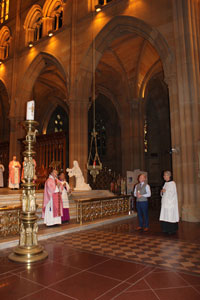 A beautifully restored 19th century French Gothic sanctuary lamp was blessed by Archbishop Anthony Fisher OP and installed yesterday at St Mary's Cathedral with Mark Roberts, the donor who made it possible, lighting the sanctuary candle before it was raised 23 metres in the air.
The lamp is now suspended from the ceiling near the main altar and tabernacle as a sign and reminder of God's presence in the Blessed Sacrament.
And to add to the special occasion, Cardinal George Pell was also at the Cathedral. In Sydney for a brief break from Vatican duties, Sydney's former Archbishop concelebrated Mass with the new Archbishop and also the Dean of the Cathedral, Fr Paul Hilder.
Mark, an Englishman first came to Australia nearly 25 years ago and has been a regular visitor since.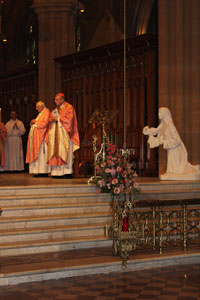 He always visited St Mary's Cathedral regarding it as his "spiritual home". Last year he wanted to make a special donation to the Cathedral and this was in the form of restoration work of the beautiful sanctuary lamp.
Returning to Sydney this month Mark saw the restored lamp and agreed it was indeed very special.
At the end of Mass on Sunday the 24 kg lamp was lowered for Archbishop Anthony to bless. Mark then placed the lighted candle in the centre of the ornate lamp before it was winched high above the floor to its permanent position.
"It was a beautiful and very emotional moment," Mark said following the Mass.
"And a very special moment for me. I am very grateful to everyone."
For health reasons Mark needs to return to England shortly however before leaving the Cathedral he received a special blessing from Archbishop Anthony. and also had the opportunity to meet with Cardinal Pell.