Australia's Muslim Leader Travels to Indonesia for Drug Duo Mercy Plea
Catholic Communications, Sydney Archdiocese,
12 Mar 2015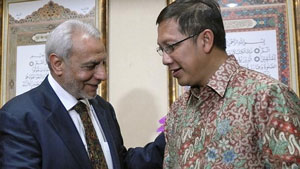 The Grand Mufti of Australia, Dr Ibrahim Abu Mohamed, has travelled to Indonesia to plead for the lives of the two Australians who face execution by firing squad at any time.
In an unprecedented intervention, Australia's most senior cleric met with Indonesia's Religious Affairs Minister, urging clemency for Andrew Chan and Myuran Sukumaran.
The Grand Mufti was accompanied by two Indonesian-born Australian clerics when he spoke with Minister Lukman Saifuddin.
His visit to Indonesia followed a joint statement and media conference with Archbishop Anthony Fisher OP last month when both religious leaders called for Clemency. While acknowledging the men's serious crimes both leaders said they believed Chan and Sukumaran had shown repentance and have appealed for President Joko Wododo not to execute the death-row drug criminals.
The Indonesian visit to the world's most populous Muslim-majority country was an initiative independent of the Government.
Details of the meeting were not released however Mr Lukman said he would report the discussion to the Indonesian cabinet.
Dr Mohamed is a well known international Muslim scholar who was appointed Grand Mufti by the Australian National Imams Council in 2011.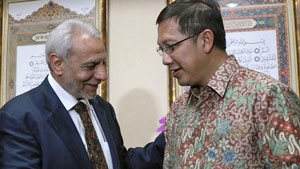 He is also meeting with Islamic leaders while in Indonesia to press the case for clemency.
Chan and Sukumaran are currently on a central Java island awaiting execution along with eight other drug criminals.
The Grand Mufti said in Indonesia he respected the Indonesian government's firm pursuit of drug crime and made no criticism of the justice system.
"However, we note that mercy and forgiveness lies at the heart of Islam for those who repent and have reformed their ways," he said.
"We urge that the heritage of mercy in our religions is fully and deeply considered in the application of state law. We plead with respect and humility for mercy for the lives of two young Australian men, who have not only shown repentance for their serious crimes but have rehabilitated themselves and indeed others."