Cathedral College Shave-athon to Help Support Cancer Schoolmate Great Success
Catholic Communications, Sydney Archdiocese,
12 Mar 2015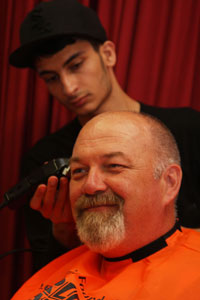 None of the boys at St Mary's Cathedral College had ever seen Religion and Geography teacher, Steve Garry without his distinctive moustache and goatee. For the past 27 years both have been as much a part of Steve as his shoe size. But on Monday this week, Steve not only shaved his moustache and his hair but had his newly-trimmed goatee dyed a bright blue.
It was all part of the World's Greatest Shave an initiative of the school's Year 12 class as a show of solidarity and support for popular classmate and House Vice Captain, Jacques Pacifique who is currently undergoing his second battle with leukaemia.
Inspired by his courage as Jacques endures further debilitating chemotherapy and treatments, his friends in Year 12, decided the best way to show support for Jacques was to raise money for the Leukaemia Foundation by holding their own World's Greatest Shave.
After committing to a target of $20,000 the College's Year 12 boys set about organising sponsorships and donations.
"A good week or two before the event had event taken place, they had not just topped the target but had raised double this amount. And by Monday this week when the entire College gathered in the School Hall together with family, friends, sports stars and radio personalities we managed to achieve a total of more than $55,000 with donations still coming in," says Daniel Khoury, a teacher at the College and Co-ordinator of Year 12 who after being approached by the class, set about helping to organise the event.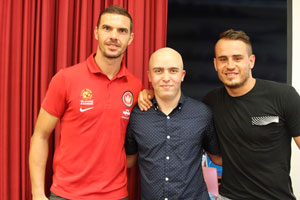 Daniel not only raised more than $4500 himself but was among the five members of staff and 66 boys who had their heads shaved on Monday in front of the entire school of 760 boys.
"When the whole school had gathered in the School Hall, Steve Garry issued his challenge, promising the boys that if he could raise $1000 then and there for the Leukaemia Foundation, he'd shave off his moustache as well as his hair," Daniel says laughing as he recalls the loud cheers and whistles that began the moment Steve sat down in one of the barber's chairs on stage until the moment he rose bald and clean-shaven except for the small tuft of his now very blue goatee.
One of the volunteers lending a hand to shave heads and play barber for the day was Jacques himself. Although the teenager is no longer able to attend school while undergoing treatment for leukaemia, this was an occasion he was determined not to miss.

"Luckily he was well enough on the day and was not only able to be there but to participate as well. We were all thrilled to see him and thrilled he could make it," Daniel says.
Jacques who was accompanied by his parents, Michel and Julie along with his two sisters, was diagnosed with lymphoblastic leukaemia (ALL), a cancer that affects the bone and blood marrow in 2010 when he was 13 years old. At the time he was in Year 7 at the College and his humour, stoicism and courage throughout the intensive, often painful and confronting treatment never wavered.
Finally the turnaround began and after a series of scans he was given the all clear. For the next four years he remained in remission and was not only fit and healthy but able to indulge his passion for sport and baseball in particular. Then on Christmas Eve last year he received the grim news that the leukaemia had returned.
Despite the battle ahead of him Jacques is determined to continue with his plans to sit his HSC in October this year and to begin university in 2016. To this end the College is doing all it can to support him and is working closely with Jacques and an educational liaison from the hospital where he is receiving treatment.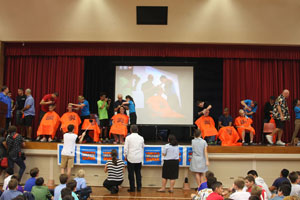 But on Monday studies as well as treatments were forgotten as Jacques was reunited with his best friends Arthur Tsania and Jordan Grove and the rest of the Year 12 class. There was no doubt the reunion with his mates was a high point of the day. The other was meeting and talking with two of Jacques' heroes, Bulldosg rugby league great, Josh Reynolds and Ante Covic of the Western Sydney Wanderers.
Both had arrived to give support to the event and immediately got into the spirit of things.
At one point during the morning, Josh sent his girlfriend to an ATM so he could make a personal donation and he also promised Jacques that the moment he is well enough, he is to be Josh's guest at a game when he will also be taken into the dressing room to meet all "the boys."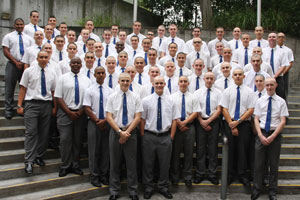 "Once the event was over, the two of them stayed on for at least another hour, patiently signing autographs and talking to the boys. Every single class at the College was over the moon!" Daniel says, adding that "stoked" was the main word he heard throughout the school for the rest of the day.
Although 66 boys had their heads shaved on the day, many more wanted to and queued up to join the group on stage.
"I had to explain that without their parents' permission we couldn't shave off their hair and send them home bald, no matter how good the cause," Daniel says.
To donate to the Leukaemia Foundation in support of Jacques Pacifique and his friends in the Year 12 at the St Mary's Cathedral College log on to: https://secure.leukaemiafoundation.org.au/registrant/TeamFundraisingPage.aspx?TeamID=87469#&panel1-1