Archbishop Anthony Fisher and Muslim Grand Mufti in Joint Mercy Call for Bali Nine Pair
Catholic Communications, Sydney Archdiocese,
9 Feb 2015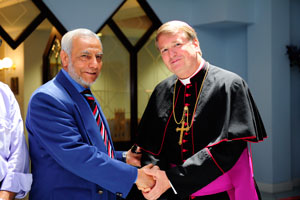 The Archbishop of Sydney, the most Rev Anthony Fisher OP and the Grand Mufti of Australia, Dr Ibrahim Abu Mohammed yesterday came together to plead for mercy for Andrew Chan and Myuran Sukumaran who are facing imminent execution by firing squad in Bali .
The two religious leaders were keen to show they were united in their bid for clemency for the Sydney-born men who were convicted of drug trafficking nearly ten years ago.
Both men have been in Kerokaban Prison since their arrest. All appeals have been exhausted and they are now on death row awaiting the three-day notice which will tell them when they will be taken into a secret location in the jungle and killed by firing squad.
Archbishop Fisher and the Grand Mufti said yesterday from all reports Andrew and Myuran have reformed and rehabilitated themselves in prison even becoming "men of charity" in the way they had helped other prisoners.
The religious leaders said; "We do not question their guilt. We do not question the seriousness of their crime.
"We acknowledge drugs tear at the social fabric of all our communities and we applaud the efforts of the Indonesian government to protect its society - and indeed ours - from drug smuggling.
"Our plea today to the President and people of Indonesia is on the basis of their apparent remorse and repentance for a crime they committed nearly ten years ago.
"Our request today is for clemency or a commuted sentence for Andrew and Myuran so as to allow them to be further rehabilitated and to make reparation to the communities they betrayed by their crimes.
"Execution would prematurely end these lives robbing both them and our communities of the opportunity for ongoing repentance and rehabilitation."
Members of the Chan and Sukumaran families are in Bali and will again appeal to Indonesian President Joko Widodo for clemency.
However the President has already refused clemency appeals for 33-year old Sukumaran and 31-year old Chan.
Nonetheless their Australian and Indonesians lawyers hope to file another appeal suggesting political interference at the time of sentencing.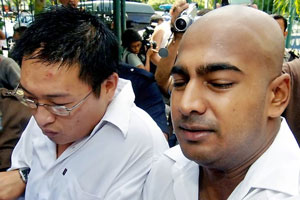 Archbishop Fisher said the case for mercy was further deepened by recent reports surrounding the role of the Australian Federal Police in the Bali Nine case and also more recently claims by one of the original Indonesian lawyers that Indonesian judges were pressured "from above" to impose the death penalties.
"To the extent there were failings in the legal processes in either country, that's another reason to delay and another reason to be asking for clemency at this time," Archbishop Fisher said.
Although the Australian Embassy in Indonesia in Jakarta has been informed the men have exhausted all appeals and will be executed within weeks, the Grand Mufti and colleagues have also been talking to religious leaders in Indonesia about their plea for clemency.
A copy of the joint statement by Archbishop Anthony Fisher and Grand Mufti Dr Ibrahim has been sent to both the Australian and Indonesian governments and also the families of Chan and Sukumaran through their lawyers.
Full Statement by Archbishop Anthony Fisher OP and Muslim Grand Mufti Dr Ibrahim Abu Mohammad here