Sudanese Catholic Community give Thanks to Archbishop Anthony
Catholic Communications, Sydney Archdiocese,
9 Feb 2015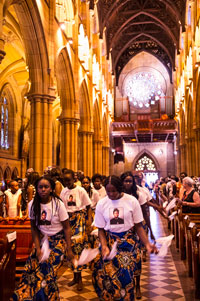 The Sudanese Catholic Community has given special thanks to Archbishop Anthony Fisher OP for celebrating the Feast Day of Sudan's Patron Saint, St Josephine Bakhita at St Mary's Cathedral yesterday.
"It was wonderful. There were well over 2000 of Australia's Sudanese community at the Mass with many coming from across NSW and some from as far away as Melbourne. Many had never been in Sydney before let alone inside the Cathedral. So it was very good. Very special for all of us," says Anna Dimo, the Archdiocese of Sydney's Pastoral Care Worker for the Sudanese Catholic Community.
"We had families, little babies, grandparents, children and teenagers. We thought there'd be 50 Sudanese dancers but on the day we had 66 dancers. Everyone wanted to be part of the Mass for St Bakhita and we are all so happy, and want to thank Archbishop Anthony," she says.
The Mass yesterday afternoon not only commemorated the Feast Day of St Josephine Bakhita but marked the first World Day for Prayer, Reflection and Action Against Human Trafficking and Slavery.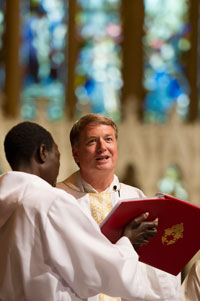 St Bakhita was kidnapped by Arab traders as a nine-year-old. She was then sold and resold as a slave until finally after almost a decade in servitude she was rescued by the Italian consul to Khartoum. Taken with him to Italy, she later professed her vows as a Canoissan nun and for the rest of her life, worked tirelessly to help the poor and those on the margins in towns and villages across Northern Italy.
Canonised by St John Paul II in 2000, her Feast Day is celebrated by Sydney's Sudanese community on 8 February each year.
"But this is the first time we have celebrated our special day at St Mary's Cathedral. We were all very excited when the Archbishop invited us to celebrate Mass for St Bakhita at the Cathedral," Anna Dimo says.
From the moment the community heard that a Mass for St Bakhita would take place at the Cathedral this year and would feature the Sudanese Catholic Choir as well as Sudanese musicians and the Sudanese Catholic dancers, rehearsals began in earnest.
"The choir, dancers and musicians have been rehearsing since last November," Anna Dimo says.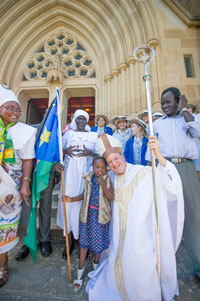 The Sudanese Community were also immensely proud when Pope Francis declared St Bakhita's Feast Day had been chosen as the date of the World Day for Reflection, Prayer, and Action Against Human Trafficking and Slavery.
Although she was ultimately given her freedom by her Italian rescuer, St Bakhita was so traumatised by her kidnap and years as a slave that she totally forgot her own name and took the name Bakhita for herself, which means Lucky in Arabic.
Sadly slavery and human trafficking not only continue today and affect 36 million people around the world, generating more than $150 billion in annual profits for unscrupulous traders in this illegal and shameful activity.
Pope Francis has been concerned at the trade in humans worldwide since his years as Archbishop of Argentina and has made the elimination of human trafficking and slavery a key component of his Papacy.
"For those who cry out, usually in silence, for liberation, St Josephine Bakhita is an exemplary witness of hope," says the President of the Vatican's Pontifical Council for Justice and Peace, Ghanaian Cardinal Peter Turkson.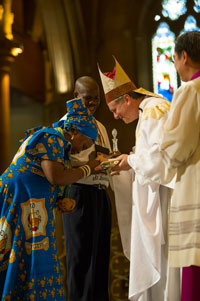 Yesterday parishes around the world held prayer vigils and shared their initiatives to combat human trafficking on the Vatican sponsored interactive website, A Light Against Human Trafficking (http://a-light-against-human-trafficking.info/).
The website also gives up to date information on human trafficking as well as individual stories of hope and freedom and how all of us can play a role in helping to stop the trade in children and adults, forcing them into prostitution, sweat shops, forced labour, organ trafficking and grim lives of cruelty and beatings.
"Collaborating with this cause is not enough for a Christian," Pope Francis insists. "We are called to commit to the cause even if it means risking our own life."
Writing on the eve of the St Bakhita's Feast Day and the world's first Day of Prayer Reflection and Action against Human Trafficking and Slavery, Pope Francis wrote that the world was facing a global phenomenon which exceeded the competence of any community or country.
"In order to eliminate it, we need mobilisation comparable in size to that of the phenomenon itself," he said and reiterated his message on the 48th World Day of Peace on 1 January this year when he sald: "Slaves no more but brothers and sisters!"