Project Compassion Transforms Lives and Brings Hope for the Future
Catholic Communications, Sydney Archdiocese,
9 Feb 2015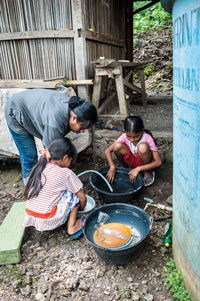 On Sunday, 15 February Caritas Australia will launch its annual Lenten appeal, Project Compassion.
Taking the theme, Food for Life, this year's appeal will run throughout the six weeks of Lent with hopes that donations and fundraisers by parishes, school children and individuals will top last year's record of just under $11 million.
"Project Compassion helps transform the lives of many of the world's most marginalised people," says Paul O'Callaghan, CEO of Caritas Australia, the aid and development arm of the Catholic
Church, adding that it is thanks to the generosity of Australians who give to Project Compassion each year that Caritas has been able to work alongside communities over the long-term helping communities in Asia, Africa, the Pacific, Latin America as well as the nation's First Australians to overcome poverty and become self-sustaining and self-sufficient.
Now in its 51st year, Project Compassion for 2015 will focus on the ways in which Caritas Australia is working with partners around the world to empower vulnerable people to establish sustainable food sources and develop income streams for life.
"Without food, the rest of life is impossible to contemplate. How can you plan for the future or educate your children when you live in fear of hunger and not having enough to feed your children or yourself," Mr O'Callaghan says.
Funds raised throughout Lent this year will go to support training in modern agricultural methods, soil care, drought resistant plants, crop rotation and nutrition, along with water management to ensure families as well as communities can grow food throughout the year to feed themselves as provide income.
In Fiji, Caritas Australia is involved with the Married Couples Course run by the Tut Rural Training Centre which teaches couples living in the remote north islands to grow sustainable sources of food.
One couple, Eric and Margaret Ma say the course changed their lives and by growing and selling home grown produce which ranges from cabbage, lettuce and okra to tomatoes, peppers and cucumbers, they have been able to make a go of their small farm. Not only have sales of their produce made their small farm with its handful of chickens, goats and ducks viable, but has enabled them to see their six healthy children finish school and go on to university.
In Niger, West Africa where almost 3 million men, women and children live in extreme poverty and where 40 percent of the population cannot afford to buy food or have no access to the food they need, malnutrition is a major health issue particularly among children.
"In Niger more than half the children under five experience malnutrition," says Paul O'Callaghan.
In a bid to reverse these alarming statistics, Caritas Australia supports the Nutrition Centre which is run by local partners, CAFOD (UK Caritas) and CADEV Niger (Caritas' partner in Niger).
Around 509 malnourished children are admitted to the Centre each week with 15 of these so severely underweight their lives are at risk.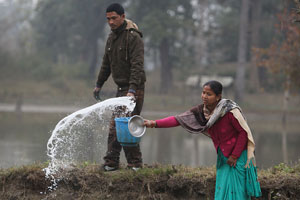 After undergoing an eight week program of food, medical care and nutritional supplements the children gradually recover. In the meantime the Centre provides classes in hygiene and nutrition to mothers to help them maintain their children's good health, while also encouraging to take sewing classes or to learn other skills to help bring in an income to ensure a brighter more secure future.
Caritas Australia helps many of the world's poorest and most vulnerable communities. They have teams on the ground in Africa, Peru, Nepal, Indonesia, the Pacific and Asia who work alongside people struggling with poverty bringing them hope through education, training in agriculture, job skills, budgeting and sustainable living.
"Project Compassion's theme Food for Life aligns with the Caritas Internationalis global initiative of One human family, food for all which aims to end hunger by 2025," says Mr O'Callaghan and urges Australians to once again join together in solidarity with the world's poor.
He also cites Pope Francis words' last year when the Pontiff pointed out that "it is a well known fact that current levels of food production are sufficient (to feed the world) yet millions of people are still suffering and dying of starvation.
"This is truly scandalous," he said.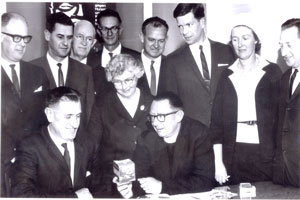 Project Compassion hopes to change this and has come up with a wide variety of fundraising ideas throughout Lent for parishes, primary and secondary schools. These include pancake flipping contests for Shrove Tuesday, Caritas K walks, runs, cycling or swims to raise awareness as well as funds, together with healthy food market days and a host of other great initiatives.
For this year's Lenten appeal, Caritas has produced a series of great fund raising ideas in a series of online booklets specially designed for parishes or primary schools or secondary schools.
To download this log on to www.caritas.org.au