"A Man of Deep Faith" - Sydney Mourns the Loss of Fr Ron Harden
Catholic Communications, Sydney Archdiocese,
6 Feb 2015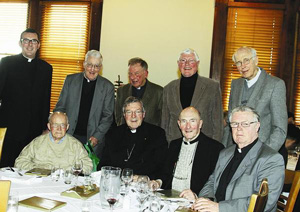 "He was a holy man. A man of deep faith and spirituality," according to Sydney's Auxiliary Bishop Terence Brady, talking about his friend Fr Ron Harden who died on Monday. He was 86.
Fr Harden had a great love for parish life and the community but he also contributed to the development and growth of the St Mary's Cathedral Choir which has gone on to become one of international renown.
Born in Bexley, Fr Harden was educated at St Joseph's Convent School, Rockdale and Marist Brothers' College, Darlinghurst. He then went on to study for the Priesthood at Springwood and Manly before being ordained at St Mary's Cathedral on 21st July 1951.
Fr Harden's first appointment was as Assistant Priest at Rosebery, before moving to Surry Hills in 1954, and St Mary's Cathedral in 1956 where he became Director of the Cathedral School's Choir. He also served as a member of the Archdiocesan Commission for Liturgy, Sacred Music and Art for 20 years up to 1974. It was during this time that Bishop Terry first encountered Fr Ron Harden, who was responsible for forming the Cathedral Choir as a boys and men's choir, consistent with the Benedictine English tradition and something which still remains today.
In 1970, he was appointed Parish Priest of St Michael's Hurstville where he remained until 2005. During this time, Fr Ron was involved in the Catholic Charismatic Renewal and which "had a great impact on his priesthood" says Bishop Terry. "He became a phenomenal priest throughout this time. He was very focused on the parish, and on its people - he could build community and ensured people were involved".
During his time at Hurstville, Fr Ron became close friends with Bishop David Cremin, former auxiliary Bishop of Sydney who spoke fondly of their friendship at Bishop David's final Mass at Hurstville. "I lived with Fr Ron for 32 years and we never had a decent fight ... you just couldn't fight with Ron," Bishop Cremin said at the time.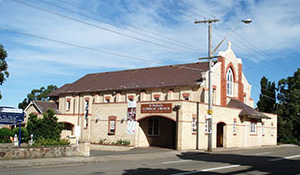 In 2005, Fr Ron retired to Ferndale Nursing Home where he continued to be very active by celebrating Masses and building community in the home. "It was only in recent months that he wasn't able to be as involved, which would have been hard for him - he was a person who wanted to connect with others. I learnt a lot about what it means to be a priest through Fr Harden," Bishop Terry commented.
In 2011 hosted a special dinner for priests celebrating 25, 50 and 60 year anniversaries of their ordination. For Fr Harden it was his 60th.
Fr Ron's Requiem Mass will be celebrated at St Michael's Catholic Church, Hurstville at 11:00am on Tuesday 10 February. All are welcome.
Cardinal George Pell, then Archbishop of Sydney hosted the dinner for priests in 2011 who were celebrating their 25, 50 or 60 year anniversary - including Fr Harden who was celebrating 60 years.
He is seated on Cardinal Pell's right hand side.