Sand & Sea Good Medicine for Notre Dame Students
Catholic Communications, Sydney Archdiocese,
6 Feb 2015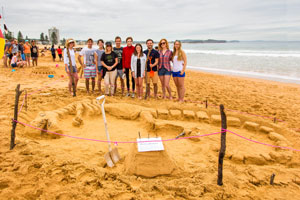 Students from the University of Notre Dame's School of Medicine spent yesterday morning on Collaroy Beach creating a series of elaborate sand sculptures. Divided into groups of eight, the students carved 15 gigantic art forms in the sand including one from the Jurassic era dubbed a "notredamus."
The sand sculpting competition is one of the highlights of the university's two-day Collaroy Orientation Program for second year Medical students.
"The competition happens first thing in the morning and is designed to get the students to start thinking as a team, on their feet and under time pressure - all skills needed to work in emergency situations," says Professor Christine Bennett, Dean of the University of Notre Dame's School of Medicine.
The sand sculptures are judged not only each group's artistic efforts but on how well they work together as a team.
"Effective teamwork is a core component of medicine in today's world," Professor Bennett says, explaining that the two-day program focuses on the importance of teamwork, relationship skills, communication and group problem solving.
In addition to carving sand sculptures, the two-day program includes a popular trivia night.
But for the second year students, it is not all fun and games and today the students will be involved in a series of beach emergency drills.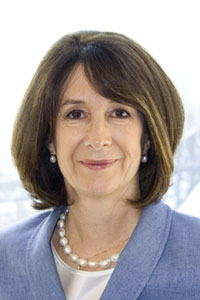 Supported by the Collaroy Surf Life Saving Club, the students will carry out water rescues and also have a chance to practice their skills in airway management involving cardiopulmonary resuscitation, anaphylaxis recognition, intubation and intravenous cannulation.
In addition to improving and developing strong team skills, students learn to recognise the strengths others bring to a group as well as honing their critical thinking skills which are essential components in all health-related careers.
Professor Bennett says the two-day program reflects the practical and collaborative nature of the Bachelor of Medicine/Bachelor of Surgery curriculum at the University of Notre Dame Sydney.
Based on a Problem Based Learning model with clinical problems setting the context for each student's learning material in an academic year. Divided into groups of eight throughout the year, students explore a series of problems supported by lectures, practical sessions and private study.
To find out more about the University of Notre Dame Sydney's Bachelor of Medicine/Bachelor of Surgery program or to apply for enrolment to study Medicine in 2016 log on too www.nd.edu.au/schools/medicine