Future Priests Will Play Key Role in Catholic Mission HIV/AIDS Prevention Campaign
Catholic Communications, Sydney Archdiocese,
5 Feb 2015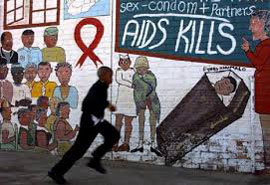 Australia's Catholic Mission has launched a campaign to train future priests to take on key roles in the fight against HIV/AIDS in the world's worst affected nations.
In its first campaign of 2015, Catholic Mission hopes to raise over $600,000 to help educate seminarians about the scourge of HIV/AIDS in some of the world's hardest hit nations. In turn this will enable them to educate entire communities on how the virus is spread and to slow what has become a pandemic in Africa, and in South Africa in particular.
South Africa ranks number one when it comes to new HIV infections. Each year more than 400,000 new cases are reported with more than 6.4 million or almost 13% of the population currently infected with HIV/AIDS.
"Due to poverty, illiteracy and the stigma attached to HIV/AIDS ,many in South Africa lack basic education about the deadliness of the virus but also how it is preventable ," says Martin Teulan, National Director of Catholic Mission.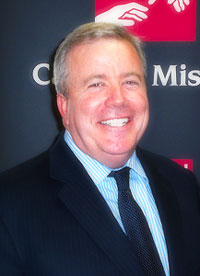 "This means the incidence of the virus continues to escalate, taking young lives and creating orphans every single day," he says and points out that as the gap between rich and poor continues to widen in South Africa, it is the people in the poorest areas of the country who are suffering the most.
Despite advances in the treatment of HIV and the development of effective retroviral drugs which can prevent HIV developing into AIDS which is almost always fatal, ignorance about the virus and how it is spread continues to take its toll with more than 240,000 dying of AIDS in South Africa each year.
Even more troubling is the fact that there are now between 2,500,000 and 2,700,000 orphans due to AIDS in South Africa. This figure which was part of a 2012 survey conducted by the Human Science Research Council's National HIV Prevalence, Incidence and Behaviour Survey not only reported the large numbers of orphans due to AIDS but gave their ages as between under one year old and 17 years of age.
Many of these children in all probability are also infected with HIV.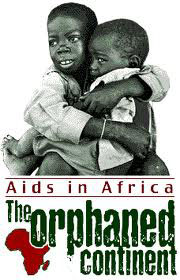 According to the 2012 survey, women aged between 30 and 34 had the highest rates of HIV infection while the highest rate among men was in the 35 to 39 age group.
That meanst 36% of South African women and 28.8% of males in these age groups are infected and living with HIV.
The Catholic Mission, the official mission aid agency of the Catholic
Church Australia, launched its 2015 Seminarian Appeal yesterday declaring that the priests of the future are vital to limiting the spread of HIV/AIDS in the world's poorest nations.
Taking the theme "The prayer of faith will save the sick," Catholic Mission's campaign will also raise awareness among Australians that the fight against HIV/AIDS is by no means over.
But it is awareness about how HIV/AIDS is passed from one person to another and how easily the spread of the virus can be prevented via education that is crucial.
Mr Tuelan cites the case of Napo, a 27-year-old South African seminarian from Matatiele who recently had to bury one of his closest friends, Wiwi a young woman who contracted HIV/AIDS after sexual intimacy with her infected boyfriend
Tragically such funerals are a weekly routine for Napo.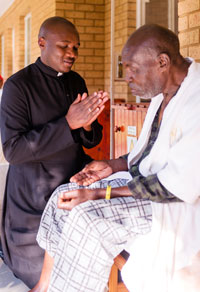 Desperate to make a difference before it is too late for other young people, Napo and other seminarians like him are working to prevent further spread of the deadly virus by educating young people about the importance of abstinence and aligning their lives with Gospel values.
Napo and other seminarians also stress the importance of HIV/AIDS testing and reach out to the sick in remote communities, helping many of them reconcile with God and their families, or praying with them in their final days.
Mr Tuelan says he is hopeful the campaign will raise vital funds for the work of future Church leaders such as Napo.
"The shortage of priests in South Africa at the moment is so dire that there is usually only one priest to oversee up to 18 remote outstations. This means that many people are not receiving the help they so desperately need. Which is why we are reaching out to Australians to support this campaign so that more young men like Napo can enter the seminary and receive the training needed to help prevent the spread of HIV/AIDS and minister to the sick," he says.
To learn more about the campaign and the work of Catholic Mission and to donate to help seminarians stop the spread of HIV/AIDs in South Africa and other nations hard hit by the deadly virus, log on to www.catholicmission.org.au