Sydney's Sudanese Community to Celebrate Their Feast Day With Archbishop at St Mary's Cathedral
Catholic Communications, Sydney Archdiocese,
5 Feb 2015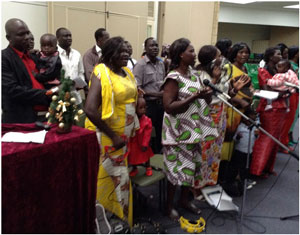 More than 1000 of Sydney's vibrant Sudanese Catholic community will gather at St Mary's Cathedral on Sunday, 8 February to mark the Feast Day of St Josephine Bakhita and the world's first Day of Prayer, Reflection and Action against Human Trafficking.
The Archbishop of Sydney the Most Rev Anthony Fisher OP will celebrate this historic Mass with the city's Sudanese community playing a central role.
Music for the Mass will be performed by the Sydney's Sudanese Catholic Choir. They will be accompanied by musicians on drums, keyboard and traditional instruments. The music chosen will also be Sudanese with its distinctive rhythms and soaring voices.
In addition to the musicians the Mass will feature more than 50 Sudanese dancers.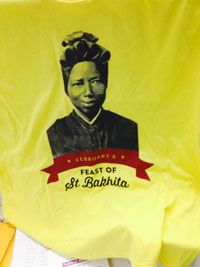 The dancers along with the choir and musicians will also perform prior to the Mass at the Cathedral in Sydney's Hyde Park from 11 am on Sunday.
"The choir and dancers have been in rehearsals for more than eight weeks and are looking forward very much to the Mass at the Cathedral on Sunday afternoon to pay tribute to our Patron Saint and to pray for an end to slavery and human trafficking," says Sudanese-born Anna Dimo, the Archdiocese of Sydney's full-time Pastoral Worker for the Sudanese Catholic Community.
She gives warm thanks on behalf of the city's Sudanese Catholics to Archbishop Anthony who has given his unstinting support to the Sudanese community over many years including his years as Bishop of Parramatta.
"On February 8 each year we celebrate the Feast of St Bakhita. But this is the first time we have celebrated our special day at St Mary's Cathedral and we are all very excited," Anna says.
This week in addition to helping with the liturgy for Sunday's Mass and overseeing last minute details, Anna has been handing out 200 bright yellow T-shirts printed with a photograph of St Bakhita.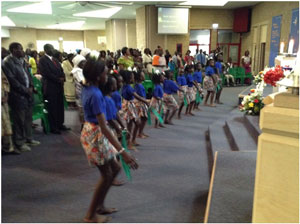 "All our dancers, singers and musicians participating in the Mass will wear the T-shirts," says Virginia Francis, Community Officer for Refugee/Liaison and Community Engagement with the Archdiocese of Sydney's Catholic Education Office (CEO).
The CEO supplied the T shirts to the Sudanese community as well as arranging the printing of St Bakhita's portrait.
"We organised T-shirts of all sizes from extra small to extra large as those singing in the choir as well as the 50 dancers range include children and adults of all sizes and ages," she says.
Virginia who works closely with the Sudanese community, both at the Archdiocese of Sydney's St Bakhita Centre at Homebush as well as areas across Sydney's inner and outer West, says she continues to be inspired by their courage, exuberance and joy.
"Most have undergone terrible suffering after being forced to flee their homeland during the decades' long civil war between North and South Sudan," she says.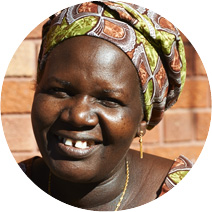 Many like Anna Dimo saw their villages burned and razed to the ground, men, women and children killed, cattle and farms destroyed. Trained as a teacher, Anna, her husband and daughter sought refuge in Khartoum where she became Principal and Coordinator of a Catholic primary school. However with continuing Christian persecutions Anna and her family and friends were once more under threat.
She escaped to Egypt, spent the next 11 years in a refugee camp in Alexandria and finally in 2000 arrived in Sydney with her eight children - five of her own and three nieces and nephews to begin a new life.
Since then she has devoted her life to the pastoral and practical care of the Sudanese community, most of whom arrived here after tremendous suffering as refugees.
"Anna and Sydney's Sudanese Catholics have undergone suffering we cannot even begin to imagine. But their joy in life and in the Lord is undiminished," Virginia says.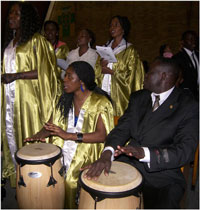 In January, Pope Francis deliberately chose the date of St Bakhita's Feast Day when he declared 8 February as World Day for Prayer, Reflection and Action against Human Trafficking and Slavery.
Born in Sudan and kidnapped by Arab traders as a child, St Bakhita was sold into slavery. For the next decade she was sold and resold and became so traumatised that she could not remember her name. Finally rescued by the Italian consul to Khartoum and taken with him to Italy, she named herself "Bakhita" which means "lucky." She became a Canoissan nun and for the next 42 years selflessly ministered to the poor and vulnerable in Northern Italy.
She died in 1947 and was canonised by St John Paul II in 2000, the same year Anna Dimo arrived in Australia.
The Mass at St Mary's Cathedral to mark St Bakhita's Feast Day and the World's first Day of Prayer, Reflection and Action Against Human Trafficking and Slavery will begin at 2.30 pm on Sunday 8 February. The Mass which is open to everyone but with so many expected to attend, people are asked to arrive at the Cathedral by 2 pm.