Young Man On a Mission is Changing Lives and Bringing Hope to Children in the Philippines
Catholic Communications, Sydney Archdiocese,
4 Feb 2015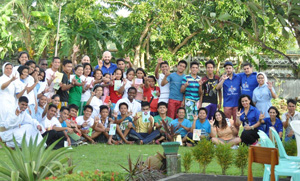 Ben Saliba is determined to make a difference. For the past two years he has spent his Christmas breaks with the Missionaries of the Poor in the city of Naga in the Philippines. Working alongside the Brothers, he has helped care for the city's disabled and abandoned children, the homeless and mentally-ill and the elderly.
Not only has Ben raised awareness of the poor in the Philippines but along with other dedicated young adults from St Felix de Valois, his home parish in Bankstown, he has helped raise enough funds to enable the Brothers in Naga to purchase a desperately needed ambulance with enough left over to feed the mission site for a month.
Ben made his first trip to the Philippines in December 2013 shortly after Typhoon Haiyan cut its deadly swathe across the Philippines, destroying countless towns and villages and leaving more than four million homeless.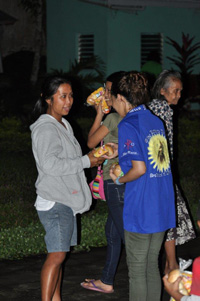 He spent six weeks undertaking missionary work, dividing his time between Manila, Naga and Cebu.
Before leaving Australia he not only managed raise almost $16,000 thanks to the big hearted generosity of St Felix parishioners, members of the Queen of the Most Holy Rosary community as well as friends and extended family to help those hard hit by the Typhoon but organised a 40 foot container with much needed goods and necessities to be shipped to the Philippines to help some of the hardest hit communities.
The money raised was not only enough to pay for a new filtration system and water pump for Naga but also covered the cost of the container from Australia to the Philippines packed with donations of medicine, blood pressure packs, toiletries, flashlights, furniture, white goods, clothing, bedding, mattresses, nappies, blankets and other essentials.
On his return to Australia, Ben helped and supported by fellow members of St Felix de Valois parish in Bankstown launched a series of fund raising activities. He launched a donation campaign on social media as well as hosting a series of barbecues and movie nights.
By year's end they had raised $40,000 for the Missionaries of the Poor in Naga.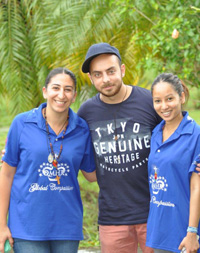 "The funds enabled the Brothers to buy an ambulance. Until now they have had to use their trucks, which are old and break down a lot, to ferry the children about and to get pregnant women to a clinic or hospital. The ambulance will make a real difference," Ben says.
Although Ben was unaccompanied on his first trip to the Philippines in December 2013, when he returned in December last year he was accompanied by nine other young people of faith who spent their Christmas break helping the Brothers with their work among the poor, disabled, mentally ill and elderly homeless of Naga.
"For all of us it was an unforgettable, very humbling and at times a very emotional experience," he says.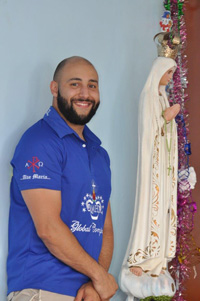 "The first time I was there in 2013 just seeing the enormity of what was needed was overwhelming. This resulted in almost a feeling of inadequacy that no matter what was being done would never be enough with so many people to look after and in such terrible need. But on this second trip I realised that, as the Brothers would constantly reminded us, that whenever you light a candle in a dark room, it lightens the whole room.
"In other words, even though what you are doing may seem small, it can nevertheless be life changing."
One of the most treasured memories and highlights for each of the Australians who gave up their holiday to undertake missionary work in Naga was Christmas Eve.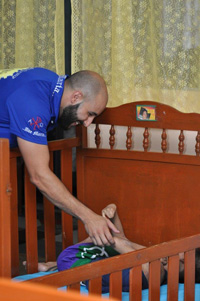 "We had some additional funds left over from what we had raised and on Christmas Eve, which is when people in the Philippines celebrate Christ's birth, we hosted a meal for 1000," he says. "We invited the whole village where the Brothers are based to join us after the Christmas Vigil Mass. Just after midnight they arrived and we gave them bread rolls and soup, a main meal and something to drink."
Now Ben, who plans to return to the Philippines over the Christmas break this year, has already started fundraising for the Brothers and their work in Naga.
"I want to raise double or triple what we raised last year," he says and believes with the testimonies and spreading the word of the visit by the nine young people last year they will touch more hearts and trigger more donations.
He admits that working for the family firm, Academy Tiles has made it easier for him than perhaps others to be able to take time off work and undertake missionary work in the Philippines.
But he hopes at least nine other young people will join him later this year when he heads for Naga.
"Every young person should do some form of missionary or aid work if they possibly can. It is not only an experience unlike any other, it is absolutely life-changing," he says.