Sr Rebecca Proves She's Still a Champion
Catholic Communications, Sydney Archdiocese,
4 Feb 2015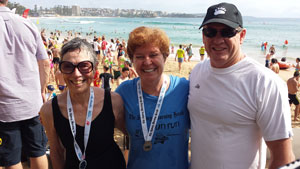 Sister Rebecca McCabe rsm proved she is still a champ when she was placed 23rd out of a field of 2000 women in Sunday's Cole Classic Ocean Race.
Racing from Shelly Beach to Manly Beach in Cole Classic's one kilometre course marks the first time the former teenage swimming sensation who won the Cole Classic 32 years ago has got back in the water.
"My aim in entering was never to win. I just wanted to complete the course and enjoy the thrill of participating," she says, but admits she was surprised and thrilled to discover she'd not only completed the course but was among the top 25.
"I guess this means I won't be hanging up my goggles," she jokes.
The ocean swell was a big one and this made the race extra hard work for the swimmers with Sister Rebecca convinced she must have swallowed "at least two litres of salt water."
Pleased she made it to the beach and finished the course, Sister Rebecca is also delighted that the race raised more than $110,000 for he Black Dog Institute in the charity swim.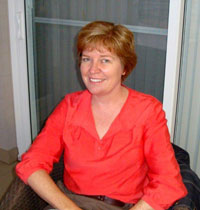 "A lot of us were swimming for the Black Dog Institute and to be able to raise that much is wonderful news," she says.
What she is surprised about however is the amount of media attention she has received. Although journalists knew this was an event she had won 32 years ago as a teenager, what interested them most was the fact that she was a nun.
"I was startled by the attention, and decided to accept this as opportunity to talk about religious life, and also to dispel some of the myths about religious sisters and the popular idea that religious should look or act in a certain way," she says.
After an interview with Sister Rebecca appeared on the Archdiocese of Sydney's website last week, she says she received an email from a young woman who said she didn't think religious sisters needed to exercise.
"To be a whole person and look after our physical, mental, emotional and spiritual health, exercise is vital and these days religious sisters like everyone else know the importance of exercise,:" she says.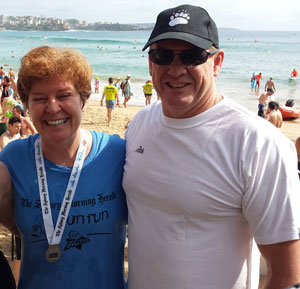 Although Sister McCabe has only recently returned to swimming, she has always kept fit with walking and cross training.
But after the past six months, swimming has returned to become her big love and her passion.
"Swimming laps is very meditative and a time to reflect and become close to God. It is also a wonderful way to unwind from the daily pressures and connect to a peaceful place. Every day as a physiotherapist I try to help people who are in chronic and excruciating pain. Swimming and exercise generally helps me deal with this and find a calm centre to enable me to cope," she says.
On Sunday, encouraging her and swimming alongside her in the Cole Classic race was her brother, David McCabe who like his sister was a champion swimmer as a teenager, winning the NSW Butterfly Championships in 1975 and 1977.
Growing up near Cronulla in Woolaware, the five McCabe children each made their mark as swimmers. But it was Sister Rebecca who became the most well known, not only as the winner of the Cole Classic but as Australia's 800 metre freestyle champ and 1500 metre freestyle silver medallist. At 16 and ranked number 9 in the world, she was selected for Australia's 1984 Olympic Swimming Team.
But shortly before the team was set to head for the Los Angeles Olympics, she tore two tendons in her shoulder and was forced to give up swimming.
"This was in the days before sports medicine and understanding the importance of stretching and cross training," she says.
Overwhelmed by disappointment and in pain, she spent the following year desperately trying to regroup, rethink her life and her future in a world that no longer included swimming and everything she had trained for since she was a seven-year-old.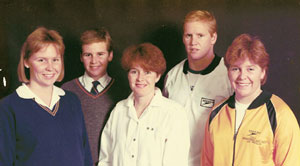 "The year I stopped swimming was pivotal. God reached out to me and planted the seeds of faith and led me on what would eventually become my path and my vocation," she says.
But until six months ago, Sister Rebecca had not put her foot in a pool or even thought about returning to the sport that had once been her passion and her focus.
That was when clinical psychologist and neuropsychologist, Dr Robin Murray, who is a friend as well as a colleague at Greenwich Hospital, announced she was going to enter the 2015 Cole Classic and suggested Sister Rebecca enter as well.
"She was the one who inspired me to give it a go. She has always swum off Balmoral Beach but this was the first time she'd entered the Cole Classic and wanted me to swim with her," Sister Rebecca says.
Dr Murray works closely with Sister Rebecca at Greenwich Hospital's Pain Management Service where Sister Rebecca is Senior Physiotherapist. The pair also work closely with Professor Philip Siddall of the University of Sydney exploring ways to help people cope with chronic and debilitating pain.
Encouraged by Dr Murray as well as her brother, David and the rest of the McCabe family, Sister Rebecca returned to the pool and began training three times a week in Ryde for the Cole Classic.
As President of the Bethany Health Centre in Strathfield treating people with crippling pain as well as her work with Professor Siddall and Dr Murray, training was limited to just three mornings a week.
To protect her shoulder, Sister Rebecca also needed to use her extensive knowledge of exercise physiology to pace herself in training and make adjustments to her stroke.
Along with everyone else who completed the swim, Sister Rebecca was given a commemorative medal as she reached Manly. Also there to greet her and Dr Murray as they emerged from the water were four cheering Sisters of Mercy as well as family and friends.
Now she has her sights set on next year's Cole Classic and is already considering challenging herself by doubling her efforts - entering the two kilometre course rather than the one kilometre race.