Fr Danny Meagher New Rector of Seminary of the Good Shepherd
Catholic Communications, Sydney Archdiocese,
2 Feb 2015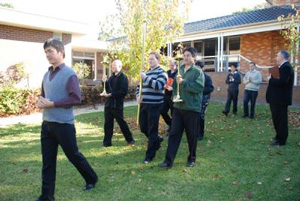 As the new Rector at the Seminary of the Good Shepherd, Homebush, Father Danny Meagher sees his role as a "helper" and is dedicated to helping every seminarian experience the Holy Spirit and the spirit of God at work in their hearts, minds and souls.
"I want to help seminarians' formation and create a seminary where staff and seminarians are aware that God is at work enabling them to experience the lasting and profound happiness that deep Christian fulfilment brings," he says.
He is also intent on helping each and every seminarian in his care to reach their full potential.
"Priests should want to be saints. There is no place for priests unless they want to be Holy," he insists.
Tomorrow, 2 February the Archbishop will host a lunch at the Seminary for Sydney's Archdiocesan priests to give them a chance to meet and get to know the Seminary's new Rector.
Fr Danny is well known to many of the Archdiocese's priests as well as parishioners and young people throughout Sydney. He is also someone who constantly surprises.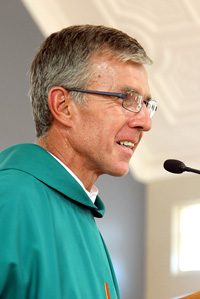 Not only does he happily stand on his head in order to get a child's or classroom's attention but in his time he has served thousands of beers and is an old hand at spearing a keg and calling out "time, ladies and gentlemen, time."
He insists that to get a child to listen, standing on your head is a pretty good idea and one he has often used as a parish priest and in his most recent role as Parish Administrator at Broken Hill.
Although born in West Wyalong, Fr Danny grew up in Sydney and from the age of 12 he and his five siblings - two brothers and three sisters - helped out at the Matraville Hotel, the pub his father owned and the family ran.
Since his ordination as a priest in 1995, Fr Danny was Chaplain of Mission for CatholicCare for seven years, Director of Catechesis for Sydney's World Youth Day in 2008, former parish priest at St Columba's Leichardt, founding Director of Formation for the Archdiocese of Sydney's Diaconate.
Now he has a new role as Rector of the Seminary of the Good Shepherd, Homebush which begins its first semester for 2015 later this month when the Seminary will welcome five first year trainee priests who will join 35 other seminarians who are currently in the second, third or final years of their priestly studies.
Fr Danny takes over as Rector from Fr Anthony Percy. Fr Tony as he was popularly known served as Rector from 2008 until December 2014 when he returned to the Archdiocese of Canberra-Goulburn.
Appointed by the Archbishop of Sydney, the Most Rev Anthony Fisher OP, Fr Danny is someone the Archbishop knows well.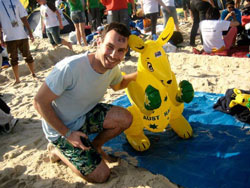 As Director of Catechesis, Fr Danny worked closely with Archbishop Anthony who was Co-ordinator of WYD08 when 400,000 of the world's young Catholic pilgrims gathered in Sydney for what was an unforgettable week in July 2008.
In charge of organising 260 different venues for catechesis on three mornings of the five-day event, Fr Danny had to match bishops who spoke the same language as the each of the different pilgrim groups as well as organise animation teams for each of the catechesis sessions which took place on three separate mornings. He also had to ensure the hundreds of thousands of young Catechesis participants were able to get to the venues by public transport from wherever they were staying as well as getting them back to the city for events in the afternoon.
In addition, Fr Danny worked closely with Archbishop Anthony and his WYD08 team on Papal security and protocol and the almost impossible task of ensuring 400,000 plus pilgrims were fed, housed and looked after.
Today he cheerfully admits that working on WYD08 was "a nightmare of logistics and the most difficult job I've ever had."
"Even harder than some of the complicated transactions I had to oversee as a young lawyer," he says.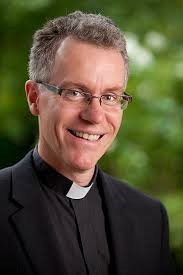 Before answering God's call and discerning his priestly vocation, Fr Danny studied law at the University of Sydney and on graduation became a solicitor at a large city law firm.
Archbishop Anthony also studied law at the University of Sydney and after graduating he too worked as a lawyer for a large city firm.
The similarities don't end there.
"Archbishop Anthony was three years ahead of me at St Ignatius College, Riverview," he says.
Fr Danny spent three years as a solicitor and was quickly promoted up the ranks. But at 26 he gave up his legal career and what looked like a bright future as a lawyer to study for the priesthood.
"I had always wanted to be a priest," he says but adds that initially his family were against it, especially as he was already moving up the the ranks of his law firm.
But Fr Danny stuck by his decision and at 26 entered St Patrick's College, Manly to study for the priesthood.
At 33 he was ordained by Cardinal Edward Clancy in St Mary's Cathedral and appointed to Mt Pritchard Parish near Bonnyrigg as Assistant Priest. He was later appointed to Sacred Heart Parish, Mosman before Cardinal Clancy created the parish of Carnes Hill and made Fr Danny parish priest.
"I expected to stay about 15 years at Carnes Hill but in 2001 after Cardinal George Pell was installed as the eighth Archbishop of Sydney, he asked me if I would become Director of Mission for CatholicCare," he says.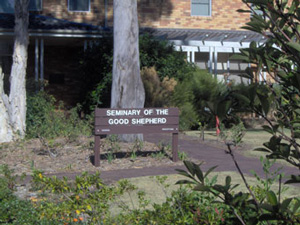 This meant two years of study in Rome where he obtained a Licentiate in Fundamental Theology at the Pontifical Gregorian University. During these two years he witnessed the historic moment when Pope Benedict XVI was elected Pope and appeared on the balcony above St Peter's Square.
"I was also in Cracow on a pilgrimage to the residence where St John Paul II was born when news came through that he had died, and was among the many thousands who gathered there to mourn his passing," he says.
During his years as Director of Mission for CatholicCare he was also parish priest at St Columba's, Leichardt and Director of Formation for the Diaconate. Then in 2013 he was appointed Parish Administrator in Broken Hill.
Now comes a new challenge for Fr Danny as he takes over the reins as Rector of the Seminary of the Good Shepherd.
"There are 40 seminarians including the five first year seminarians who will begin their studies later this month. But there should be hundreds," he says. "This is God we are talking about. This is about serving God and I am convinced a lot of people wish to serve. The problem in our culture is what appears to be 'the death of the Lord'. Many out there are unaware of God in their lives and that he is calling them."