Colourful Red Mass at St Mary's Cathedral Celebrates Start of the New Law Year
Catholic Communications, Sydney Archdiocese,
2 Feb 2015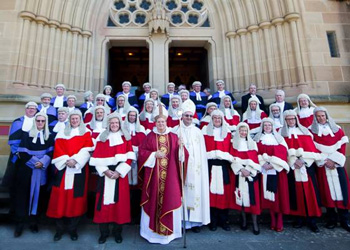 Judges, justices, barristers, solicitors, lawyers and law students gathered for the annual Red Mass at St Mary's Cathedral this morning.
A traditional and colourful occasion with many of those attending wearing their red robes with white fur trim or black robes and wigs of office.
Celebrating the Mass was Archbishop Anthony Fisher OP, himself formerly a lawyer and while he has preached at the Red Mass previously this was his first as Archbishop of Sydney.
The Red Mass is convened by the St Thomas Moore Society for the benefit of all members of the legal community, regardless of political or religious belief.
Archbishop Anthony welcomed those present from our courts of law including the Hon Justice Tom Bathurst AC, Chief Justice of the Supreme Court of New South Wales; Hon Justice Margaret Beazley AO, President of the New South Wales Court of Appeal; Hon Justice John Faulks, Deputy Chief Justice of the Family Court of Australia; Hon Justice Derek Price AM, Chief Judge of the District Court of New South Wales; Hon Judge Graeme Henson, Chief Magistrate; Hon Judge Greg Keating, President of the Workers Compensation Commission and judges, magistrates and members of the several Federal and State courts and tribunals.
A number federal and state politicians also attended including Senator Concetta Fierravanti-Wells who was representing Prime Minister Tony Abbott; Hon Dominic Perrottet MP, State Minister for Finance and Services and representing Premier Hon Mike Baird; Hon Greg Donnelly MLC, representing the state Opposition Leader Hon Luke Foley and Hon Brad Hazzard, Attorney General and Minister for Justice in NSW.
During his homily Archbishop Anthony reflected on the horrendous Martin Place siege "only a few hundred metres from this cathedral and even closer to the legal precinct".
The siege ended with three dead, including the self-styled "Sheik", the cafe manager and Katrina Dawson, a mother of three and herself a gifted barrister.
"It will take time to fully comprehend the significance of the Lindt Cafe siege and community reaction," Archbishop Anthony said.
"For lawmakers and practitioners it raised important questions about the right balance between liberty and security, about responsibility for and responses to acts of terror, about the very purposes and sources of law, and about the sometimes rival claims of justice, mercy and popular opinion.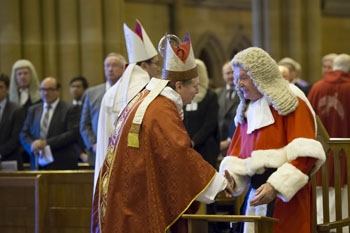 The centuries-old tradition of invoking the Divine Assistance at the beginning of each Law Year is testament to the seriousness with which the profession takes such matters."
Archbishop Anthony went on to say that good laws, systems and practices don't happen in a vacuum. They depend upon a complex of ideals and practices, traditions and institutions.
"In this jurisdiction it is largely the Judeo-Christian inheritance upon which we draw, however under-appreciated that often is. In the face of international and domestic tensions, we must renew that social and spiritual capital, and that is a task for both Church and state, for high-minded jurists and down-to-earth citizens,' he said.
The Red Mass was first celebrated in Australia at St Mary's Cathedral in 1931, but having roots in the twelfth and thirteenth centuries in Paris and London in honour of St Thomas More.
St Thomas More served as Lord Chancellor of England from 1529 to 1532 during the reign of King Henry VIII. He was executed on 6 July 1535. He died for the truths of the Catholic faith, especially the truth that the popes, as successors of Peter embodied a divinely instituted and essential element of the church, not a useful historical development. He died for this belief despite the fact that there was scarcely one religiously, respectable pope in his lifetime. It was for these reasons he could not accept his former friend Henry VIII as head of the church in England.
The Thomas More Society was first founded in 1945, as a fellowship of Australian lawyers inspired by Moore's example.
Concelebrating at the Red Mass today were His Excellency Bishop Antoine Tarabay of the Maronite Diocese; Fr Brian Lucas, General Secretary of the Australian Bishops Conference; Fr Paul Hilder, Dean of St Mary's Cathedral; Fr Mark Podesta, Director of the Catholic Church's Tribunal in Sydney and Fr Peter Joseph, chaplain to the St Thomas Moore Society.