MacKillop Tertiary Scholarship Winner Graduates with Double Degree
Catholic Communications, Sydney Archdiocese,
27 Feb 2015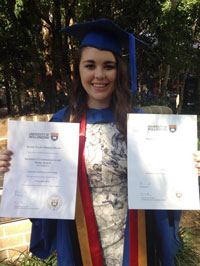 When the latest round of Tertiary Education Scholarships for Indigenous Students was announced by the Mary MacKillop Foundation this week, previous Scholarship recipient, Keziah Bennett-Brook was on hand in North Sydney to welcome the latest batch young people.
Keziah is an outstanding example of not only how the Foundation's scholarships are enabling many of the nation's talented Indigenous students an opportunity to further their education, but she also shows how much can be achieved through hard work, determination and a quick and curious mind.
In December, watched by her proud mother, Michelle and elder brother, Zachary, Keziah graduated with a double degree in Communications and the Media, and in English Literature, receiving distinctions for both degrees.
This week, taking a break from her home in Wollongong, Keziah was at Mary MacKillop Place at North Sydney to meet some of the 23 Indigenous students awarded Scholarships by the Foundation this year and to talk about her own experience as a recipient and the invaluable support she had been given.
"I'm from a single parent family and my Mum is my hero. She has done a fantastic job bringing up me and my brother. She's a secondary school teacher and she has always worked hard ever since my dad walked out when I was six years old.
"But uni is expensive. Textbooks aren't cheap and you need a lap top and an internet server. As a student studying journalism as a major in my Communications degree I also needed a good camera, as well as digital tapes and those sorts of things. Without the help of the Foundation I know it would have been a struggle for my family, and I am extremely grateful for the terrific support I was given," she says.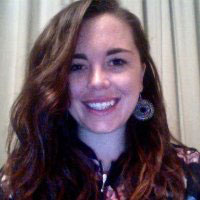 Recipients of a full scholarship under the Mary MacKillop Foundation's Indigenous Tertiary Scholarship program are provided with living expenses with the cost of HECS/HELP fees covered as well. A Part Scholarship such as the Foundation's Good Shepherd Reconciliation Scholarship, which is funded by the Sisters of the Good Shepherd and was awarded to Keziah, is only open only to women and provides $3000 annually for the duration of a course.
Since the Foundation established its Indigenous Tertiary Scholarship program just over 16 years ago, 160 Aboriginal and Torres Strait Islander students have been funded at universities or higher learning institutes such as TAFE. Those awarded scholarships have graduated in a wide variety of fields including medicine, law, education, the arts, environmental science, social work, teaching, fine arts and Indigenous studies.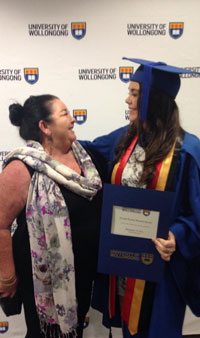 The Foundation is currently supporting 66 students undertaking tertiary education at universities, colleges and TAFES across Australia. This includes the 23 scholarship recipients announced this week.
While the majority of those being awarded scholarships are young and like Keziah go straight from secondary school to university, some are mature age such as Ruth who arrived in Sydney from Cairns earlier this month to study fine arts and textile design at the University of NSW's College of Fine Arts in Paddington.
"Like Mary MacKillop who worked to provide an education to children of the poor regardless of race, colour or faith, our Foundation is committed to driving greater social inclusion throughout Australia. We strongly believe that education help reduce social barriers and gaps, provides new opportunities, creates future leaders and brings about lasting change, " says John Buttle, Chair of the Mary MacKillop Foundation.
Keziah agrees and says since she was a small child her school teacher mother, Michelle has impressed on her as well as her elder brother, the importance of an education, and when given the privilege and opportunity of an education, working hard and making the most of it.
And both children have done just that.
Zachary graduated two years ago with a Bachelor of Physical and Health Education and Keziah followed his footsteps graduating late last year with a Bachelor of Arts and Bachelor of Communications and Media Studies (Journalism and Professional Writing).
But Keziah's achievements go back even further. She was not only School Captain at her primary school but went on to be elected School Captain at Wollongong's Keira High School. She was also Dux of the School in her final year and won the school's annual all-rounder award as well as awards for public speaking and a short story she wrote.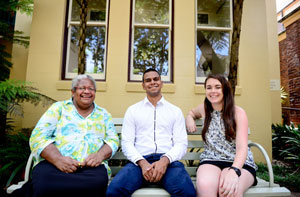 In addition to her academic achievements she is a keen sportswoman and played mixed netball at university. At school she was a member of the netball team and a keen competitor in swimming carnivals and cross country," she says.
Although she is an outstanding young woman with an ambition to combine her passions as a writer and communicator and to make a difference, the Foundation's other scholarship recipients are equally impressive.
To find out more about the Mary MacKillop Foundation and the Foundation's Indigenous Scholarship Program log on to https://mackillopfoundation.org.au/wp-content/uploads/2014/12/MM9151-Scholarships-Brochure-FINAL2-1.pdf