Tomorrow's Leaders Begin Journey of Faith and Friendship
Catholic Communications, Sydney Archdiocese,
27 Feb 2015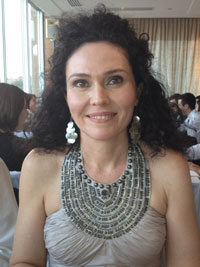 Theatre nurse at Sydney's Mater Hospital, Karla Quinn is one of 14 outstanding young Catholic women from across Australian to receive Interfaith Fellowships which are awarded every two years by the Australian Catholic Bishops Conference.
Currently studying for a Pastoral Care unit through St Vincent's Hospital's Clinical Pastoral Care Education program, Karla last year achieved her first unit in Theology from the Catholic Institute of Sydney. This week she joined the others undertaking the ACBC's Fellowship program at the Sisters of the Good Samaritan's Mount St Benedict Centre, Pennant Hills.
For the next four days, the group will participate in an intensive live-in seminar which will be the first of five four-day residential seminars spread over the two-year Fellowship program. Harnessing the latest in communication technology and supported by the Broken Bay Institute, Australia's largest provider of theological long distance education, the program enables the women to spend most of the year studying theology, faith formation, interfaith dialogue and personal development via the internet. But with the seminars held in February and in November, the women have the unique opportunity not only of speaking with some of Australia's most acclaimed theologians, ethicists, philosophers and authorities on inter-religious relations, but of learning from each other.
Karla heard about the Fellowship program in August 2013 when she attended the "Wisdom at the Gate" Catholic Women's Colloquium which like the Interfaith fellowships was run by the ACBC's Office for the Participation of Women (OPW).
"It stayed in my mind and last year when applications opened, I decided to apply," she says.
Until then Karla had been funding her own studies at St Vincent's and the Catholic Institute. But being awarded a Fellowship meant units she had already achieved could be used as credits and go towards a Certificate of Theology, undertaken as part of the program.
Worth approximately $12,000 each, the ACBC Interfaith Fellowship also helped ease the pressure for Karla who has self-funded her studies up until now while juggling her family responsibilities as well as her work as a full-time nurse.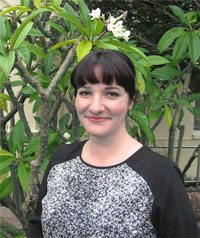 Faith is integral to Karla's life and very much a part of who she is. The inspiration of Christ and her strong belief that compassion is the wellspring of light and goodness, has enabled her to forgive and show genuine concern for the mentally ill man who stabbed her on Christmas Eve just over a year ago.
On 24 December 2013 as Karla stood on the steps of St Canice's Church, Pott's Point shortly before midnight Mass was due to begin, a 39-year-old man suffering from schizophrenia and "high" on ice attacked her with a kitchen knife.
Rushed to St Vincent's Hospital, Karla spent Christmas Day and the following week in hospital being treated for her injuries and recovering from her ordeal.
"To inflict harm as he did to me indicates in my mind that he is obviously a damaged individual and the Christmas story makes me reflect that he was born an innocent baby. What happened to his hopes and dreams and do we care?" she wrote just two weeks after the attack. Although at the time she said "I, of course, want him to be in jail so he cannot hurt me or anyone else," she went on to wonder if he had made a conscious decision as he walked towards her to maim instead of kill.
If this was the case, she said she thanked him and was grateful insisting, "there was goodness in that decision."
Goodness, she went on to write, was in abundance on Xavier Ward at St Vincent's Hospital where she was cared for over Christmas just over a year ago.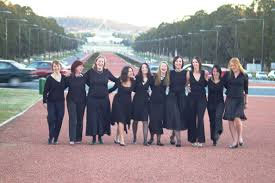 "The embodiment of Christ's light and presence was evident among the people I came into contact with on the ward," she said recalling the selflessness of a man in the room next to her who was racked with pain from stomach cancer, but never-the-less visited her during the day to ask how she was feeling.
She also spoke of the kindness and gentleness of the ancilliary staff, who were mainly immigrants from developing countries.
The man who attacked her appeared in court in October last year and is now serving a seven and a half year prison sentence. But long before the court case, Karla had put the incident behind her. The attack is something she refuses to dwell on. What she focuses on instead is the commitment and selfless service to society of the nation's doctors, nurses, hospital staff, allied health professionals and the police.
She also remembers how during her time in hospital, she was visited by a Jesuit, a Franciscan, a Good Shepherd nun and a friend who is an avowed atheist.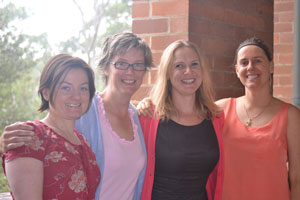 "The punchline is that they are living the basic tenet of all the great faith traditions: do unto others as you would have them do unto you," she says.
For Karla, interfaith relations and the ability to nurture and build these relationships between people of different faiths has never been more important.
"Now more than ever there is a need for people of different faiths to come together and to work together to achieve peace and understanding," she says.
Another of the outstanding young women taking part in this latest cohort of women awarded ACBC Interfaith Fellowships is Siobhan Marren Mission Officer - Research, Advocacy and Education- with the Institute of Sisters of Mercy in Australia and Papua New Guinea.
"The emphasis the Fellowship places on interfaith relations was definitely one of the attractions for me," she says.
Siobhan first heard about the ACBC's Interfaith Fellowship program from one of the Sisters of Mercy with whom she works and who encouraged her to apply. She also spoke with Rebecca "Bec" Biesler, a good friend and a participant in the 2013-2014 Interfaith Fellowship cohort.
Bec, who works as a public relations officer for Frontier Services Sydney was pregnant when she met with her group during a four day seminar in September 2013 and when they reconvened in February 2014, she arrived with her new baby son Harry in tow.
Everyone in the group became instant and devoted aunts.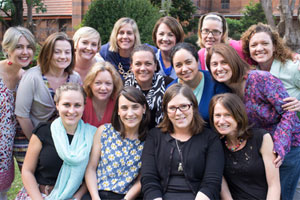 Siobhan says she particularly liked how Fellowship recipients supported and helped one another, and shared their knowledge, faith and friendship. Based in Sydney and a former Senior Policy Officer with Uniting Justice Australia, Siobhan who taught philosophy and social justice at the University of Western Sydney while undertaking her Ph D, met her fellow participants in the ACBC's 2015-2016 Interfaith Fellowship Program for the first time last night.
"Although we hadn't met some of us had already been in touch via Facebook, email and sms and it felt as if we were already friends," Siobhan says.
Among the other participants who began their first intensive four day seminar this morning are Victoria Burrows, a Prison Pastoral Worker from Western Australia; Nicola Frew, Project Assistant at Perth's Emmanuel Centre for People with Disabilities; Moira Byrne, Public Service Speech Writer based in the ACT; Sally McEniry, Youth Worker with Marist Brothers in Bardon, Queensland; Christine Pace who is Communications Officerwith Our Lady of Mercy College Parramatta; and Liska Turner, Recruitment Consultant of Naremburn.
There are also four impressive teachers and along with Karla, one other equally impressive nurse.
Established in 2006, the ACBC's Interfaith Fellowship program acknowledges the rich contribution women make to the Church and their individual communities, and is designed to build on achievements of already impressive young Catholic women to create dynamic and inspirational leaders.
To find out more about the Young Catholic Women's Interfaith Fellowship and how to apply for the 2017-2018 program log on to http://www.opw.catholic.org.au/about/young-women-s-interfaith-fellowship.html#.VO0q_NP9kuQ