Prayers for Those in Path of Australia's Double Cyclones
Catholic Communications, Sydney Archdiocese,
20 Feb 2015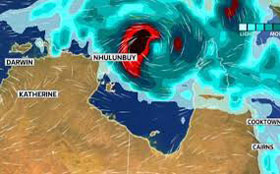 As Cyclone Lam made landfall in the Top End with wind gusts of 250 kph and Yeppoon, Gladstone, Rockhampton, Bundaberg and Brisbane braced for the arrival of Category 5 tropical Cyclone Marcia, the National Aboriginal and Torres Strait Islander Catholic Council (NATSICC) called on Australians to pray for those who living in the path of the storms.
In particular, NATSICC is concerned about Indigenous communities in remote Arnhem Land.
Strengthening to a Category 4 storm system before making landfall, Cyclone Lam crossed the mainland coast between Milingimbi and Elcho Islands at 2 am today, buffeting isolated island Indigenous communities, triggering wide spread power cuts and causing significant damage.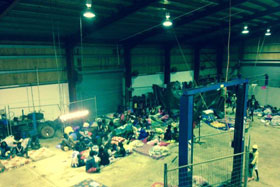 By late morning Cyclone Lam had been downgraded to a Category 2 system as it moves south west across Central Arnhem Land to Bulman, however the danger to residents including those living in the Australian mainland community of Ramingining were urged to remain in shelters until being given an all clear.
With heavy rainfall, violent winds and Cyclone Lam's storm surge creating massive tides along the coast, flood warnings have been issued for all low lying areas and to anyone living near the coastal rivers of Arnhem Land and Carpentaria.
"As many as 5000 people had been directly affected by the Cyclone," NATSICC spokesman Craig Arthur reported.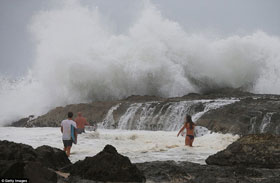 On the two islands as well as the mainland, roads are blocked, trees down with many buildings severely damaged but so far there have been no reports of injury or fatalities.
Meanwhile along the Queensland coast, Cyclone Marcia is creating havoc and weaving a path of destruction as it makes its way south, triggering massive swells, fierce winds with gusts of 285 kph and widespread flooding.
Upgraded to a Category 5 Cyclone Marcia crossed the coast near Shoalwater Bay at around 11 am this morning after destroying homes on Great Keppel Island.
By 2 pm the tropical cyclone had been downgraded to a Category 2 system but was still packing a powerful punch and raising fears that as Cyclone Marcia merges with another low pressure system on its journey south, that Brisbane will experience flooding of the same magnitude of the disastrous floods of 2010-2011 that swamped Queensland's capital city and left many homeless.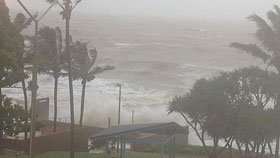 Updates of Cyclone Marcia and Cyclone Lam can be found by logging on to http://www.bom.gov.au/cyclone/