Archbishop Anthony Fisher OP Looking Forward to Concelebrating Mass with Pope Francis in Rome and Blessing of the Pallium
Catholic Communications, Sydney Archdiocese,
1 Feb 2015
Archbishop Anthony Fisher OP is looking forward to travelling Rome in June to concelebrate Mass with Pope Francis when the Pallium, presented to Metropolitan Archbishops will be blessed by the Holy Father.
The Master of Ceremonies of papal liturgies, Monsignor Guido Marini, said in a statement this week that the new Metropolitan Archbishops from around the world "are invited to concelebrate" Mass with the Pope on 29 June, the feast of Saints Peter and Paul.
At the end of the Mass, he said, they will receive the Pallium "in a private manner, from the hands of the Holy Father".

The investiture of the Pallium on the Metropolitan Archbishops will then take place in the prelates' home dioceses - for Archbishop Anthony Fisher at St Mary's Cathedral in Sydney.


Previously the presentation and investiture occurred at the same time in St Peter's Basilica with the Holy Father.
Archbishop Anthony said he is very much looking forward to the Mass with Pope Francis.
"The decision by the Holy Father to allow newly appointed Metropolitan Archbishops to be invested with the Pallium not only allows the Archbishops to concelebrate with Pope Francis on the feast day of Saints Peter and Paul in Rome but it also means the ceremony of investiture can be in the Sydney Archdiocese Cathedral in the presence of the Apostolic Nuncio, suffraga-bishops, priests and faithful," the Archbishop said.
Pope Francis has already prepared the way for the new Archbishops to receive the Pallium. On 21 January he blessed the lambs raised by Trappist monks outside Rome. Benedictine nuns are now using the wool from these lambs to make the pallia or narrow wool bands which will then be kept by St Peter's tomb until 29 June.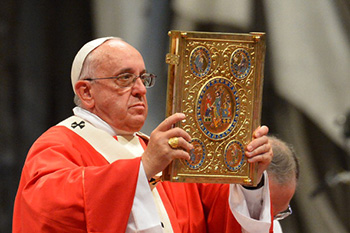 The St Peter's Mass in which Pope Francis will bless the pallia will be a very special and symbolic moment.
The Pallium is a liturgical vestment that symbolises the communion between the See of St Peter and those chosen to carry out the Episcopal ministry as Metropolitan Archbishop. It is the most ancient of all vestments and signifies the Metropolitan's responsibility with respect to all the dioceses of his province.
The St Peter's Mass on 29 June and Pope Francis' blessing of the pallia and the investiture ceremony in Sydney really represents a double celebration - not only a juridical or ceremonial event for the Pope and individual Archbishops but an ecclesial event for the whole Archdiocese.