Sydney's Vietnamese Catholics Set to Welcome Year of the Goat
Catholic Communications, Sydney Archdiocese,
18 Feb 2015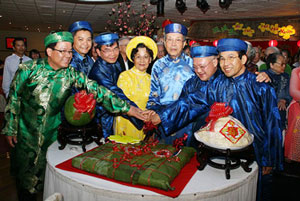 For Sydney's 16,000-strong close-knit Vietnamese Catholic Community today has deep spiritual meaning not only because it is Ash Wednesday and the start of Lent but because the day is also Tan Nien, the Vietnamese New Year's Eve.
Tonight thousands of other members of Sydney's Vietnamese community will also attend Mass at parishes across Sydney on the first day of Lent and the eve of their New Year that begins tomorrow.
"As Catholics we will spend our New Year's Eve fasting and in prayer. Then tomorrow which is the first day of the Vietnamese New Year the celebrations will begin," says Fr Liem Duong, Senior Chaplain to the city's s Vietnamese Catholic Community.
This evening the Vietnamese Year of the Horse will be farewelled with tomorrow marking the first day of the Year of the Goat.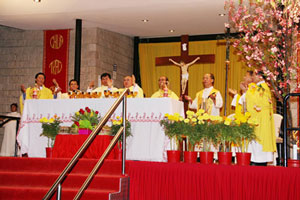 "The Year of the Goat traditionally represents a time of gentleness, calm, justice and kind heartedness," Fr Liem says adding that he hopes all these qualities, particularly kind heartedness, will be a feature of the coming year.
Known as Tet Nguyen Dan, or "feast of the First Morning of the First Day," Vietnam's New Year's Day or Tet as it is commonly called, celebrates the arrival of spring and remains the most important celebration in the Vietnamese cultural calendar.
Tomorrow Vietnamese Catholics will attend Mass to give thanks to God for His blessings over the past year. This will be followed by celebrations by Sydney's vibrant Vietnamese community of both Catholic and non-Catholics.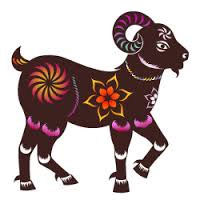 Sydney's Tet festival is set to be held at the Fairfield Show Grounds that will include traditional dancing, drums, bells, gongs, brilliantly coloured masks, animals and dancing Lan, a mythical creature that is a cross between a lion and a dragon and symbol of strength to the Vietnamese. There will also be a wide range of Vietnamese food including traditional Tet dishes such as sticky rice and bamboo soup.
"In Australia we are very lucky that we are able to express our own culture so openly and to have so many people from other cultures join in our celebrations," says Fr Liem.
While thousands are expected to attend the Festival, the focus of the first day of Tet is on family with much of the day spent visiting relatives and spending time with immediate as well as extended family and friends.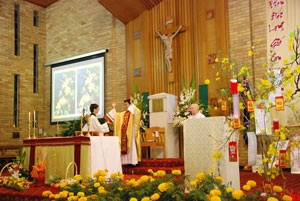 "The New Year is very important to Vietnamese people and is not only a time when we celebrate the beginning of a new year but our faith and our families as well," Fr Liem says.
But the celebrations do not end there.
"At Mass on the first day of Tet we give thanks to God for our blessings over the past year. At Mass on the second day of Tet, we remember and pray for our ancestors and for our parents, brothers and sisters. And on the third day of Tet, at Mass we pray for God's blessings on our work and for his blessings as well on the year ahead," he explains.
The celebrations also continue over the three days and in some cases for as long as a week.
"Tet is a much loved time of year as it brings generations together and is a chance for our children to celebrate our culture and their heritage," Fr Liem says.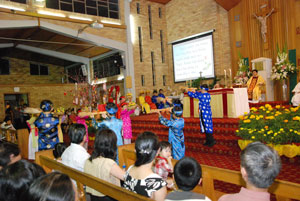 Well known for their generosity, Sydney's Catholic community in 2011 raised funds for a portrait by artist Paul Newton of Vietnam's much loved, Cardinal Xavier Nguyen van Thuan who died in 2002 after a remarkable life marked by courage, selflessness, faith and forgiveness.
The portrait is now part of the collection of Domus Australia in Rome.
Last month, Sydney's Catholic Vietnamese Choir presented Westmead Children's Hospital with $62,000 which members had raised during the year.
"Australia has been very generous to us and we will never forget how we were welcomed, given a new life and made to feel at home," says Fr Liem who like many members of the city's Vietnamese community arrived in Australia as refugees after the Communist takeover of Vietnam in the aftermath of the Vietnam War.