Archbishop Celebrates Ash Wednesday and the Beginning of Lent
Catholic Communications, Sydney Archdiocese,
19 Feb 2015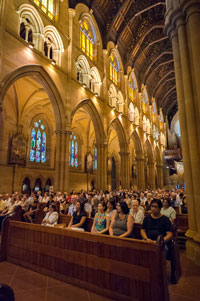 Many Australians may think the name "Ash Wednesday" comes from the devastating fires of 1983 which claimed 75 lives, hundreds of buildings, thousands of livestock and millions of hectares, Archbishop Anthony Fisher OP said in his homily on Wednesday at St Mary's Cathedral to mark the Church's penitential season of Lent.
"Those of us who receive Lenten ashes each year know it's a practice going back long before 1983, but the parallels are interesting: for in the Australian bush, fire brings both destruction and regeneration. Eucalypts and many other native plants rely on the heat of bushfires to germinate and on the resultant clearing and new soils for renewal. Just a few days after fire has destroyed our forests, they are already sprouting with fresh green shoots. So, too, the human side of bushfires: we witness not only destruction and grief but self-sacrifice and generosity," Archbishop Anthony said.
Traditionally Lent is a time of prayer, fasting and almsgiving
Archbishop Anthony continued; "Prayer seeks reconciliation with God, as we face up to our sinful neglect of Him, our unwillingness to share our time and wills with Him, and we seek by better communication to cultivate a better relationship with God. Fasting seeks reconciliation with ourselves, facing up to our sinful obsessions with comfort and self. By a little self-denial we cooperate with God in healing our hearts."
During the Mass the Archbishop also encouraged everyone to pray for Andrew Chan and Myuran Sukumaran, the two Australians on death row in Indonesia, and for their families, that they may be saved from premature death, and that the God of love may comfort them and provide them hope.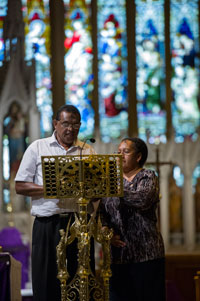 The Ashes were blessed by Archbishop Anthony before being distributed to those at the Mass with a sign of the cross on their foreheads.
"The leftover palms from last year's Palm Sunday have been rendered to ashes so they might herald a new cycle through Lent to the Resurrection. Only through Christ's ashen passion can we hope a new heart will be created in us; only by His rising phoenix-like from the ashes dare we dream we too might survive the tomb. May we, like eucalypts after Ash Wednesday fires, spring back and flower anew!," the Archbishop said.
During the Mass the Archbishop also officially launched Project Compassion 2015 as a "sign of generosity and turning to our neighbour in nee".
Following Communion a couple from Fiji, Eric and Ma Narayan spoke about the assistance they and their family had received through Project Compassion and also this year's theme "Food for Life".
For Archbishop Anthony's complete homily here