New Nuncio Appointed for Australia
Catholic Communications, Sydney Archdiocese,
18 Feb 2015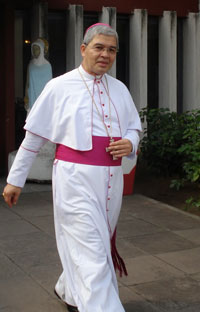 Pope Francis has appointed a new Apostolic Nuncio to Australia.
He is His Excellency Archbishop Adolfo Tito Yllana, until now Nuncio to the Democratic Republic of Congo.
Archbishop Adolfo was born in Naga City in the Philippines in February 1948.
He was ordained priest on 19 March 1972 for the Archdiocese of Caceres and has a Doctorate in Civil and Canon Law.
As a student of the Pontifical Ecclesiastical Academy in Rome, he followed the post-graduate studies in International Diplomacy.
Archbishop Adolfo entered the Diplomatic Service of the Holy See in February 1984, serving as Apostolic Nuncio in Ghana, Sri Lanka, Turkey, Lebanon, Hungary and China.
In December 2001 he was appointed Nuncio in Papua New Guinea and the Solomon Islands and five years later to Pakistan.
In November 2010 he was appointed Apostolic Nuncio in the Democratic Republic of Congo.
Archbishop Adolfo Tito Yllana speaks English, Spanish, Italian and French.
It has not been released as to exactly when he will take up this new position.