Archbishop and Premier Join Caritas for Project Compassion Launch
Catholic Communications, Sydney Archdiocese,
17 Feb 2015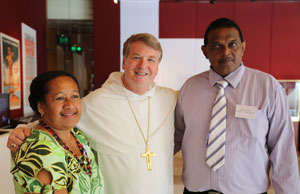 The luncheon to launch this year's Project Compassion at Parliament House was once more well attended but the issues of poverty and the less fortunate were the real "meal tickets".
The Archbishop of Sydney, the Most Rev Anthony Fisher OP, NSW Premier Mike Baird and former Premier Barry O'Farrell joined Caritas Australia CEO Paul O'Callaghan for the launch which this year has as its theme "Food for Life".
Special guests Eric and Margaret (Ma) Narayan travelled from their home on a remote island in Fiji to talk about how their lives had been transformed by the Caritas-supported Tutu Rural Training Centre in Fiji.
Around 250 guests, staff and supporters attended the annual Lenten fundraiser for Caritas Australia, the aid and development arm of the Catholic Church which every year helps many thousands unburden themselves of food insecurity and assists in establishing sustainable food programs and income.
On every table at the luncheon were the recognisable cardboard Project Compassion boxes which during Lent will be seen in all the parishes and schools and many homes and offices. A reminder also for the Archbishop.
"For a Catholic schoolboy growing up in Sydney, charity and good works all meant Project Compassion boxes sitting in the living room all Lent, like chicks in a nest demanding to be fed - boxes that were fed so that others could be," Archbishop Anthony said in his welcoming address.
He also recalled how each Ash Wednesday as a schoolboy how solemn and proud he felt on receiving the mark of the ashen cross on his forehead as a sign of his Catholic identity and wearing it for the rest of the day for all the world to see.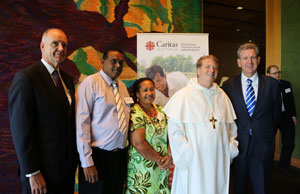 "Friday abstinence from meat, fasting on Ash Wednesday and Good Friday and giving up chocolate for the whole of Lent were additional tokens of our heroism and Catholic identity with which our non-Catholic friends had to cope if we were at their place for dinner on those Fridays! And there were the Project Compassion boxes into which you put your loose change, if ever you had any left at the end of the day, and into which my father insisted we put extra from our pocket money while thinking of the starving children in Biafra," the Archbishop said.
The point he was making, he explained was that the penances of Lent that mark our turning away from sin, should represent a turning towards something better, and that something was our neighbours in need - even in faraway places.
"Meeting today in Parliament House I want to recognise that governments at all three levels assist the poor in our world by way of direct and in-kind aid and by way of tax deductions that encourage private giving," Archbishop Anthony said, adding that he was nevertheless personally troubled by the decline in foreign aid while recognising the current difficult budgetary environment. "But in the end we cannot look to government to fix every problem for us. We need generous companies and individuals. And that means that what donors like your selves do, is crucial."
Premier Mike Baird told the gathering he was always impressed with the people who supported organisations like Caritas and worked tirelessly to help the less fortunate.
He said he understood that government support was always necessary but at the same time recognised the incredible generosity of those who worked for aid organisations and their volunteers.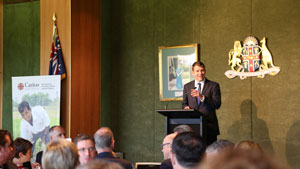 Paul O'Callaghan spoke about the invaluable work of Caritas not only in times of emergency such as last year's Typhoon Haiyan which devastated the Philippines, but in the agency's long term commitment to the world's poor and working alongside them to help them help themselves. He also paid tribute to the generosity of Australia's schools, parishes, families and individuals who contribute each year to Project Compassion and in this way, help change lives and bring hope and the promise of a future to the world's poorest and most vulnerable.
Eric and Ma Narayan spoke about just how their lives had changed with the help of Caritas.
For them lunch in the Stranger's Dining Room in Parliament House was a long way from their home on a remote island in Fiji and the Tutu Rural Training Centre.
Very much in keeping with Caritas' long-established policy of "helping people to help themselves," Ma and Eric attended the Centre and were taught about modern farming methods, long term sustainability, water systems, the best suited crops to grow and the most efficient ways to raise livestock such as goats, chickens and ducks which would also bring in additional income.
Prior to attending the Centre, the couple's first nine years of marriage had been a struggle. Their 2.5 hectare farm barely kept their growing family in food with nothing left over to sell and earn much-needed income.
As Eric explained although the pair worked extremely hard, they were subsistence farmers, ignorant of sustainable farming methods or ways to enrich the soil to create the best possible crops and produce.
After attending the Centre, the farm not only became viable but profitable. But what makes the couple most proud is the fact that although neither of them finished high school, each of their six children went on to university. Four have already graduated, while the two youngest are still in the midst of their studies.
"Without the help of Caritas this would not have been possible," Ma told those at the lunch.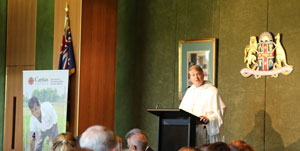 Married for 30 years, the couple also give credit to the Tutu Rural Training Centre for the personal as well as agricultural training they received and insist that this strengthened the bond between them and continues to deepen their love.
Project Compassion's theme for 2015, "Food for Life," and is part of Caritas Internationalis' global initiative "One human family, food for all."
Last year Project Compassion broke all records raising just under $11 million. Of this amount the Archdiocese of Sydney and Dioceses of Parramatta and Broken Bay contributed more than $2.6 million.
This year Project Compassion hopes to break another record and top the $11 million mark.
To find out more about Project Compassion, resources to help with school or parish fund raising efforts and the stories of those the funds raised goes to help, log on to www.caritas.org.au/projectcompassion