40 Days for Life Lenten Vigil Begins
Catholic Communications, Sydney Archdiocese,
16 Feb 2015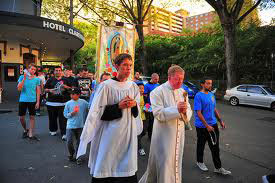 Between 300 and 400 are expected to join tomorrow night's Mass and candlelight procession to mark the start of Sydney's annual 40 Days for Life Lenten vigil.
Now in its sixth year, the pro-life vigil will begin at 6 pm at St Peter's Catholic Church, Surry Hills where Father Mannes Tellis, OP will celebrate Mass. All those present will then join the candlelight procession from the Church to the Preterm Abortion Clinic at the corner of Randle and Elizabeth Streets on the edge of the CBD.
Led by Fr Tellis whose ministry includes the chaplaincy at the University of Sydney, those participating in the procession will pray the Rosary with special prayers offered for the precious infants aborted at the Clinic and denied God's gift of life.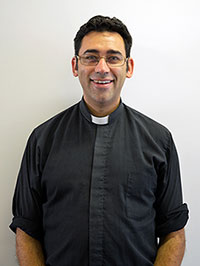 Organised each year by Family Life International, the prayer vigil held on the corner opposite the city's oldest and best known abortion clinic, will continue until 8 pm when the candlelight procession will make its way along Elizabeth Street to St Peter's Church for Benediction which will be followed by pancakes for everyone taking part which are traditionally eaten on Shrove Tuesday, and mark the final day before Ash Wednesday and the beginning of Lent.
"Throughout Lent we will be continuing our prayer vigil on the corner opposite the Preterm Clinic from 6.am until 8pm every day," says Paul Hanrahan, Director of Family Life International.
In addition there will be Exposition and Adoration of the Blessed Sacrament at 8 pm every Friday and Saturday at St Peter's Church, Surry Hills with the prayer vigil continuing at the Church until 6 am the next morning for all those who wish to pray for the unborn and their mothers.
Over the Lenten period, Paul estimates that more than 1000 men and women of all ages will take part in the vigil in a bid to "change minds and save lives."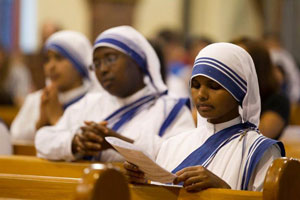 "Each year more and more people join the vigil giving half an hour or several hours each day to pray for the unborn, raise awareness about abortion and to help bring to an end the loss of more than 100,000 lives as a result of women terminating their pregnancies in Australia each year," Paul says.
Family Life International not only organises Sydney's annual 40 Days for Life Vigil, but throughout the year holds prayer vigils for the unborn as well as offering emotional as well as practical and financial support to women who may be considering abortion.
"Women who contemplate abortion do so for many reasons. Money and fears they will not be able to support a baby can be one of the reasons but one of the most common reasons, particularly among younger women is more about other people's advice and urging that she have an abortion, rather than being her own decision," Paul says. "Often the decision to have an abortion is more about other people that the mother. She is almost bullied into it by family or friends or her partner or boyfriend or the circle in which she moves."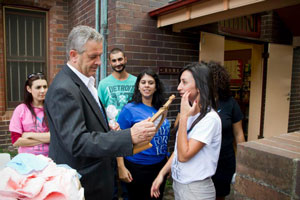 But often when the mother is given someone to talk to, to help allay her fears and help give her the emotional and financial support she may need, in almost every instance she will decide to go ahead with the birth, he says.
"All the people we have helped and who have gone on to give birth have not only had no regrets but contact us to say thank you and tell about the ongoing joy of their new son or daughter," Paul says.
Over the past decade, more than 100 women have been helped and supported by Family Life International throughout their pregnancy and for several months after they have given birth.
This support not only includes financial help as well as assistance with medical bills but practical support such as providing someone to baby sit the other children in the family when their mother has to see her gynaecologist. And once the baby arrives, members of Family Life International are on hand for as long as the mother needs their support to cope both in a practical way as well as emotionally.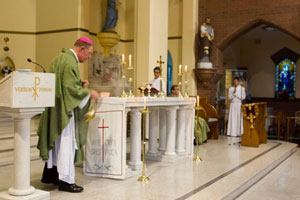 "We stay in touch for the first six to 12 months of the baby's life but in virtually every case the moment the tiny newborn is placed in the mother's arms, the problems that seemed so overwhelming when she was pregnant, no longer seem important," Paul says.
As Sydney begins its own 40 Days for Life prayer vigil tomorrow, similar vigils will be launched in Adelaide, Brisbane, Perth, Newcastle and Perth and in 252 towns and cities across the globe. Communities in 19 of the world's nations including the US, Britain, Canada, Brazil, Croatia, Nigeria, New Zealand, Russia, South Africa, Ethiopia, Portugal and Spain, are taking part in this year's campaign.
From tomorrow until Palm Sunday, more than 650,000 men and women worldwide will take part in the 40 Days for Life Prayer Vigil.
However pro-life advocates living in Tasmania are unable to take part in the vigil due to state's Reproductive Health Act which was passed in 2013 and designed to stop those against abortion and the killing of the unborn from coming within 150 metres of abortion clinics. In October last year, Tasmanian Police began moves to further tighten the state's protest laws despite opposition to these measures and claims the Act is an infringement on free speech and democracy.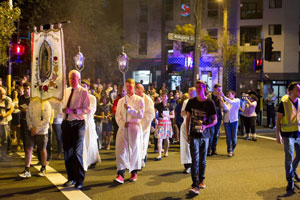 To find out more about Sydney's 40 Days for Life Lenten Vigil of prayer, fasting and outreach, and how to participate log on to https://40daysforlife.com/local-campaigns/sydney/