Caritas Committed to Helping People Help Themselves
Catholic Communications, Sydney Archdiocese,
13 Feb 2015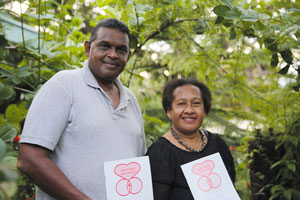 Living on a remote impoverished island in Fiji, Eric and Margaret Narayan struggled to make a living as farmers as well as feed themselves and their six children. Despte their hard work the 2.5 hectare farm they own produced barely enough to feed the family with nothing left over to sell or bring in a much-needed income.
Today Eric and Ma, as she is known, are not only about to celebrate 30 years of marriage, but the farm is successful and the income generated from the sale of produce has enabled each of their six children to attend university in Suva.
"Neither myself nor Ma finished high school but we knew education was vital to give our children opportunities and the chance of a really good job," Eric says and credits the work of Caritas Australia and the big-hearted generosity of Australians with their annual donations to the charity at helping turn his life and that of his children around.
Eric and Ma are in Sydney to share their story with parishes, school children and supporters of Caritas during the first three weeks of the agency's annual Lenten fund raiser, Project Compassion.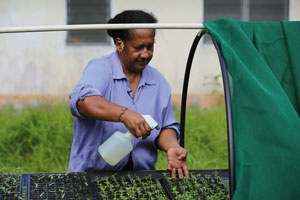 Project Compassion will be officially launched on Monday, 16 February at a ceremony attended by the Archbishop of Sydney, the Most Rev Anthony Fisher OP and the CEO of Caritas Australia, Paul O'Callaghan as well as state politicians including members of Cabinet.
Also there will be Eric and Ma Narayan who will tell their story and their pride in their children.
Nicholas, the eldest has an executive job with Fiji's Ministry of Land, daughter Theresa and son Benis are teachers, another daughter Jacinta works in Suva at Fiji's election office while Rosalinda is studying History and English at university, with the youngest, Grace also at university in Suva with plans to become a journalist.
"Ma and I always knew that education was the way out of poverty. We always dreamed of a good education for our children and Caritas helped us achieve this dream," Eric says.
Married just under 10 years and struggling to feed their growing brood of children, the turn around in their lives came after Eric and Ma attended a marriage encounter weekend.
"Our Catholic faith has always been important to both of us and it was at the marriage encounter weekend that we first heard about the Married Couples Courses at the Tutu Rural Training Centre," Ma explains.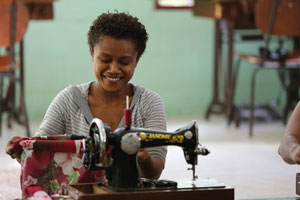 Supported by Caritas Australia, the Tutu Rural Training Centre helps couples work together to change their lives and create a strong and positive future for themselves and their children.
"This is where we learned about modern agricultural methods, water systems, diverse crops and animal husbandry," Eric says admitting that until then he was unaware of modern farming methods and having enough water for both crops as well as livestock had been an ongoing struggle.
Today Ma and Eric are successful farmers with a good watering system and tanks for rain water which enables them to produce a wide variety of produce that includes a wide range of vegetables with plenty left over after feeding their extended family to be sold and bring in a steady income.
In addition they keep ducks and hens as well as a small herd of goats that bring in added income from the sale of eggs, meat and milk.
"Thanks to the training we received at the Centre and the help of Caritas, we are able to live off the land. The income from the sale of vegetables and produce has not only enabled us to give each of our children a tertiary education but enough so that we could build a house," Eric says.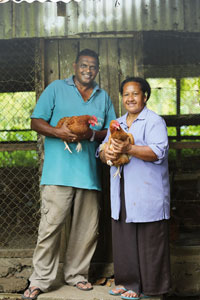 In addition, the Centre supported by Caritas taught the couple the secrets of a strong and faith-based marriage.
"We each keep a notebook and write about our feelings for one another every day, and how we are relating to each other and letting the other know how much they are loved and how special they are," Eric says.
"We keep separate notebooks but we read each other's notes and it has given us a wonderful ability to open up completely to one another with honesty and complete trust," Ma says. "Writing down what we feel has created a real understanding of each other and also ensures we never take the other for granted."
Writing in their notebooks on a daily basis is akin to a daily love letter that not only strengthens the marriage but enables them to cope with whatever difficulties the couple may encounter.
"Our daughter Theresa is married and having seen us writing our feelings down each day in a notebook, is doing the same thing now with her husband," Ma says.
To find out more about Ma and Eric, their lives in Fiji and how supported by Caritas they climbed out of poverty and found a future, as well as find out ways to raise funds for Caritas Australia's 51st Project Compassion log on to www.caritas.org.au