Australia's Policy of Detaining Children Unparalleled in Civilised World - Bishop
Catholic Communications, Sydney Archdiocese,
12 Feb 2015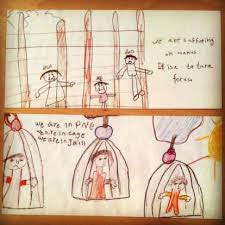 Prolonged detention of asylum seeker children has severe negative impacts on their health and development with 34 percent of children detained in Australian centres showing signs of serious mental illness that requires a referral to a mental health professional are among the disturbing findings in a new report.
The Forgotten Children report prepared by the Australian Human Rights Commission Inquiry was tabled in Federal Parliament this week and is the result of interviews with 1129 children over a 15 month period from January 2013 to March 2014 spanning both the Gillard-Rudd Labor and current Coalition governments.
Psychiatrists, paediatricians, mental health experts, health professionals and medical services providers including NGOs assisted in the Inquiry providing information from their own work with asylum seeker children on the harmful effects detention.
"The report on asylum seeker children held in detention highlights the extreme failure of Australia's refugee and asylum seeker policy and presents an opportunity for long overdue change," says Oliver White, Head of Policy and Advocacy for Jesuit Refugee Service Australia (JRS).
While welcoming the fact that the majority of children have been released from detention, those who remain are vulnerable to the conditions exposed by the AHRC's report, he says noting that these conditions include witnessing violence, self-harming as well as suffering from depression, despair and being victims in some instances of both physical and sexual assault.
Although the Government has made progress in relocating children held on Christmas Island to the Australian mainland, JRS says 330 children remain in detention with 211 of these held in mainland facilities and a further 119 on Nauru.
"Australia's policy of detaining children as a first option in security centres is unparalleled in civilised countries. That many children have been released is commendable. That children are still being held in detention is contemptible," Bishop Christopher Saunders, Chair of the Australian Catholic Social Justice Council (ACSJC) told Catholic Communications this morning.
"The damage being done to so many of these youngsters will prove a mark of shame on Australian society for which we will have ongoing regrets," he warns and believes that with the tabling of the AHRC report, now is the perfect moment to "rectify this injustice and restore these children to proper and safe care."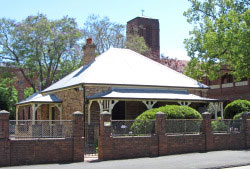 Bishop Saunders says the need for a hearing of some sort is obvious, and is convinced that only some judicial process of the importance such as a Royal Commission would point out the wrongful burdens that child imprisonment inflicts "on these innocents and ensure their safety and fair treatment."
Oliver White believes the report by the AHRC on children in detention is an opportunity for the Government to take stock, reflect on the effects of current policy and make a positive change.
"The Government can no longer claim ignorance about the long term psychological damage that detention causes to children and we echo the AHRC's recommendation that legislation be enacted to ensure children may be detained under the Migration Act for only so long as is necessary for health, identity and security checks," he says.
He also points out that while the findings of the AHRC Inquiry are deeply disturbing they merely prove what JRS, human rights groups, mental health professions and NGOs have been telling the current and previous governments for years: that detention is a dangerous place and is harmful to children.
"This is now well documented thanks to the AHRC's report that children in detention are exposed to disturbing incidents such as assault and hunger strikes and that some of them have been subjected to sexual assault and that many have resorted to self-harm," Oliver White says.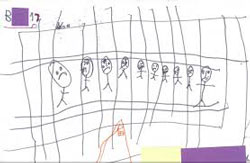 The staff at JRS have long been regular visitors to asylum seekers in detention centres across Australia. The agency also provides assistance to both asylum seekers living in the community and to refugees. Along with providing psychosocial and pastoral care, JRS supports refugees and asylum seekers with legal aid, healthcare, English lessons, financial management and preparation for employment and lessons in financial management.
The Australian Coalition to End Immigration Detention of Children has also come out strongly in support of the AHRC's report.
Founded in 2012 by a range of leading faith, secular and non government organisations as well as many well known celebrities Brian Brown, Rachel Ward, Margaret Pomeranz, Deborah Mailman and many others, the Coalition issued a statement about its extreme concern over the findings revealed in the report and the long term harm and psychological damage being inflicted on children.
"This is a rigorous evidence-based and reliable report that not only highlights the terrible conditions of immigration detention of children but the impact on these children over the long term. The report also makes clear that Australian law and policy breaches the important human rights principle that children are only detained as a measure of last resort and for the shortest appropriate period of time," a spokesman for the Coalition said.
Particularly worrying for those working with asylum seekers held on and off shore in detention centres is that while the report supports and adds to the large body of evidence that children are being psychologically damaged in detention, it also shows that little has changed since the AHRC's previous report which was released more than 10 years ago.
However the Federal Government has brushed the findings detailed in the Report aside, claiming the Inquiry into Children in Immigration Detention by the Australian Human Rights Commission was politically motivated and purposely undertaken after the Coalition came to power in September 2013.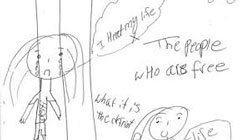 Last night the Minister for Immigration, Peter Dutton insisted the Report was redundant to a "large extent and many of the circumstances it refers to are now confined to historic reference." He also called the report's recommendation that a royal commission be held into children in detention as "redundant" and dismissed some of the other recommendations the Report called for as reflecting existing government policy, and therefore "superfluous."
Nor would other recommendations be implemented because "they would undermine the very policies that mean children don't get on boats in the first place," the Minister said.
Yesterday Crossbench Senator Ricky Muir wanted to know why some of the children released from detention on Christmas Island were placed in detention on the mainland which is at odds with promises made prior to the passing of the Government's controversial asylum seeker Bill late last year.
The Bill which also reintroduced Temporary Protection Visas, altered Australia's definition of who is eligible for refugee status and reduced legal pathways of review once a negative determination has been made. Senator Muir gave the Government the vote it needed to pass the Bill after he was reluctantly persuaded to give his support after the then Immigration Minister, Scott Morrison promised to remove children from Christmas Island detention centre and give work rights to those on temporary protection visas.