"Fr Ronnie" Remembered and Farewelled From His Beloved Parish of 35 years
Catholic Communications, Sydney Archdiocese,
10 Feb 2015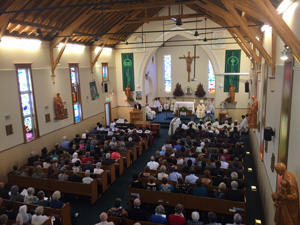 Hundreds of people including Bishops, priests, friends and former parishioners packed St Michael's Catholic Church Hurstville gathered to farewell Fr Ron Harden who died last week aged 86 years old.
They paid tribute to a man who celebrated his faith and priesthood, music and art and those with whom he became a generous and kind pastor.
A former music director of St Mary's Cathedral, it was more than fitting some members of the choir and the current director welcomed and farewelled Fr Ron in the church he loved so much.
Born in Bexley in 1928, Fr Ron was ordained at St Mary's Cathedral in 1951 and served at the parishes of Rosebery, Surry Hills and St Mary's Cathedral before he moved to Hurstville where he ministered for 35 years.
In 1955 he became the Director of Music for the Cathedral and reformed the choir of boys and men (a tradition which still exists today) and was a member of the Archdiocesan Commission for Liturgy, Sacred Music and Art until 1974.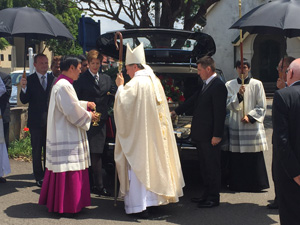 Known as "Fr Ronnie" to his parishioners at Hurstville, many of them, including school children from Bethany College Hurstville, Marist College Kogarah and St Mary's Cathedral College joined with Archbishop Anthony Fisher OP in praying together and giving thanks for Fr Ron's service during his years of active ministry in the Archdiocese.
Close to thirty priests and Bishops, including retired Sydney Auxiliary Bishop David Cremin and Bishop Bede Heather, who was in the same class as Fr Ron, were among the clergy present. Choristers from St Mary's Cathedral Choir, under the direction of their current Director, Mr Thomas Wilson provided music for the funeral with music by Handel, Bach and Faure.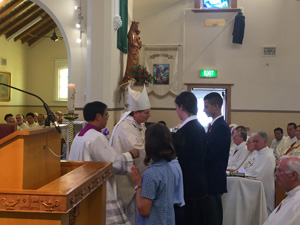 In his homily Archbishop Fisher said; "People were convinced Fr Ron was a holy man. When they encountered him they encountered something of God shining through him.
"So we offer this Mass and our prayers in the sure and certain hope that a life of such service of God and His people will not go unrewarded. We pray that Fr Ron may now join the heavenly choir - and perhaps have a role there as a conductor!"
For the text of the Archbishop's homily, please see
here