Paris Terrorist Atrocity an Attack on Free Speech and Democracy
Catholic Communications, Sydney Archdiocese,
8 Jan 2015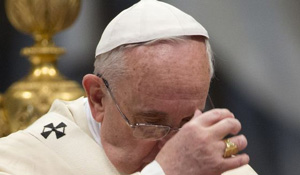 Pope Francis has strongly condemned the horrific attack by Islamic extremists on the Paris offices of Charlie Hebdo, the French satirical magazine that left 12 dead including 10 journalists and cartoonists, and seriously wounded more than 11 others.
Among the dead is Stéphane Charbonnier, the outspoken editor and cartoonist of the publication and two policemen, one of whom was shot at point blank range as he lay wounded on the street outside the building.
The Holy Father called the terrorist attack as "abhorrent" and said violence was never justifiable and stressed that "any incitement to hatred should be refused."
A manhunt is now underway across Paris for the three men who dressed as commandos and carrying Kalashnikovs stormed the magazine's headquarters at 11.30 am Paris-time shooting dead Charlie Hebdo's founding editor, journalists, designers and cartoonists who had gathered for their weekly news conference.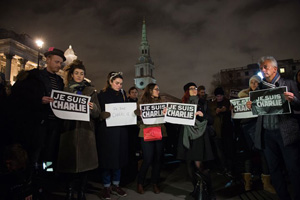 The terrorists have been identified by French police as Said Kouachi and Cherif Kouachi, two brothers in their 30s, who were born in France of Algerian descent and are believed to have recently returned from Syria. Their accomplice was 18-year-old Hamyd Mourad, whose nationality remains unclear.
All three are understood to be linked to a Yemeni terrorist network.
Video footage shows the three killers racing to their getaway car shouting "God is great" and "We have avenged the prophet!"
The cold blooded massacre which has shocked the world is believed to have been in retaliation for the satiric magazine's lampooning of Islam and in particular, publishing cartoon caricatures of the prophet Mohammad three years ago.
In Australia, Prime Minister Tony Abbott joined the Pontiff and other world leaders in his condemnation of this latest terrorist atrocity.
"Australia stands with the people and the government of France at this difficult time," he said in a statement released this morning. "The thoughts of all Australians are with the families of those who have lost their lives in this barbaric act."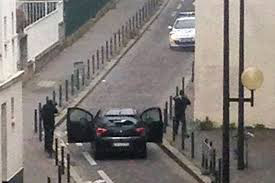 Freedom of expression is the cornerstone of a free society, the PM who is a former journalist, said and in a tweet a short time later added: "If you don't like something, you don't read it; you don't kill people you disagree with."
In Canada where an Islamic terrorist killed a solider guarding the nation's War Memorial in Ottawa before storming Canada's Parliament in October last year, Prime Minister Stephen Harper has reached out to victims of this latest outrage, and their families.
"Canada and its allies will not be intimidated and will continue to stand firmly together against terrorists who would threaten the peace, freedom and democracy our countries so dearly value."
The Queen and Prince Philip have sent condolences to French President, Francois Hollande and British PM, David Cameron has offered the support of UK intelligence agencies to track down the attackers.
"We stand absolutely united with the French people against terrorism and against this threat to our values - free speech, the rule of law, democracy," he said.
US President Barack Obama said that the fact the attack was on journalists is an attack on free press and underscores how much Islamic terrorists fear freedom of speech and the freedom of the press.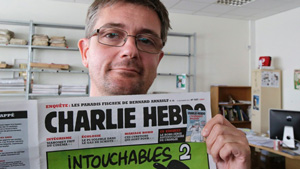 French President Hollande has called for a day of mourning and as evening fell yesterday, more than 10,000 Parisians gathered in a spontaneous demonstration of grief and solidarity beside the city's statue of Marianne, France's national symbol of liberty and reason, in the Place de la Republique.
Young and old crowded into the square, jamming traffic as they chanted "Freedom of Expression" and held up pens in support of a free press. Many held lighted candles which were used to spell out the words "Je Suis Charlie" (I am Charlie) in a slogan of support and condolence for those who died in the attack on the offices of Charlie Hebdo, while others held up banners and copies of the magazines insisting "Love is stronger than Hate."
Lyon, London and other cities across Europe have also held spontaneous demonstrations.
In another show of support, cartoonists worldwide have taken to social media using their talents to condemn the latest terrorist outrage and to pay tribute to the four internationally admired French cartoonists who lost their lives.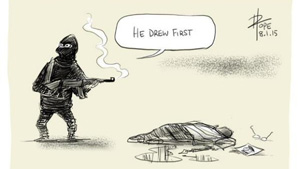 Australian David Pope, the Canberra Times' award winning cartoonist tweeted the poignant pencil sketch he drew last night after hearing the grim news of the attack in Paris along with the names of the internationally regarded journalists and cartoonists who were murdered. His cartoon has now gone viral.
"Pope Francis joins in prayer for the suffering of the wounded and the families of the deceased," Fr Lombardi said this morning as part of the statement released by the Vatican on behalf of the Holy Father. "Whatever the motives may be, homicidal violence is abhorrent. It is never justifiable. The life and dignity of all must be resolutely guaranteed and protected. Any incitement to hatred must be rejected. Respect for the other must be cultivated."
Police have discounted media reports that two of the terrorists have been captured and the third terrorist was killed in a shoot out.