Notre Dame Student Graduates with Three Degrees
Catholic Communications, Sydney Archdiocese,
7 Jan 2015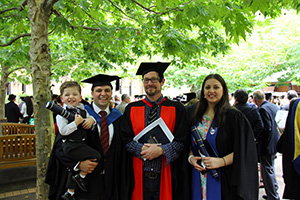 Among the first cohort of students to enrol at the University of Notre Dame's Sydney campus back in 2006, former real estate agent Fadi Hajjar has three degrees under his belt and is already talking about furthering his studies.
Fadi graduated with a Bachelor of Arts/Bachelor of Education (Secondary) in 2009, and then just before Christmas he created a remarkable tertiary trifecta graduating as a Bachelor of Theology.
Graduation ceremonies at UNDA are always celebratory affairs but for Fadi it was a double celebration with his wife, Bouchra graduating at the same time with a Graduate Certificate in Religious Education.
Bouchra had previously completed her Bachelor of Education at Notre Dame and there to watch his parents receive accolades for their outstanding achievements was the couple's small son, Luca along with other proud family members.
As one of the first students at the Sydney campus of UNDA, Fadi has watched the university grow from just a few hundred undergraduate students to today's large student body of more than 5000 spread across Notre Dame's Broadway and Darlinghurst sites.
All students at UNDA are required to complete a core curriculum, studying for units in theology, philosophy and ethics and it was this, he says, that initially triggered his decision after graduating with a double degree in 2009, to continue his studies and obtain a degree in Theology.
Fadi studied for this, his third degree, on a part-time basis as by this stage he was also a dedicated full-time teacher to secondary school students, having joined the staff of Rosebank College at Five Dock.
"What attracted me to theology and philosophy was the opportunity to ask the big questions and to consider some of the works of the best thinkers of all time," he says.
Grateful he has had the opportunity to seek out knowledge, he adds that along with his Bachelor of Theology he has also "hopefully" gained wisdom.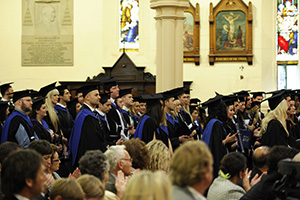 Not that Fadi has any intention of stopping there.
Already he is talking about returning to UNDA for further study next year, although as yet he is still mulling over courses and whether or not he may study for a post graduate degree.
His love of learning remains undiminished and it is this passion for learning he imparts to his students.
"After high school I began working in real estate but I didn't find this at all fulfilling. But with teaching you are able to give back and you are able to inspire your students and help foster their love of learning," he says.
Able to juggle the demands of secondary school students, studying for yet another degree, as well as being a devoted husband to Bouchra and proud involved Dad to Luca, Fadi says one of the big attractions of continuing his studies is Notre Dame itself.
"Notre Dame has a real family feel about it. The lecturers and tutors are knowledgeable and approachable and that's a key reason I want to continue my studies there," he says. "The generosity and authentic witness of my lecturers continues to inspire me. I have grown in faith and realise there is so much more to learn. I am still at the start of this journey."
To find out more about studying at UNDA, the courses available and details for enrolment applications log on to http://www.nd.edu.au/sydney