Vandalised Church Statues Replaced Within 24 Hours
Catholic Communications, Sydney Archdiocese,
30 Jan 2015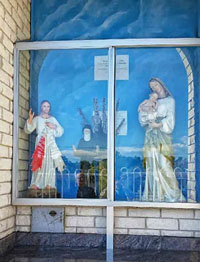 Less than 24 hours after vandals attacked the shrine on the exterior wall of St Charbel's Maronite Catholic Church in Punchbowl, the statues destroyed in what police believe is a religious-hate crime had been replaced by members of the Church's close knit community.
The attack occurred early yesterday morning when the glass protecting the shrine was smashed along with a 1.2 metre tall much loved statue of the Madonna and Child and another slightly smaller statue of St Charbel.
Broken in half the statue of the Holy Mother was beyond repair. The head and hands of St Charbel were also destroyed.
Police are calling it a religious-hate crime and are currently examining video footage from CCTV cameras monitoring the Church. Although the CCTV footage does not include the shrine, there is footage of a man in his 20s or 30s acting suspiciously outside the church between 4.47 am and 5.07 am on Wednesday morning.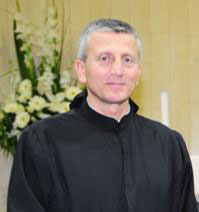 The crime itself was discovered a short time later at 5.30 am by a parishioner.
"The lady was in tears when she knocked on our door to tell me the glass of the shrine and the statue of Our Lady was smashed," says Father Joseph Sleiman, Father Superior of St Charbel's Monastery who instantly went outside to see what had happened.
Like the parishioner who had reported the ugly attack, he was shocked and upset by what he saw.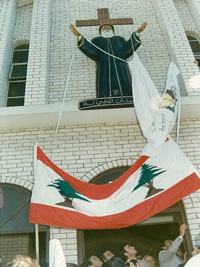 "The shrine is a symbol of our Christianity, like the Crucifix and the space that was damaged is a popular place for private prayer and reflection," he says, pointing out that the sacred shrine and its precious statues had stood within the glass enclosure for more than two decades without incident.
Despite the distress at the attack, Fr Sleiman, his fellow priests at St Charbel's Monastery and Sydney's 40,000-strong Lebanese Maronite community are determined not to let this breed more hate.
"The best thing about this whole incident is the overwhelming number of calls we've received to pray for the person or persons who did this. There has not only been forgiveness but no thought of revenge," Fr Sleiman says.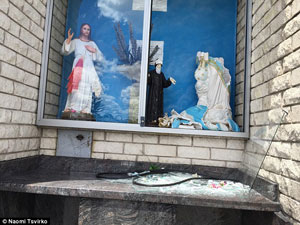 Fr Sleiman says the speed with which members of St Charbel's parish responded, almost immediately finding and installing replacement statues. is typical of the city's Maronite community and their big hearted generosity.
He is convinced the attack was made by an outsider.
"No one in our community would do such a thing to our Church and any place of worship," he says adding that with what began so negatively has been turned into something positive by the Maronite community with their prayers for the perpetrator or perpetrators.