Sister of Mercy Back in the Swim
Catholic Communications, Sydney Archdiocese,
29 Jan 2015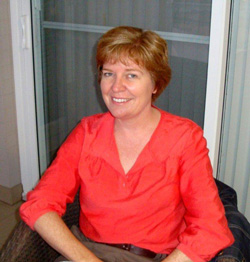 Thirty-two years after winning Sydney's Cole Classic Ocean Swim as a 15-year-old, Sister Rebecca McCabe rsm is about to get back in the water.
Once ranked in the top ten in the world as a teenager, the young girl from the Shire was on a path of perhaps not fortune but certainly fame.
However paths tend to meet crossroads and a lot of water has passed under the bridge since those early years with Sister Rebecca now a Mercy sister, physiotherapist and author.
Her love of swimming though hasn't changed and this Sunday Sister Rebecca will line up with thousands of others for one of Australia's longest-running ocean swims.
This year Sister Rebecca says she is just happy to join all the other entrants but her early achievements in the water are pretty impressive.
The former Australian 800 metres champion freestyle gold medallist and 1500 metres silver medallist was a teenage swimming sensation even being compared to Shane Gould when she was selected to wear the green and gold and compete at the 1984 Olympics in Los Angeles.
Ranked number 9 in the world, the teenager from Cronulla had already been selected as a member of the Australian Team at a pre Olympic meet in Los Angeles. Chosen to gain all important experience in L.A. a year ahead of the Games, she joined Michelle Ford who'd won Gold at the Moscow Olympics and the up and coming long distance swimmer, Wayne Shillington of Engadine in Los Angeles.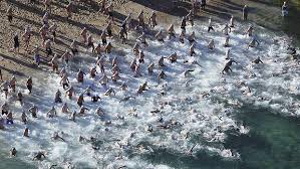 Then it was back to Sydney and to prepare for the final selection trials for the July '84 Olympics.
However at the eleventh hour a shoulder injury caused by over training robbed Rebecca of her spot on the team.
"Sports medicine was in its infancy back then and no one really understood how athletes could over-train or the importance of stretching and cross-training," she says.
Barely 16 years of age, Rebecca found herself not only in excruciating pain from two torn tendons but forced to cope with the overwhelming disappointment of missing out on something she had been training for as long as she could remember.
As a member of the Australian Swimming Team everything was tried to heal her shoulder. Magnets, physio, injections and acupuncture were all given a go. Nothing worked and although she competed at the Australian Swimming Championships in 1985, she quickly realised that her days of swimming were over.
Since the age of three Rebecca had been in love with the water and already tipped as one of Australia's future swimming stars. By eight she had made it onto the "Under 10 NSW State Swimming Team."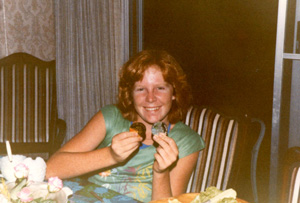 For more than a decade she had climbed out of bed at 5am and trained for two hours before school in the local pool near her home at Woolooware. Then after school, she was back in the pool for another two hours of training.
Until she turned 17, swimming had been her passion and her focus. Then abruptly it was over and she was left floundering.
Her whole life seemed to have lost its meaning. The goals that had challenged her and she'd strived to overcome, were gone. There were no races to win. No time clock to beat.
Looking back on that year, she believes that as difficult as it was, this was when God made his presence felt.
"He reached out to me and gave me hope. I learned the depth of God's love and mercy that year, and all these years later that has never left me," she says.
The third of five children, Sr Rebecca grew up at Woolooware near Cronulla in a close, loving Catholic family. Her father was a solicitor and her mother, Robyn a volunteer with St Vincent de Paul Society. Both were also involved in running the RCIA program (the Rite of Christian Initiation of Adults) for their parish, and were strong advocates of social justice.
"They were always looking out for those in need, giving a voice to those who did not have one, or whose voice was not being heard. They believed in faith in action and were a wonderful example of what that means," she says.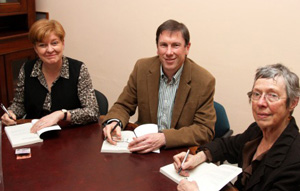 Nevertheless Sr Rebecca says that during her teenage years she grappled and struggled with her faith.
"Doing laps you have plenty of time to reflect and think. But like most teenagers I saw everything as either black or white," she says and confesses that during her swimming years as a 14 and 15 year old, she'd pray before a big race. If she won, there was a God. If she didn't win, then there wasn't.
"The year I stopped swimming was pivotal. In my search for meaning in life, God reached out to me. He planted the seeds of faith and he led me on what would eventually become my path and my vocation," she says.
On leaving school, Sr Rebecca was keen to study medicine. Disappointed that her HSC marks were not high enough to get her into Medical School, she studied biochemistry and microbiology and graduated with a Bachelor of Applied Science from the University of NSW.
For the next several years she worked in a laboratory as a scientist doing research into the HIV/AIDS virus at St Vincent's Hospital, Darlinghurst. But she missed interaction with people and inspired by her parents, wanted to work more directly with people.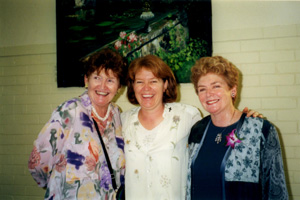 "I was also influenced by a visit to Mexico on the way back from the trip to LA for the pre-Olympic meet. I had never seen such grinding, abject, poverty. I still remember seeing malnourished people in the streets and disabled children begging. That visit had a powerful effect on me and I realised I wanted to do something radical with my life. I wanted to use my gifts to make a difference."
At 25, Sr Rebecca heard God's call.
"I thought the most radical thing I could do was become a Sister of Mercy. Even if it didn't work out, I knew I would regret not giving it a go," she says, adding that she found her true vocation with the past 22 years bringing much happiness and joy but also doors continuing to open in ways she never imagined or expected.
"I chose the Mercy Sisters not only because I attended Our Lady of Mercy College at Burraneer Bay but because mercy resonated deeply with me and my own experience of God's love, tenderness and mercy," she says.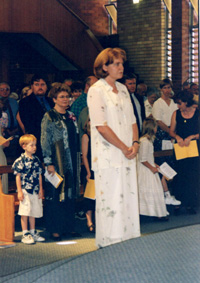 After professing her final vows, Sr Rebecca switched careers deciding that for her, looking down a microscope was not a way to live out her vocation. Obtaining a Bachelors with honours in Physiotherapy, she specialised in pain management.
"Physiotherapy is my work of mercy as a Mercy sister. For me, it is an expression of my commitment to the God of Mercy. It gives expression to my core commitment to show the face of God," she says.
By helping people cope with chronic and debilitating pain and working closely with to bring hope and relief is not only a way of giving them their life back but links back to Jesus' own ministry of healing.
"You can't see pain but you can see its effects on people's lives. Prolonged pain can crush spirits and bring people to the edge of despair," she says.
An estimated one in five Australians suffers from persistent non-cancer pain. For many the pain also means loss of mobility, loss of a job, loss of self confidence along with increasing isolation from friends and the community.
Today, Sr Rebecca is President of the Bethany Health Centre in Strathfield and also Senior Physiotherapist at the Pain Management Service, Greenwich Hospital where she works closely with colleagues and has also co-authored two books.
"The Pain Book: Finding Hope When it Hurts" (Hammond Press, RRP $29.95) was published worldwide in July 2013, and has become an international best seller. A second book "The Spinal Cord Injury Pain Book" was released in October last year.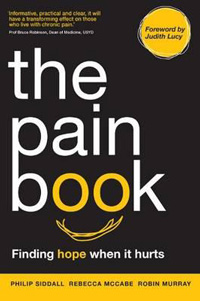 "Many people are unaware that people who have spinal cord injury can continue to suffer severe nerve pain even though they are paralysed and cannot move their limbs. The book was written as a way to help them and their families understand they are not imagining this pain, that it really exists."
Working closely with her colleagues at Greenwich Hospital, Professor Philip Siddall of the University of Sydney and Clinical Psychologist, Dr Robin Murray with whom she also co-authored the two books, Sr Rebecca hopes to give people in country areas as well as cities, multi-disciplinary strategies and treatments to manage pain so that pain and suffering are not the final word.
"Billions are spent on medications to try to manage chronic pain. But research over the past 10 years shows that medications are not the complete answer people hoped for," she says. Sr Rebecca points out not only does long-term use of strong pain killers build up a tolerance in the body so more and more medications are needed, but that like all drugs there are also often severe side effects.
What she is excited about is what she calls "the natural medicine cabinet in our own brain," and ways to stimulate the brain to produce its own feel-good chemicals such as endorphins and serotonin which have a positive effect on mood, feelings of well being and happiness.
Sr Rebecca loves what she does and is currently using her knowledge as a physiotherapist to protect her injured shoulder as she prepares for her first big ocean swim since she won the event 32 years ago.
"I have changed my freestyle technique to reduce the repetitive strain on my shoulder," she says adding that has rediscovered how much she loves the water and how much she loves swimming.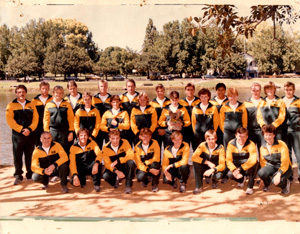 Training for this weekend's Cole Classic by swimming laps at Ryde Pool as well as walking, stretching and working out, Sr Rebecca is ready for the big event.
"I am only entering the 1 kilometre course which goes from Shelly Beach to Manly. My aim is not to win but to complete the course, and enjoy the thrill of participating again," she says.
Fifty years ago it would have been unheard of for a religious sister to don a swimsuit and dive into the ocean along with hundreds of others. Nuns were more likely to be seen teaching, working in hospitals, looking after children but more often than not in their habits. Swimming was normally restricted to closed pools with other sisters.
There have been changes. While many religious communities still contribute greatly to the general community they are not always identified by a habit.
However everyone knows the importance of good health and exercise.
"Keeping fit and exercising is critical to our physical, mental and emotional health and is very much part of living a whole life and is an essential part of spiritual life as well," Sister Rebecca says.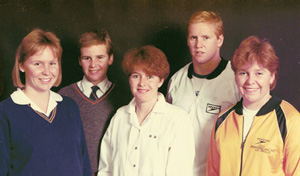 While this is the year Sr Rebecca has decided to get back in the swim, it is also the year Pope Francis has dedicated to the Year of Consecrated Life.
In his message to men and women of consecrated life throughout the world Pope Francis urged them to look to the past with gratitude, to live the present with passion and to embrace the future with hope. It would seem Sr Rebecca embraces that call on all counts.
On Sunday Sr Rebecca will be raising money for the Blackdog Institute and she will be joined in the water by her brother, David McCabe - NSW's butterfly champion in 1975 and 1977.
On the beach at Manly to cheer on her arrival will be family members and some of the Sisters of Mercy who have given her great support during her "comeback" training.