St Mary's Cathedral to Light Up for Christmas
Catholic Communications, Sydney Archdiocese,
4 Dec 2015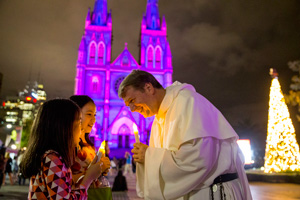 The spectacular light projections on the façade of St Mary's Cathedral will be launched next week for the annual Lights of Christmas presented by PAYCE.
The opening night on Thursday, 10 December will feature the St Mary's Cathedral Choir plus performers Paulini and Naomi Price. The Archbishop of Sydney, Most Rev Anthony Fisher OP will then welcome everyone to the nightly spectacular and officially "switch on" the light projections.
The Lights of Christmas presented by PAYCE has become a tradition for Sydneysiders and tourists alike with the amazing laser projections plus soundscape.
The projection will run every night from 8.30pm up to and including Christmas Day.
From 7.30pm every night there will also be entertainment including a range of choirs. Australian musical virtuoso George Ellis has composed and recorded the traditional Christmas carol The Holly and the Ivy with the stirring vocals of Naomi Price and the backing of the George Ellis Orchestra.
The lyrics of the carol are reflected in the light projections, layered with meaning and lending itself to the imagination of children. Naomi Price will also perform the carol live on opening night on the steps of the Cathedral.
Since its creation by AGB in 2010, the light display has illuminated the massive 75-metre façade of St Mary's with a free display of sound and light, storytelling the themes of Christmas using Vivid-style 3D projections. A different theme has featured each year, this year being the universal theme of light. The projections will also feature a series of beautiful images of Mary and the Baby Jesus.
The event, with the help of its sponsors, raises tens of thousands of dollars for charitable organisations, specifically the Matthew Talbot Hostel and the Brown Nurses.
Apart from PAYCE, the presenting partner, the Australian Catholic University is a foundation sponsor and Education sponsor, along with the Archdiocese of Sydney and Catholic Cemeteries and Crematoria.
Everyone is welcome on Thursday night and right through until Christmas Day night.