Priest Uses Rap to Break Down Barriers & Help Young People Grow in Faith
Catholic Communications, Sydney Archdiocese,
23 Jan 2015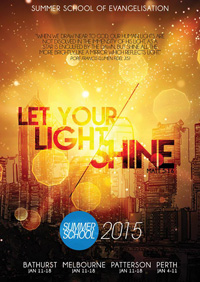 The 170 young people who attended the recent Summer School of Evangelisation in Bathurst not only had a chance participate in a week-long retreat to open hearts and celebrate the power of the Holy Spirit, but they also had the unique opportunity of deepening their understanding and commitment to God via hip hop and rap.
"Rap is a great way to break down barriers and reach young people. They start by responding to the beat and then start listening to the message," says Father Chris Eaton, Vocations Promoter with the Missionaries of God's Love who was among the group of theologians, priests, sisters, youth ministers and lay members of the Disciples of Jesus Covenant Community who led prayer sessions, lectures, discussions and seminars throughout the recent Summer school.
An initiative of the Community in conjunction with the priests, sisters and consecrated members of the Missionaries of God's Love, the Summer School of Evangelisation has been held annually for almost 30 years. Held simultaneously in Perth, Melbourne, Paterson NSW as well as Bathurst, this year's Summer School had a combined total of more than 500 young people taking part, with many of these returning for the second, third or fourth time.
Fr Chris who also attended the Summer School retreats before discerning his own vocation, has become an integral part of the week-long retreat that encourages young people from 16 to 35 to proclaim their faith and be a witness in their daily lives.
Dubbed Australia's rapper priest, 33 year old Fr Chris writes the words for each of his raps which deal with everything from his own vocation to the priesthood to the joy and power of faith, love of the Gospel and Christ's teachings, and how to set the world on fire with God's love.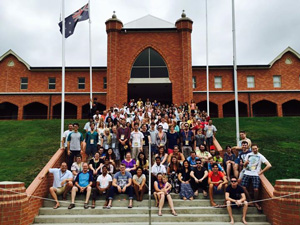 "I've always loved music, and growing up I used to listen to rap and hip hop. Both emerged from America's black ghettoes and I loved the beat but the words were usually very confronting and not very positive. But I didn't think about putting in my own words until I heard Fr Stan Fortuna of the Franciscan Friars of the Renewal community in New York who uses rock, rap and all different sorts of music to inspire young people and open their eyes to the Holy Spirit," he says.
Fr Stan Fortuna established the Catholic Underground in the basement of a church in Yonkers, New York in 2006 in regular evenings with the first half devoted to Vespers and Benediction and the second half of the night a celebration of music, drama or poetry in the hall next door.
Hundreds of young people began attending to experience Fr Stan and his Franciscan Friars of Renewal's brand of music that included rap, reggae, rock and jazz.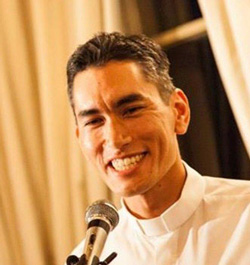 The Catholic Underground's brand of rap and evangelisation spread quickly across the USA, Britain, Germany and France and was seen for the first time in Australia when Fr Stan arrived in Sydney for 2008's World Youth Day.
Fr Stan has visited Australia several times since and was in Melbourne in March last year for Flame Fest which is where he met up with Fr Chris and they began rapping together.
For Fr Chris it was an evening he will never forget. Nor will he forget Fr Stan's insistence that as the Lord is also Lord of all music, all genres of music are acceptable and should be used as a way to reach out to people, evangelise the faith and inspire them with a passion and love for the Gospel of Jesus.
In addition to helping young people deepen their faith using the power of music at last week's Summer School of Evangelisation in Bathurst, Fr Chris also ran a series of lectures on discernment to help those participating in the retreat find their vocation whether this was for the priesthood, consecrated life, or as a lay person committed to Christ.
"To witness young people opening up to the Holy Spirit and seeing the transformation in their sense of purpose and in their lives is immensely rewarding and a great privilege. During the week you literally see them move forward in their faith and in themselves, and offer themselves in faith and service to God," Fr Chris says.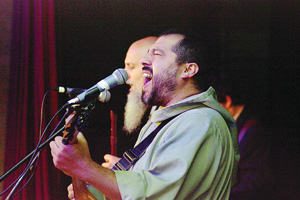 He describes his role at last week's summer school as "helping young people in how to listen to God and how to respond and make Him part of their life every day."
For the New Zealand-born priest, a similar Summer School of Evangelisation held near his hometown of Christchurch was where he first learned about the fast growing Catholic Charismatic Renewal movement within the Church.
"I was 19 and although I had grown up in a Catholic family and been educated at Catholic schools, until then I had never heard of the Catholic Charismatic Renewal. But from that moment I knew this was how I wanted to become involved. This was about encountering the Holy Spirit as part of every day life. This was God and Christ who were accessible. My faith and the Scriptures came alive for me. I was a pretty shy kind of guy but from that experience, I knew that what I wanted most of all was to share my faith."
Fr Chris' initial encounter with the charismatic movement was with NZ's Hearts Flame which so inspired him that within the next few years, he had travelled to Australia to join NET Ministries. He became part of a NET youth evangelisation team based in Brisbane and it was during this time he attended his first Summer School of Evangelisation in Bathurst.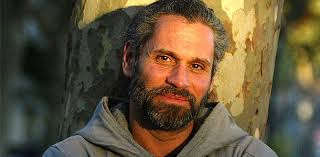 Run by the Disciples of Jesus Covenant Community, in conjunction with the priests, brothers and sisters of the Missionaries of God's Love, the weeklong retreat in 2005 revealed God's call and changed his life.
Fr Chris studied for the priesthood at the Missionaries of God's Love seminary in Melbourne and on Friday, 13 September 2013 he was ordained a priest by Bishop Patrick Power at St Christopher's Cathedral, Canberra.
For inquiries about the 2016 Summer Schools of Evangelisation to be held in January next year at locations in Bathurst, Melbourne, Perth and Paterson NSW, go to www.summerschool.org.au.
To see some of Fr Chris' raps go to www.youtube.com/watch?v=KCFVN4Ie9u0.