A Christmas Concert at St Mary's Cathedral Resounding Success
Catholic Communications, Sydney Archdiocese,
21 Dec 2015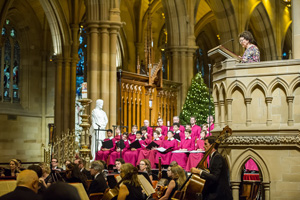 The music on Friday night at St Mary's Cathedral swept the accomplishments of the Choir of St Mary's Cathedral to even greater heights.
Accompanied by a guest Chamber Orchestra and under the direction of Mr Thomas Wilson, the choir staged the inaugural A Christmas Celebration.
Tickets were sold out but many still queued at the doors.
The beauty and wonder of Christmas was celebrated with a sequence of reflections and music.
The choir sang many wonderful hymns with the congregation also having the opportunity to join them.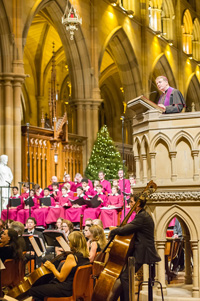 Reflections were read by Dr Elsie Heiss (Aboriginal elder, Wiradjuri NBation); Mr Jay Bacik (Former CEO, Life Education NBSW); Ns Jessica Langrell (Sisters of Life, New York); Mr Andrew O'Keeffe (Media Presenter); Prof The Hon Dame Marie Bashir (Former Governor NSW) and Mr Paul Dyer AO (Artistic Director and co-founder Australian Brandenburg Orchestra).
The Archbishop of Sydney, the Most Rev Anthony Fisher OP gave a meditation and a blessing before the final rousing carol Hark the Herald Angels Sing.
Presented and supported by WN Bull Funerals, A Christmas Celebration was the first of its kind in the Cathedral but is set to become a tradition with many people praising the young choristers, musicians and Mr Thomas Wilson who planned and presented the evening.
St Mary's is the only Roman Catholic Cathedral in Australia with an on-site Choir School where the 24 boy choristers are educated. The gentlemen of the Choir are professional singers.
and it is one of the busiest choirs providing music at Vespers and Mass in the Cathedral every day except Fridays during term time, making it one of only two cathedral choirs in the world to continue a rhythm of worship. When time permits the choir also gives special performances although the Christmas season is one of their busiest and Friday night was one of their most accomplished performances.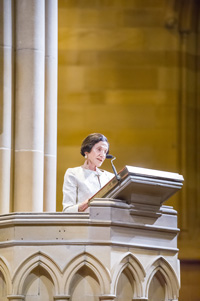 The ticketed performance helped raise funds for The Palestrina Foundation which supports the choir and the young choristers however a special open family carol service was also held at St Mary's Cathedral on Sunday afternoon and again the Cathedral was packed.
At a special reception following A Christmas Celebration Archbishop Fisher described the evening as a most wonderful and uplifting event.
He said it was particularly heartfelt that so many people could come together in song and also reflect upon the beautiful Catholic traditions which help us enter into the season of joy, hope and goodwill. He thanked all the supporters and especially Thomas Wilson for his direction and vision for the concert and his enthusiasm and encouragement of the choristers.
Thomas Wilson described the concert as another milestone for the choir. Clearly proud of the boys' performance he said it was such an amazing experience for them to sing with a wonderful orchestra, in the magnificent Cathedral and to such an appreciative audience. Indeed, it was very special.