Meet Rocking Dan Teacher Man
Catholic Communications, Sydney Archdiocese,
21 Jan 2015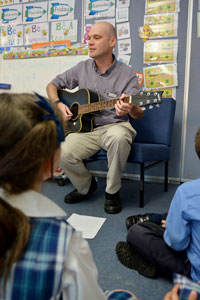 Photo courtesy of Catholic Education Office
Sydney teacher at St Declan's Primary School, Dan Colquhoun is not only proving the power of music when it comes to teaching reading, writing and maths to kindy children but many of the 30 animated songs he has composed are being used as teaching resources in 100 countries worldwide.
"Music is a great way to engage children, motivate them and spark their interest. Music gets them up and moving and is a wonderful aid to learning," he says.
Known as Rocking Dan Teacher Man and the Penshurst school, his songs complete with the visuals he created using an animation computer program are posted on YouTube where they have become a global hit with the youngsters as well as teachers everywhere.
"Making up songs with children are a great way to deal with a question or a problem that comes up in class and can reinforce whatever they are learning in class," he says.
Influenced by what he calls the Big Hair Bands of the '80s, he creates songs with his class with everyone giving input and making up actions to go with the music and the words.
"It's a great way to engage multisensory learners," he said. "The kids love singing along and dancing. Movement is also important in kindergarten as children at this age are kinaesthetic and visual learners. The repetition is also really important."
Parent feedback is all positive, with reports "that whatever songs the children have helped compose and learned in class are constantly sung at home, reinforcing their learning experience.
The idea of creating songs with input and ideas from his young charges began four years ago when Dan was studying for a post graduate certificate in Early Childhood Education at the Australian Catholic University (ACU) where he had graduated with a degree in Education (Primary) a few years earlier.
At the time he was teaching Year One, which he taught for four years before taking over kindergarten classes at St Declan's three years ago.
"Growing up I played in a band with a couple of friends. I played base guitar and although we were never a serious band, being able to play guitar has been a terrific help when it comes to teaching. I've always enjoyed music and it is an ideal way to engage children and get them excited about learning," he says.
At first Dan composed the songs and lyrics and put them to music on his guitar before deciding to add visuals and animate each song using a computer program he discovered online.
"Songs teach children about the use of language via lyrics and rhyming words and when matched with animation also help them learn about numbers and maths," he says.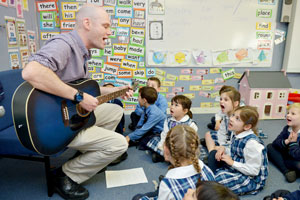 Photo courtesy of Catholic Education Office
One of his songs, complete with animated characters and created with input from the kindergarten students he taught last year, is about making a paper snow flake. Another is about making a paper pizza.
"We make up songs during class and use them to help answer question or solve a problem, or make something clearer and easier for children to grasp," he says.
Dan's integration of music and technology and ability to engage and inspire children has won him worldwide acclaim and in late 2013 he was awarded ACU's coveted Bob and Margaret Frater Travel Scholarship worth $10,000, which recognises and rewards teachers with leadership qualities at Catholic primary schools.
Dan took up the scholarship in July last year, travelling to an international conference held in Las Vegas for kindergarten teachers and is now implementing the expertise, new approaches and all he learned about early childhood education.
Dan is passionate about teaching and says there is nothing like the joy of watching a child learn, especially when they suddenly "get something" and their whole face lights up.
"Watching children grow academically, emotionally and spiritually is very rewarding and very exciting," he says and gives credit to ACU for the opportunities and doors that have opened since he graduated from the Strathfield Campus just under a decade ago.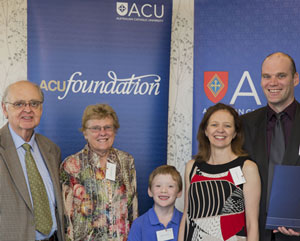 "My experience with ACU staff during studies for my degree as well as my post graduate studies had a positive impact on my teaching and were also instrumental in encouraging me to develop my teaching methods. The lecturers at ACU are very knowledgeable, helpful and always accessible. They also helped me find professional placement during my studies and helped me find a full time job when I graduated," he recalls.
ACU's education degrees continue to be highly regarded with thousands of graduates securing full time employment within months of finishing their degree.
"Having a connection with Catholic schools also plays a role in this," Dan believes, pointing out that one in five primary school students across Australia attend a Catholic school, with this increasing to one in three students enrolled at one of the nation's Catholic secondary schools.
Thanks to ACU's strong connections to the Catholic education as well as the nation's health sector students at the university's campuses in Adelaide, Canberra, Melbourne, Ballarat, Brisbane and Sydney are offered opportunities to gain invaluable practical experience at the nation's primary and secondary schools or at hospitals across the country.
Despite today's tough job market exacerbated by the end of the mining boom, a falling dollar and slowing economy, a recent graduate destination survey found that ACU graduates enjoyed stronger job outcomes than their counterparts at other universities with more than 95% of teachers and nurses employed within four months of graduation.
To watch Rocking Dan Teaching Man's groundbreaking musical videos that teach youngsters literacy and numeracy log on to https://www.youtube.com/channel/UCImSxYV3FEQ-skkY67kFcxw