GST on Catholic School Fees Could End Up Costing Govt Far More than It Saves
Catholic Communications, Sydney Archdiocese,
21 Jan 2015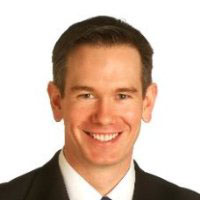 Executive Director of the National Catholic Education Commission (NCEC), Ross Fox, has slammed a proposal by the Canberra-based Australian Institute to broaden the GST base to include private school fees.
The Australia Institute estimates $790 million could be raised if fees in non-government schools were hit with a 10 per cent GST.
"This estimate likely assumes that the 750,000 children currently enrolled in Catholic schools across Australia will stay in their school despite being hit with a new tax," he says.
Catholic schools in many parts of Australia, including in regional and remote areas, cater for large numbers of families from low socioeconomic backgrounds. Putting a GST on private school fees would force many of these families to remove their children from the school of their choice, with this ultimately costing the Government as much as it raises, Mr Fox warns.
"If a parent moves their child from a Catholic school to a public school, the additional cost to government -State and Commonwealth - of educating each student is currently about $2,600. And that doesn't take into account the capital costs of new classrooms and new schools to accommodate the potential influx of students into the government system," he says.
Simple calculations show that if between 5 and 10 per cent of students from non-government schools transfer to government schools in response to the suggested imposition of a 10% GST on school fees, the estimated $790 million in additional revenue would be greatly diminished if not eliminated entirely. Mr Fox says the amount raised would only fill "a small hole" in the Commonwealth's $31 billion deficit in 2015-16 financial year.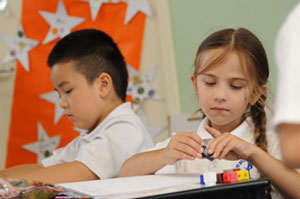 Australia is staring down the barrel of $102 billion in deficits over the forward estimates and in the report released last week by the Australian Institute, broadening the GST to include private education and private health insurance could help provide an
answer to the nation's fiscal woes.
"The main way that governments raise revenue is through taxes," the report states and while acknowledging Prime Minister Tony Abbott's repeated insistence that his Government will look to lowering existing taxes, and not introduce new ones, the Australian Institute claims the one exception to this seems to be the GST.
Certainly this view was given credence on 9 January this year when the Federal Minister for Trade, Andrew Robb spoke publicly about his support for the GST to be extended to cover fresh food and education. He stressed the Government did not have plans to change the tax before the next election which is due in 2016, but political pundits believe his comments on an extension of the GST is the start of a co-ordinated campaign to gain public acceptance in advance of any move to change the tax.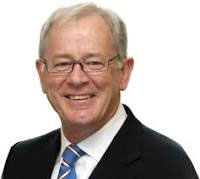 In suggesting a GST be added to private school fees and private health insurance, the Australian Institute's report claims the impact would be minimal on the poorest 20 percent of Australian households with as much as two thirds of the revenue raised by these measures coming from the top 40 percent of the nation's income earners.
"We can debate the regressive nature of the GST. We can debate the merits of the government and non-government education systems. But at the end of the day, if introducing GST on school education will deliver little, if any, additional revenue, why increase school fees for hundreds of thousands of parents?" Mr Fox asks.
He believes proposals for a GST on private, independent and Catholic school fees also suggests that "some people seem to have fallen into the old trap of pitting government and non-government schools against each other, rather than trying to improve the school system as a whole."
"If we are going to have this debate, proponents of the GST on Catholic and independent schools should provide a rationale for why students being educated in government schools - regardless of their family's socioeconomic status - should not be subjected to the same tax impositions as those in Catholic schools. In the country of the fair go, how is such a system equitable?" the CEO of the NCEC says.
Dismissing a popular assumption that government schools are free, he points out that many parents pay several hundred dollars each year - thousands of dollars in some cases - to top up the government funding allocated to students in public schools.
At Catholic schools, parents of students pay an average of just over $3,300 each year to supplement Federal government funding that covers less than 80 per cent of the annual cost of educating their child.
For a range of reasons, parents choose to carry this financial burden so their children can be educated at a Catholic school.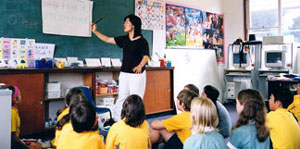 "Many of these parents make major sacrifices to foot this bill, but will find it impossible to pay an extra 10 per cent," Mr Fox says insisting that it is inequitable to hit parents of children at Catholic and private schools with increased fees while their neighbours who have children enrolled at a government school remain unaffected.
This week Education Minister Christopher Pyne and Shadow Minister Kate Ellis denied there were plans by either the Coalition or Labor to put a GST on school fees.
However their denial came at the same time Federal Minister Andrew Robb publicly endorsed the idea.