Catholic School Students Excel in 2015 HSC
Catholic Communications, Sydney Archdiocese,
17 Dec 2015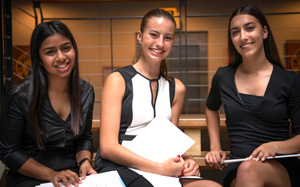 Catholic school students have again performed exceptionally well in this year's Higher School Certificate.
Analysis of the 2015 HSC shows that 74% of HSC courses sat by students in Catholic schools in the Archdiocese of Sydney scored above the state average.
This maintains a long-term trend of continual improvement with the percentage orf courses above the state average rising 23% since 2001.
Three of the 32 colleges had 90% of their HSC courses above the state average and another 10 schools had more than 80% of their courses above trhe state average.
This year, 32 students from Sydney Catholic schools made the state's prestigious 'All Round Achievers List' - a score of 90 or above in 10 or more units. 13 colleges had students on this list, with the most successful being Freeman Catholic College Bonnyrigg Heights (7 students on the list) followed by Marist Sisters' College Woolwich (6 students on the list).
Nine Sydney Catholic Colleges ranked in the top 150 SMH Honour Roll with Brigidine College Randwick being the highest ranking Sydney Archdiocesan school - 60th on this merit list.
The number of students gaining scores in bands 5 and 6 (the top two bands) in 2015 increased from 9,507 in 2014 to 9,850 in 2015.
In addition, there were three students who were placed first in the state in their course. They were Teresa Repice from Bethany College Hurstville: First in Course in Dance; Jasmin Kumar from Good Samaritan Catholic College Hinchinbrook: First in Course in Business Services; and Isabelle Hargraves from Our Lady of the Sacred Heart College Kensington: First in Course in Society and Culture.
Executive Director of Sydney Catholic schools, Dr Dan White, congratulated all students for their outstanding results in the 2015 Higher School Certificate.
"Every student who completed their HSC this year is to be congratulated on their efforts and achievements," Dr White said.
"It is a significant milestone and the culmination of many years of dedicated study and effort.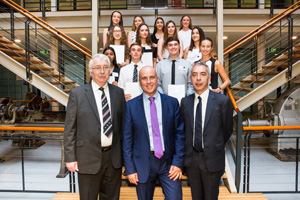 "We also know that the quality of teaching is the biggest influence on a student's education, and these results affirm that this is a key strength of Catholic schools.
"We are able to celebrate another successful year of teaching and learning in Sydney Catholic schools because we have so many well trained, passionate and committed teachers who want only best for their students," Dr White added.
"The quality of the teaching and the uncompromising commitment of Catholic school teachers to keep 'raising the bar' are driving this sustained success."
The growth in the size of the Merit lists has been proportionately greater in Catholic schools than in government schools, which include many high performing selective schools which has been reflected in Catholic schools throughout the state.
"Catholic schools educate students from all socioeconomic and academic levels, making these results all the more exceptional," Catholic Education Commission NSW (CECNSWW) Acting Executive Director, Ian Baker said.
Catholic school students topped the state in 13 subjects this year, a result which showed they were outstanding scholars and demonstrated that non-selective, comprehensive secondary schooling is no barrier to academic success.
"I want to pay special tribute to Sophie Tyson of St Francis De Sales Regional College in Leeton, who topped the state in English (Standard). This is the second largest course in the HSC in terms of students who take part - so to be ranked first in the state is a huge achievement for Sophie and her rural Catholic school."
Mr Baker also praised Louisa Gallagher of St Scholastica's College, Glebe Point and Adam Hegedus of Waverley College, who topped the state in Studies of Religion I & II respectively.