More Than Six Million Attend Outdoor Mass With Pope Francis in Manila
Catholic Communications, Sydney Archdiocese,
19 Jan 2015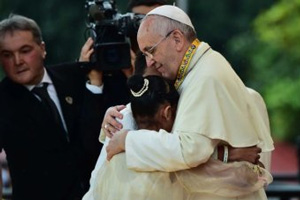 Pope Francis celebrated outdoor Mass in Manila's Rizal Park yesterday with more than six million people ignoring heavy rain and wind to be there.
Many who couldn't reach the park stood under umbrellas in nearby streets to catch a glimpse of the Holy Father.
This was the final mass of Pope Francis' four-day visit to the Philippines and it was a record for a papal event. Around five million people welcomed Pope John Paul II in Manila in 1995.
The huge crowd greeted Pope Francis with cheers and song when he appeared in the park on his popemobile based on the Filipino jeepney - a modified US army Second World War jeep many use for public transportation in Manila.
He was also wearing a simple yellow plastic transparent rain poncho over his white cassock, the same kind that had been handed out to thousands who attended his visit to typhoon-ravaged Tacloban on Saturday.
During his homily Pope Francis said Filipinos were called to be missionaries given that their country was the most Catholic in Asia.
He also asked them to protect the family against what he called "insidious attacks" - a reference many believe alluded to the government's population control efforts.
"Sadly, in our day, the family all too often needs to be protected against insidious attacks and programs contrary to all that we hold true and sacred, all that is most beautiful and noble in our culture," Pope Francis said.
"We need to protect, guide and encourage our young people, helping them to build a society worthy of their great spiritual and cultural heritage.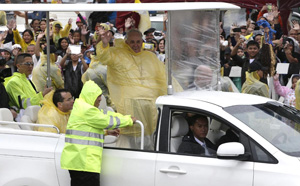 "Specifically, we need to see each child as a gift to be welcomed. Cherished and protected."
Before the Mass, the 78-year old Pontiff held meetings in the morning with religious leaders and young people at the University of Santo Tomas, the largest Catholic university in Asia.
Around 30,000 young people attended the meeting with several youth speaking about their growing up on the streets.
One of the children, 12-year old Glyzelle Palomar, wept when she told her story and asked why God had allowed children to suffer so much.
Pope Francis was visibly moved replying; "Only when we are able to cry are we able to come close to responding to your questions."
He said the world needed to learn how to cry with those in need.
"Those on the margins cry. Those who have fallen by the wayside cry. Those who are discarded cry. But those who are living a life that is more or less without need, we don't know how to cry," he said.
Pope Francis hugged the young girl before telling the crowd that sometimes men were too macho, and that women had much to tell today's society, seeing the world through different eyes, and asking different questions.
On Saturday Pope Francis visited a region devastated by Typhoon Haiyan just over a year ago.
The Pope said when he saw the devastation the typhoon had caused he decided to come to the Philippines.
During his visit the Pope held an outdoor Mass for about 150,000 people among strong winds and heavy rain.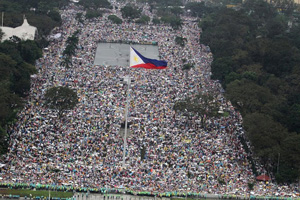 He spoke of the terrible impact of Typhoon Haiyan which affected more than 14 million people in six regions. About one million people are still homeless.
Pope Francis was due to have lunch with many of the survivors in Tacloban but was forced to cut short his visit due to an approaching typhoon.
On his arrival back in Manila he was told of the Catholic Relief Services volunteer who was was killed when she was struck by scaffolding at the site of the Papal Mass in Tacloban shortly after the Pope departed.
The Holy Father immediately contacted the girl's family.
The Pope's trip to Asia began last Tuesday in Sri Lanka. He has now returned to the Vatican.