Archbishop Addresses Graduates from Leading Management College
Catholic Communications, Sydney Archdiocese,
6 Nov 2015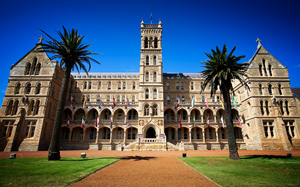 St Patrick's Estate at Manly is one of the most beautiful and outstanding landmarks of Sydney .
It's history begins in 1859 when the second Archbishop of Sydney, Roger Bede Vaughan was granted 12 hectares of land on North Head Reserve on which to build a seminary.
However the land stood vacant for almost 30 years until under Sydney's third Archbishop, Cardinal Patrick Moran had architects and stonemasons design and bujild the seminary in a blend of neo-Gothic and Romanesque styles.
The building was magnificent and opened in January 1889 although some questioned its grandiose size.
Cardinal Moran responded; "I look to the future. In erecting this seminary I shall meet the want of all Australian dioceses."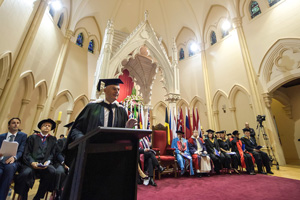 Over the next 100 years, 1,714 men who studied at St Patrick's Seminary were ordained priests. Then in 1995 a purpose-built seminary was constructed and opened at Homebush.
St Patrick's Estate was about to undergo a transformation.
The Archdiocese of Sydney and the Australian Tourism Group undertook a major refurbishment and the building was re-opened in 2002 as the International College of Management, Sydney.
The College has built a national and international reputation as a respected higher education provider with more than 1,000 students enrolled in the College's programs at diploma, undergraduate and postgraduate levels.
The building itself is an international known as a scene-stealer, featuring in Baz Luhrmann's relatively recent version of the move The Great Gatsby.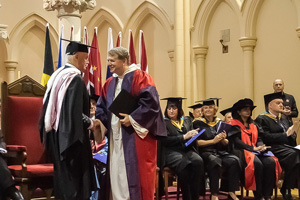 This week the ninth Archbishop of Sydney, Most Rev Anthony Fisher OP, was guest of honour at the International College of Management, Sydney, at St Patrick's Estate Manly when he addressed the graduands of 2015, their families, friends and academic staff.
This was the first Bachelor Graduation ceremony with ICMS students alone and the first with all Academic levels, Foundation studies to Postgraduate, represented.
In the morning ceremony 19 countries were represented and in the afternoon 12 countries represented.
In all more than 600 people attended ICMS on the day.
The Archbishop of Sydney told the large morning gathering he is actually the landlord of the estate and admitted to the students he can sometimes be seen wandering the grounds, playing tennis or visiting the magnificent Cardinal Cerretti Chapel.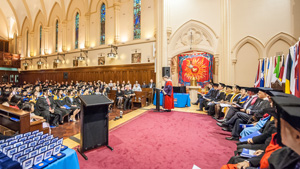 Invited by the Founder and Chair of the International College of Management, Darryl Courtney-O'Connor and his wife Ann, the Chair of Aspiring Education Foundation and the College's Professional Scholarship Program, to give the Graduation Address, Archbishop Fisher told the students it was a "day to celebrate your achievements, treasure the experiences you have had here, and ponder what it will mean for the years ahead of you."
The Archbishop said he believed he shared many experiences with the students and their studies - himself being a landlord, administrator, event organiser (WYD), employer, leader and manager but essentially a God-person interested very much in young people and their futures.
"I realize we all come from very different spiritual backgrounds and some are believers, some non-believers, and many still searching. What we can all agree on, especially as we delight in the education we have received, in these truly beautiful architectural surroundings, in the even more breathtaking natural surroundings of North Head and the Northern beaches of Sydney, is that we care deeply about the world and its people, " Archbishop Fisher said.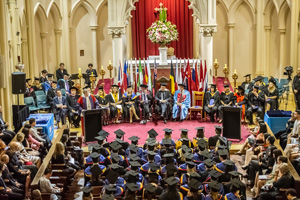 "We all know we can do our bit to make that world more just, more compassionate, more peaceful place. We can, in our own quiet and simple ways, be beacons of hope, idealism and care in our world. Being successful in life is not just about accumulating gadgets and experiences, having lots of sex or power or wealth, being esteemed by the media or your Facebook friends. It's about a deeper happiness that comes from commitment and self-sacrifice for a project, a cause, a person.
"The greatest thing you can achieve in life is making yourself, with God's help,
a really good person
- what us Catholics call 'a saint'. And so as you emerge from this ancient seminary chapel, I charge you with a mission, just as archbishops of old charged the new-made priests: take your newly minted degrees and diplomas from this fine establishment to the worlds of business, management, hospitality, tourism or further study, determined to have an eye to the bigger picture and to make a real contribution. Congratulations on your achievement. God bless you and your futures!"